7 Tips For Finding Fab Wide-Width Shoes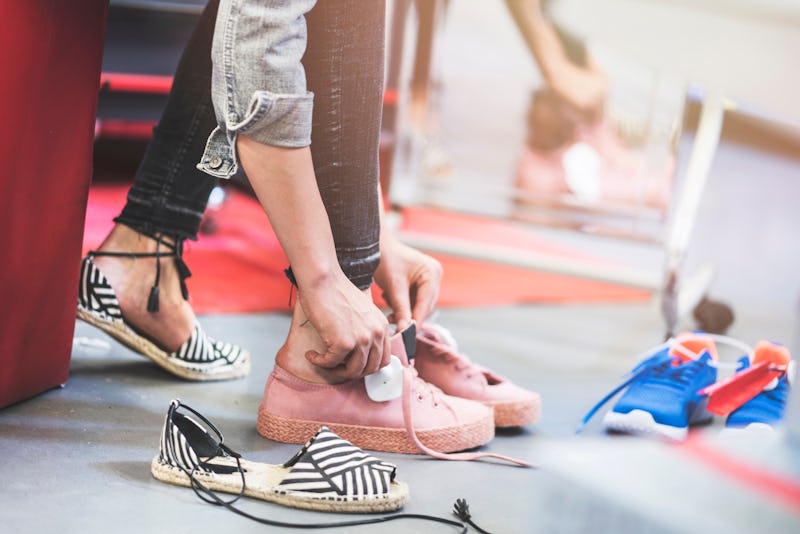 Shutterstock
Finding the perfect, on-trend shoes in wide widths can be a challenge. After years of shopping for wide feet (my family lovingly refers to them as "Flintstone feet") I've learned a few things about how to find the cutest shoes that still keep my less-than-petite appendages comfortable. It hasn't always been an easy process. More than once, frustrated at the lack of options, I would throw caution to the wind and order a pair of shoes I loved in a standard size, only to try them on at home and barely be able to squeeze my toes in, let alone walk around comfortably.
In the last few years, though, I've been seeing more and more legitimately cool footwear in wide widths, from statement booties to easy flats. Plus size retailers are beginning to add wide shoes to their inventories, shoe companies are slowly beefing up their selections of wide options, and custom shoe companies make it possible to design your own footwear to meet your needs.
And, if the wide-width shoes currently available don't rock your socks off, there are a few tips and tricks I know that can help you make standard sized options work for you. It's not always a perfect process, but with a little trial and error, you can find some kicks that will work for you in just about any style. Read on to learn my seven rules of shopping for great wide shoes you'll love to wear.
Rosa Leather Boots, $81, ASOS
When you're looking for the perfect fit, genuine leather, suede, and nubuck are definitely the way to go. These natural materials stretch over time and conform to the unique shape of your feet far better than synthetics. That doesn't mean you should buy shoes that don't fit in hopes of eventually stretching them out (been there, tried that), but it does mean that if your new leather boots are a tiny bit pinch-y in the toe or heel, you'll be much more likely to successfully break them in than you would a cheaper, faux leather or fabric design.
For leather shoes that fit but aren't quite comfortable, you can also buy shoe-stretchers and give yourself a little extra wiggle room (don't try this on synthetics — they'll split). Don't expect to add an extra size to your too-small shoes, but you can definitely use these contraptions to make the toes of tight boots or pointy pumps a little more roomy.
SK8-HI Sneakers, $65, Vans
This is one of my favorite wide-feet hacks when I'm shopping for sneakers, Oxfords, or other flat, vaguely masculine shoes. Men's shoes tend to be made wider than women's, and they also go up into higher sizes, so if you love a sporty fresh look, but you wear a size 13 extra wide, you'll love the freedom you'll find shopping on the other side of the shoe store.
Generally, men's shoe sizes run two whole sizes larger than women's, so if you wear an eight in women's try out a six in men's. I absolutely love my men's high-top sneakers from Vans. They're easy and oh-so-comfortable, and they add an effortless dash of cool to any outfit. While this trick obviously won't work as well for feminine pumps or your ballet flat needs, stealing from the guys is a great way to get some amazing styles that will have your feet sighing with relief.
Mamba Brogues, $210, Ted & Muffy
When you have a good idea of what you're looking for in a pair of shoes, but you're having a hard time finding it in traditional retailers' lines, consider trying out a custom shoe company that gives you more control over the final product.
The UK brand Ted & Muffy makes high-end shoes and boots in custom widths and calf sizes, while the company Shoes of Prey allows you to completely customize your design and sizing for truly unique footwear possibilities.
While both of these lines run on the pricier side, if you're looking for your dream pair of riding boots or a classic pump that you'll wear forever, consider saving up for something that's made with your specific needs and style in mind.
Want more style tips and hacks? Check out the playlist below and be sure to subscribe to Bustle's Youtube page for even more fashion and beauty tricks.
Nicola Platform Sandal, $27, Eloquii
When you're looking for shoes that will fit wide feet, keep in mind the kinds of details that will make your search easier. Shoes with expandable lacing and/or adjustable buckles across the toe and ankle will allow you greater freedom to customize your fit.
Boots and pumps with rounded or almond toes will generally be slightly more spacious than styles that come to a sharp point. Sandals with fewer straps offer more freedom for wide feet and are less constricting than strappier designs.
While there are no rules you have to follow to get the perfect shoe, paying attention to the little things can make a big difference in the way your favorite pair looks and feels.
Medea Buttero Sandals, $145, Dr. Martens
No matter what size shoe you wear, every foot is different, and we all are looking for unique things when we go shopping. Knowing not only the brands that make shoes in your size, but also the companies that you can improvise with in a pinch, will greatly expand your list of options.
Dr. Martens, for example, are generally a little roomier in the toes, and because of their sturdy leather designs, can often be worn-in to fit wider feet comfortably. Personally, I've also had success breaking in standard-size shoes from brands like Kelsi Dagger, Saltwater Sandals, Minnetonka, and Pour La Victoire. I've also heard good things from other wide-footed ladies about Stuart Weitzman and Clarks.
While venturing outside of wide widths can sometimes be a little hit or miss, finding standard-sized brands that work well with your specific feet will give you a broader range of choices.
Stuart Weitzman Nunaked Sandals, $333, Zappos
Once you've spent valuable time and cash on the perfect pair of shoes that fit like a dream, you'll probably want to keep them wearable and in good condition for as long as possible. Finding a good local cobbler or shoe repair shop will greatly extend the lifespan of treasured footwear. Whether you need a broken heel fixed, soles replaced, or a strap mended, a good repair person will be able to make your old favorites look like new.
A couple of years ago, I bought a gorgeous, classic pair of summer sandals from Pour La Victoire, and broke them in over several weeks until they fit perfectly. After quite a bit of use, I've now worn through both bottom soles, and will be taking them to a local shop to re-sole them for this summer.
Since I invested in a well-made, timeless design, I know I'll look just as good in my sandals this year as I did two years ago, and I won't have to go through the blistery phase of breaking in a new pair again for a while.
Silver Skater Shoe, $60, Zappos
Although it can be incredibly tempting to tough out some pain for a gorgeous pair of shoes that isn't made in your size, the misery of cramped toes, tight straps, and raw heels will very likely make that decision one you regret. I've bought quite a few shoes that I loved in the store and convinced myself I could break in, or just learn to tolerate, only to leave them languishing in the back of my closet while I consistently reached for a pair that didn't punish my feet.
If you try on a pair of shoes and you can't fasten them easily, it hurts to walk, or pieces dig mercilessly into your feet, put them back. It's not worth your time and discomfort to try and make them work.
That doesn't mean you have to limit yourself to matronly flats or basic sneakers; there are some fabulous wide-width stiletto heels and thigh-high boots out there just waiting to be added to your closet. You just have to remember that, when it comes to footwear, comfort is an investment in your own happiness that is very much worth making.
With all the great options out there for wide widths, there's no reason to let limited sizing cramp your style. With a bit of patience and some shopping savvy, you'll be able to find designs that look amazing and give your hardworking feet the love they deserve.
Did you know that you can find ASOS promo codes at the Bustle Coupons page? Bustle Coupons is a service provided by Groupon in collaboration with BDG Media, Inc. Each time you use a coupon or promo code from Bustle Coupons to make a purchase, Groupon and BDG Media, Inc. earn a small commission. This article was created independently from Bustle's sales department.