11 Places To Shop For Shoes In Sizes 11 & Up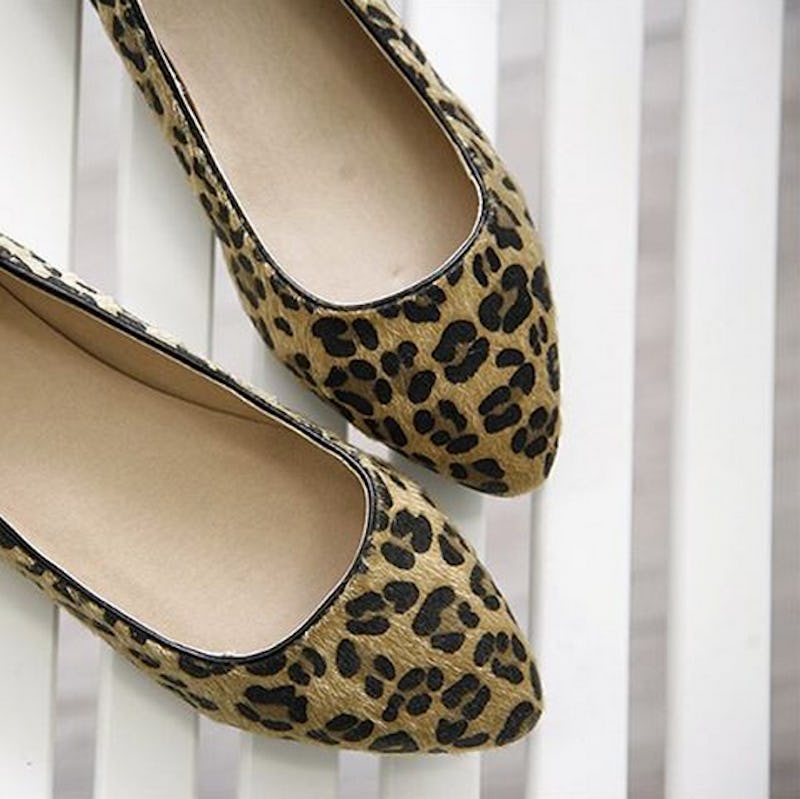 When I think about my relationship with shoes, there's a Carrie line from Sex in the City that just about sums it up: "I will literally be the old woman who lived in her shoes." I'm lucky, though, because I've never had to deal with finding where to shop extended shoe sizes. For the shoe-obsessed woman, it can be difficult to explain to someone who does not share in the fascination just why it's so devastating that you can't find a pair of cheetah print ballet flats in your size (you just need them, OK!?). Some people have cats, but we're supposed to have shoes.
I get a lot of questions from people about my own shoes: Where I got them, if I will ever sell them, how I find wide fit shoes, and where someone can buy shoes above a size 10. Thankfully, I have a lot of tricks for getting cute shoes that fit my wide size 9 foot, but I often feel absolutely lost when it comes to telling people where to buy heels or sneaks or flats larger than my size.
Determined to help larger-footed folks, I decided to do my research on extended size shoes. For this list, I left out any place that only offered dowdy low heels, not-even-a-little-cute sneakers, or that only sold a select few styles in the first place. I tried to find shops that at least went up to a size 13 and preferably up to size 15. Retailers and brands that offered the most variety in terms of width and size were prioritized as well. So without further ado, here are the 11 best places to shop for extended shoe sizes.
Mercedes, $99, S mash Shoes
Launched in July of 2014, Smash Shoes has already made a huge splash in the extended shoe market during its first year. Focused specifically on catering to extended sizes between 10 and 13, Smash Shoes offers a contemporary and fashion-forward option for heels, boots, and flats.
Women's Snake Hille Ghille Pump, $25, P ayless
I was already a fan of Christian Siriano, but when he designed plus size blogger Nicolette Mason's wedding dress, I fell even more in love. Siriano's line of shoes at Payless goes up to size 13 and a few styles are available in wide width as well.
Black Shimmer Ballet Flat, $30, Sole Haven Shoes
Sole Haven Shoes is an Australian-based shoe boutique specializing in sizes 10 to 15. As four sisters with shoe sizes between 10 and 13, the owners wanted to a create a place to take away the stress of finding extended-size shoes. Shopping is available online or in its Queensland showroom.
ShoeBuy has an unbelievably large selection of shoes, with sizes that go up to a 17. From the tallest of heels and thigh high boots to the flattest of ballet flats and oxfords, ShoeBuy has a little something for everyone.
Phoebe Peep-Toe Boots, $169, L ong Tall Sally
Long Tall Sally is a retailer that specializes in clothing for tall women. Last year, the brand merged with extended size shoe retailer Barefoot Tess to expand its shoe selection to size the 10 to 15 range that Barefoot Tess was known for doing so well.
Multi-Size Strap Heels, $42, Torrid
Torrid is one of my go-to spots for wide shoes, so I knew that it would probably also deliver on the extended size front. I was not disappointed in its selection at all. Many of the shoes I love in wide fit are also available up to a size 13 and the site makes it really easy to shop by size.
7. Nordstrom
Bartalino Stud Embossed Leather Bootie, $80, Nordstrom
My mom is a Nordstrom super fan so I was happy to see that her fave store has a great selection of extended-size shoes. It even has a size 10.5 and up section on its website that allows shoppers to search specifically for shoes in sizes 10.5 to 14.
Zara Slip-On Sneaker, $5, Avenue
Avenue is a plus size store that has physical locations all over the U.S., but if you visit its online store, you can expect to find plenty of wide shoes and ones available up to a size 13 that don't break the bank.
Vivien Lucite Pump, $40, Alloy Apparel
I still can't think about Alloy without being reminded of the '90s catalog days when I would anxiously flip through the Alloy and Delia's catalogs picking things out. I know now that Alloy is still going strong online and catering to the still-underserved plus and tall markets. Its extended-size shoes feature a pretty good variety of styles.
Stylish Black Faux Leather T-Bar Platforms, $30, Alonai
Whether you are looking for a size 2 or a size 12, Alonai specializes in petite and tall shoe sizes. Its site makes it easy to shop the full 2 to 13 size range.
11. Shoes Of Prey
Shoes of Prey is a site that allows you to be the designer, regardless of your shoe size. From a U.S. size 2.5 to 15, you can select fabrics such as snakeskin and Italian silk along with a heel size up to six inches to make these custom shoes. Though they will certainly cost you, Shoes of Prey offers a 365 day remake or return policy to guarantee a perfect fit.
Thankfully, brands are beginning to cater to underserved markets, and lucky for the big-footed babes of the world, that includes extended shoe sizes.
Did you know that you can find Torrid coupons at the Bustle Coupons page? Bustle Coupons is a service provided by Groupon in collaboration with BDG Media, Inc. Each time you use a coupon or promo code from Bustle Coupons to make a purchase, Groupon and BDG Media, Inc. earn a small commission. This article was created independently from Bustle's sales department.
Images: longtallsally/Instagram; Courtesy Brands