The 'BK99' Season 3 Finale Is Full Of Surprises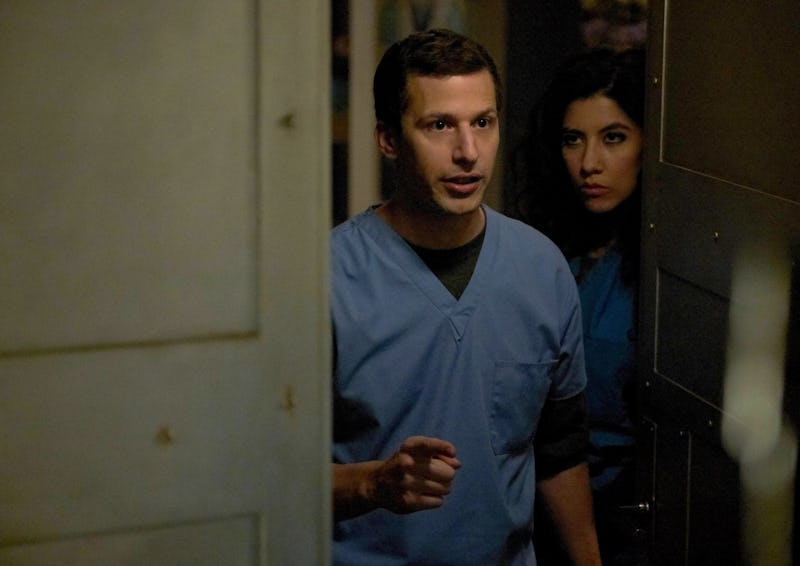 After last week's episode of Brooklyn Nine-Nine, it seemed like Tuesday night's Season 3 finale was going to be the most dramatic one yet for the FOX cop comedy. Season 3's penultimate episode ended with FBI agent Bob Anderson (played by the wonderful Dennis Haysbert) holding a gun to Captain Holt's head, thus outing himself as secretly working for Jimmy "The Butcher" Figgis, the crime boss that has been at the center of much of the conflict during the latter half of the season. However, knowing that Brooklyn Nine-Nine has been renewed for Season 4, I honestly wasn't too worried about the fate of Captain Holt and the rest of the Nine-Nine. What I wasn't really prepared for was a new development in Jake and Amy's relationship — and what came after that.
Before we get to the very end of the Season 3 finale, let's start at the very beginning, which is a very good place to start. At the top of the episode, we learn how Captain Holt ended up in the predicament teased at the end of last week's installment. Things had been business as usual with Bob, which is what you would expect with such a straight-laced guy as him. Unfortunately, Captain Holt returned to the hospital room where they had been keeping watch over the FBI agent that had been working with Figgis who was still in a coma, he caught Bob suffocating him with a pillow, showing that he was working for Figgis, too. Since the jig was up, Bob was left with no choice but to kill Holt, too.
Luckily, Jake, Rosa, Terry, Gina, and even Hitchcock and Scully found Captain Holt and Bob on the roof near the heliopad before it was too late. But now the problem became retrieving the file with all the evidence that Bob had swindled out of their hands during last week's episode. They had to figure out a way to get Bob and themselves safely out of the hospital and then convince him to hand over the file.
Of course, this proved easier said than done. Where would the comedy be if everything worked out smoothly? The Brooklyn Nine-Nine crew donned disguises to make them look like they worked at the hospital, but Figgis goons were hot on their trail and tried to get them.
They eventually made it out and to a safe house, aka Rosa's apartment since no one knew where she lived. One of the most shocking parts of the episode was actually seeing the dark and stoic detective's apartment decorated like someone had just raided a Pier 1 Imports. There was even a vase full of lemons for "a pop of color," Rosa said.
Now that the gang relocated to a safe location, they tried to make Bob crack by ruining his beloved jazz, trying to get him emotional about what his hypothetical children would think, and threatening to use torture weapons, although Rosa never actually ended up using them.
All of their efforts were futile, but we know the detectives of the Nine-Nine is much smarter than to think that all of that would push Bob to his breaking point. They actually secretly worked with Amy and Charles, who had been flying back from Texas where she was undercover as an inmate at a women's prison, to stage a shot from a sniper, which caused Bob, Captain Holt, and Scully to hide in Rosa's panic room while Jake found the file. The 99th Precinct thought they had all the evidence they needed to bring Bob and Figgis down.
And it sure seemed that way. Captain Holt revealed the DOJ had arrested 75 of Figgis' men, and his operation was pretty much kaput. That means they're one step closer to finding Figgis and getting Aridan Pimento to come back home. He also told the Nine-Nine that he wasn't afraid when Bob held the gun to his head because he was confident in his team of detectives to save him. Aw, Captain Holt. You big softie!
Jake and Amy were certainly feeling the love, too. Amy told Jake that she wanted to move in with him, and he said yes! But before we the end credits rolled, and we could all go to bed happy knowing that Captain Holt was alive and well and that things are moving along swimmingly for Jake and Amy, Brooklyn Nine-Nine basically had to destroy all of our hopes and dreams. Thanks a lot!
Yes, right after Jake's loving moment with Amy, he got a call from Figgis saying that he was going to kill him and Captain Holt. Cut to one month later, and Jake and Captain Holt are neighbors living in Florida as what appears to be the Witness Protection Program. I wouldn't be surprised if Adrian was living there with them.
So we obviously have two very undesirable scenarios here from which to kick off Season 4: Either Captain Holt and Jake live in Florida away from the Nine-Nine and all of their loved ones for the rest of their lives, or they die. But of course, this isn't the first time either of them have been away from the 99th Precinct, and they came back before. I have a good feeling that they'll find their way back to the Nine-Nine once more. It's how they do it that's going to be interesting to see.
Images: John P. Fleenor/FOX; ohmyamysantiago, weslehgibbins, laurenjauregui/Tumblr