When Did William Shakespeare Die?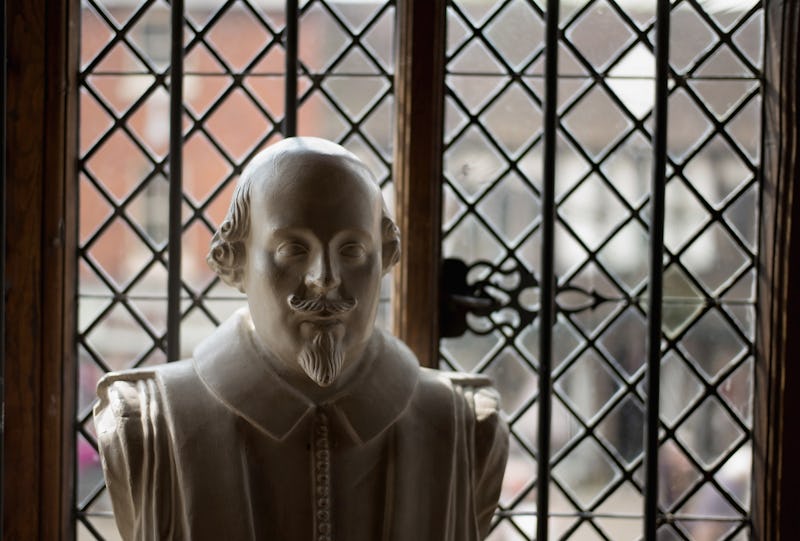 Christopher Furlong/Getty Images News/Getty Images
April 23 marks the 452nd anniversary of what scholars believe to be the Bard of Avalon's birth, but when did William Shakespeare die? Like most of his life, that answer is more complicated than you think.
Despite the fact that William Shakespeare's writing is among the most widely read work in English, there is little known about the mysterious playwright's life. There are dozens of theories and myths about Shakespeare's life, from the idea that he didn't actually write his own plays to the questions surrounding his sexuality, but even his exact birth and death dates aren't know for sure.
What historians and scholars do know, however, is what little information that remains in public records, including his baptism date and the date of his burial. Based on those facts, it has been widely accepted that William Shakespeare actually died on his 52nd birthday, on April 23, 1616. I like to think it's an irony the author would have appreciated, but dying on your birthday has to be the worst way of celebrating.
You may have your favorite Shakespeare sonnet memorized, and you can probably still recite your lines from your high school production of Romeo and Juliet, but here are 5 things you probably didn't know about when William Shakespeare, in honor of the 400th anniversary of his death.
1. He Was Buried On April 25, 1616
One of the biggest pieces of evidence cited when discussing the validity Shakespeare's death as April 23 is the fact that he was buried on April 25, 1616 at Holy Trinity Church, a fact found in their records. Using that date and working backwards, it has become widely accepted that the Bard did, in fact, die on his 52nd birthday on April 23. But how exactly did he die?
2. His Exact Cause of Death Is Unknown
Just like his exact death date, the cause of William Shakespeare's death isn't known and can only be speculated. A passage in the diary of John Ward, the vicar of the church where he was buried, indicates that after a heavy night of drinking with Michael Drayton and Ben Jonson, Shakespeare fell ill and died of a fever. The entry, however, is dated 50 years after Shakespeare's death, and seems to be more anecdotal than anything. Other possible causes of his death include typhus and cerebral hemorrhaging, but the truth is, we may never know.
3. He Had Just Updated His Will
In January 1616, William Shakespeare had ordered changes to his last will and testament. Three months later, and just a few short weeks before his death, Shakespeare again made changes to his will in March. Though the document is still being studied by scholars, these facts could indicate that the playwright was aware of his declining health, and wanted to secure a financial future for his family by getting it all in writing. Another fun fact about the will: Shakespeare left his "second best bed" to his wife, Anne Hathaway. What a guy.
4. His Tomb's Epitaph Is Actually A Curse
It is widely known that Shakespeare was fearful of his bones being dug up, either by grave robbers or by the cemetery making room for more bodies, so he made sure everyone knew exactly how he felt on his gravestone. The warning on his tomb reads "Good friend for Jesus sake forbeare, To dig the dust enclosed here. Blessed be the man that spares these stones, And cursed be he that moves my bones." His writing can be be chilling, even in death.
5. His Grave Is In His Home Town
Though William Shakespeare spent a lot of his adult life on the stages of London, he returned to Stratford-upon-Avon to retire in 1610, the place of his birth. When he died six years later, he was buried at Holy Trinity Church, where his grave remains today.
Images: Christopher Furlong/Getty Images, Christopher Furlong/Getty Images; Wikipedia Commons