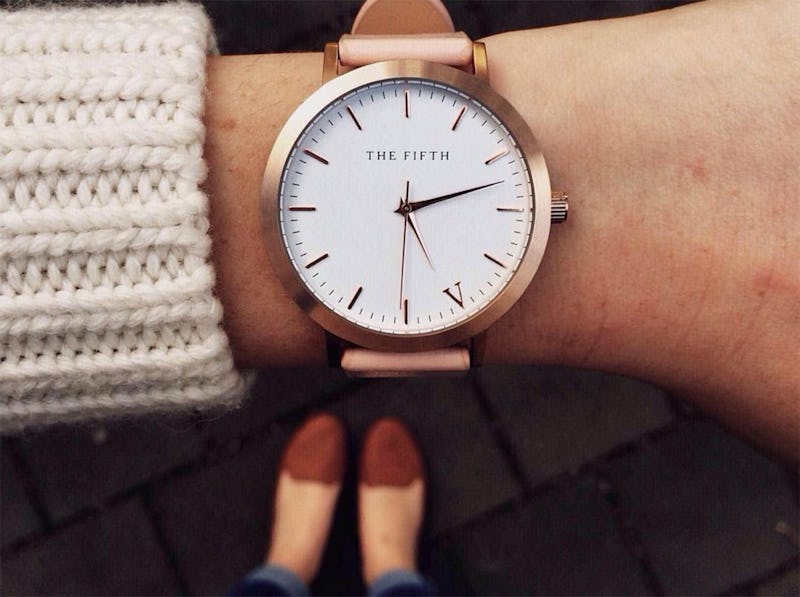 Mother's Day is the perfect time to buy your mom something special to make her feel awesome. And while no gift given with good intentions can be bad, exactly, a lot of Mother's Day gifts end up being a little cliche and, well, sort of boring. Think flowers, gardening tools, a gift certificate to the spa, a manicure... you get the point. There's nothing wrong with these gift options (and it really is the thought that actually counts), but if you want to go above and beyond this year, you might want to opt for one of these luxury Mother's Day gifts below. Sure, some of them might be a little bit more pricey, but compare that money to your mom giving you life. Right. It doesn't compare.
Now that I've successfully guilt tripped you into buying your mom a luxurious and stylish gift she'll want to show everyone in her life, let's discuss your options. You can go with something tech-friendly and cool, or maybe a beautiful skincare product that will give her an amazing glow and look good in her bathroom. You could choose one of the cool home decor gifts here, or you could just buy her something she doesn't exactly need that she'll want anyway (this is my personal favorite indulgent option). Whatever you choose, any chic mom is guaranteed to love these presents. Check out these 20 luxury gifts for your mom, and try not to buy them for yourself.
Elizabeth and James Nirvana White Perfume, $86, Sephora
Expensive perfume always makes a good gift, and this one is especially ideal. Not only is the understated packaging ridiculously pretty to look at it, it also smells amazing. If your mom is super stylish, she'll appreciate this even more.
The Fifth Watches SoHo, $150, The 5th Co
The Fifth watches could not be more chic, and its marketing strategy makes them more special. The watches only go on sale for five days, starting on the fifth of every month, so you can't just buy them whenever. There's a wait list if you're interested in purchasing one, so go on it now to try and get one before Mother's Day. There are a few different styles, but I personally love the simple SoHo model, which is super versatile. And at less than $200, you really can't go wrong!
Annick Goutal Splendide Perfumed Candle, $76, Annick Goutal
I don't know many people who will voluntarily spend more than $50 on a candle, but I also don't know many people who don't wish they could spend that much on a candle. So, buy one for your mom this Mother's Day! I highly recommend this floral candle from Annick Goutal. It smells amazing and the white packaging is simple, yet so pretty.
The Light Grey Shawl Pure Cashmere, $80, MoonCats
It might not be winter anymore, but that doesn't mean your mom doesn't need a cashmere scarf — someone always needs a cashmere scarf. This one from MoonCats can be worn as a scarf or a shawl, so it's great for chilly office buildings or chic traveling. It's super soft, too. I have one, and I can never stop touching it.
The Hayes Nova Gray Duvet Cover, $149, Crane and Canopy
Who couldn't use a new duvet cover once in a while, you know? I bought one I loved a few months ago, but it's super annoying to take off to wash and then put back on. This duvet cover from Crane and Canopy makes things more simple with a zipper instead of buttons and interior ribbons to keep it all in place. It's comfortable to sleep under, and really nice to look at, too. This is a gift your mom actually needs.
Jemma Emma Bag, $398, Jemma
If your mom carries a laptop or tablet around for work, this Jemma bag makes a great investment. It's large enough to hold a 15-inch laptop, and has another pocket for organization and storage. It can be carried with the handle or worn as a crossbody bag. On top of that, the sleek leather and neutral shades make this bag a total classic that any mom will love.
DOCK For Apple Watch Marble Edition, $120, Native Union
If your mom has an Apple Watch, why not get her a seriously cool Apple Watch dock? The dock keeps her watch on display and in plain site at all times. It charges the device and keeps it safe and protected. Plus, the marble design is so chic and will make your mom feel super glamorous.
Decleor Aromessence Neroli Hydrating Oil Serum, $73, Decleor
It's not insulting to buy your mom anti-aging products if that's something she really wants — I get them for my mom all the time and she really appreciates it! If your mom is the same way, then splurge on this Decleor Oil Serum. It's incredibly hydrating and moisturizing, and it smells great. Plus, the glass bottle will look awesome on display.
Keurig 2.0 K200 Brewing System, $130, Keurig
You don't really appreciate how helpful a Keurig is until you have one — I don't know where I would be without mine sometimes. Give your mom the gift of fast coffee (or tea or hot chocolate) with a brand new Keurig. This one stands out because it can also brew a four-cup canister.
Tazo Chai K-Cup Pods 24 count, $31, Amazon
If you're going to give her a Keurig, why not give her some K-Cups to go along with it? I highly recommend these Tazo Chai K-Cups. They make the perfect afternoon treat.
Viktor & Rolf Flowerbomb Set, $120, Sephora
Flowerbomb is a classic scent that so many women love, so you really can't go wrong. Instead of just opting for the perfume, get this pretty set that screams "spring."
Rose Deep Hydration Face Cream, $40, Fresh
A good face cream can change your life — and no, that's not just a dramatic statement. My skin looks its best whenever I use Fresh Rose products. I swear by them and can't recommend them enough. So, I think the new Rose Deep Hydrating Cream makes an amazing gift for Mother's Day. The rose products from Fresh smell wonderful without being overwhelming, and they leave skin feeling super soft and hydrated.
Kate Spade New York Pearls Of Wisdom Bracelet, $58, Nordstrom
Show your mom how much you appreciate everything she has taught you so far with this "Pearls of Wisdom" bracelet from Kate Spade New York. This delicate gold bracelet is versatile and will add a classy touch to anything she's wearing. Plus, at under $100, it's a great price.
The Oliver Gal Artist Co. Enjoy The Little Things Art Canvas, $140, Lord and Taylor
Why give your mom flowers that will die in a few days when you could give her an image of flowers that could last forever? This canvas print is a little pricey, but it's so gorgeous to look at, and I love the positive saying. Your mom will love hanging this close by so she can think of you every time she sees it.
Amazonite Chip Jewelry Set, $40, Etsy
Sometimes all you need is some good jewelry to make a great impression. This handmade necklace and bracelet set is made with gold and turquoise stone, shades that are perfect for warmer weather. She can mix and match or wear them together.
Sugarfina x JA Cocktail Hour Bento Box, $30, Jonathan Adler
Maybe you'd rather get your mom something sweet instead of a material item. If that's the case, you have to check out this little Cocktail Hour Bento Box. It's the result of an adorable collaboration between Sugarfina and Jonathan Adler, and it features candies that look like they belong on a bar. They're almost too cute to eat.
Chez Elle Booze Decanter, $54, The Sev
Speaking of a bar, try not to fall head over heels in love with this boozy decanter. Understated yet chic, this glass decanter says it all — and it will look great at your mom's next party.
Aromatherapy Classics Roller Set, $68, Soul Sunday
If your mom is into this kind of thing, these aromatherapy rollerballs from Soul Sunday make an incredible gift. I have the Unicorn Oil rollerball, and I'm completely obsessed with it. It smells like lavender and mint — I put it on my temples whenever I have a headache and it is immediately soothing and relaxing.
Milk Bar Life, $22, Amazon
If your mom has never eaten at Milk Bar, you should probably go there and get her a dessert right now to go along with this cookbook. If you can't, the book itself is enough. Make her the trendiest mom in the kitchen with these dope recipes.
Aquarian Soul Rose Body Oil, $30, Urban Outfitters
Honestly, this rose body oil is so pretty to look at that I don't even know if your mom will want to actually use it. Give it to her anyway! It's super hydrating and will make her feel like she just spent a day at the spa.
Anastasia Embroidered Robe, $50, Anthropologie
I don't want to sound weird, but this is one of the prettiest robes I've ever seen. Get this for your mom if she loves to lounge around, and wants to look fabulous while doing it. Between the super soft, light material and the gorgeous embroidery, this is something anyone would appreciate.