15 Vegan Recipes For Passover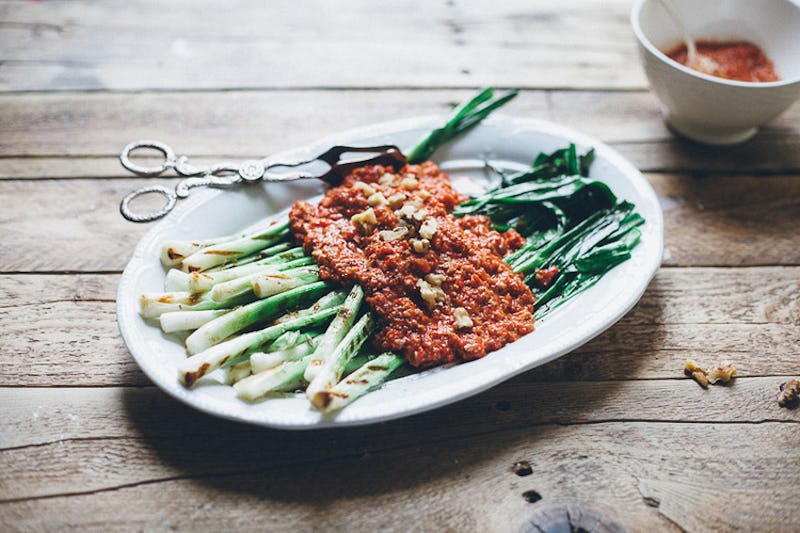 Being kosher on Passover can be hard enough, but being both kosher and vegan can be a real struggle. Not a lot of kosher recipes are truly vegan friendly, so I'm making it easy for you this year with a roundup of the top vegan Passover recipes you can still keep kosher with.
It can be especially challenging to win over friends and family with vegan, kosher recipes. Most of them tend to be bland or weak attempts at making a traditional dish vegan, which only works about 20 percent of the time. Instead of pretending like you can create a vegan, kosher matzo ball that will taste delicious, let's embrace the ingredients that we can eat. No sense in pretending something will taste like dairy or meat, right? Embrace the vegan, kosher side of cooking like the boss you are.
This particular vegan Passover recipe roundup is teaming with delicious, flavorful meals that won't make anyone at your Passover Seder miss the traditional brisket or other kosher dishes they might be used to. Instead they'll be too distracted by the impressive array of unique kosher dishes and stuffing their faces all night long to say anything. Happy Passover celebrations to everyone celebrating this year.
1. Spicy Smoky Ratatouille Casserole
Bring all the vegetables to the Seder table with this spicy smoky veggie-packed dish from Tori Avey. No one will be missing the brisket with this one.
2. Grilled Green Onions with Walnut Romesco
If you're looking for a side dish to really impress your guests, My Name is Yeh has a gorgeous romesco doused plate of grilled onions that'll have everyone oooo'ing and ahhh'ing all over the place.
3. Homemade Jelly Candies
While Seder is being prepared, you need a little something to curb that appetite. Since crackers and cheese is out, hit them with a tasty sweet teaser of things to come with these surprisingly simple candies from What Jew Wanna Eat?. Just substitute Agar Powder (1:1) for gelatin and you're good to go.
4. Quinoa Flour Tortillas
These vegan tortillas from Cara's Cravings will ensure that no one will be missing bread for Seder dinner.
5. Cauliflower Couscous
You might not be able to serve rice with your meal, but I bet no one will even notice when you serve up a bowl of this cauliflower couscous from Tori Avey. It's so delicious, and you can give it any seasoning you want to make it fit with your special meal.
6. Vegan Chocolate Truffles
The end of the meal should always wrap up with something sweet. Serve the coffee with almond milk and a plate of these decadent truffles from What Jew Wanna Eat.
7. Easy No-Bake Chocolate Matzo Cake
If you have a die-hard cake fanatic in attendance for Passover dinner, give them what they want in a perfect vegan, kosher package. Tori Avey makes a no-bake chocolate matzo cake that'll satisfy any sweet tooth.
8. Potato Skins
Domestic Fits dishes out potato skins that'll fill you up more than you thought possible.
9. Three-Ingredient Cauliflower Soup
You simply can't skip the soup course at Seder dinner, right? Instead of matzo ball soup, make an even easier soup from Tori Avey for everyone with three ingredients but tons of rich flavor.
10. Kohlrabi and Cabbage Salad with Maple Lemon Dressing
Kohlrabi is available year-round so you don't have to worry about tracking it down among all the new spring fresh produce out there. The Kitchn livens up the vegetable with a mixture of cabbage and dried cherries to make it a bright and light salad option.
11. Imam Bayildi (Roasted Stuffed Eggplant)
Surprise everyone with a different kind of main vegan dish for Seder this year. Tori Avey's roasted stuffed eggplant has my mouth watering.
12. Vegan Coconut Almond Chocolate Chip Ice Cream
My grandmother's favorite dessert in the world was ice cream and considering her Jewish roots, I know this recipe from The Kitchn would totally win her over on a vegan Passover celebration. Substitute cornstarch for potato starch to keep it kosher.
13. Miso Corn Soup
This hearty, chunky corn soup is an updated, elegant soup option from I Am a Food Blog for Passover dinner. It's so creamy and thick, no one will know it's vegan. To keep it kosher, just omit the tofu and use a kosher miso paste substitute (usually found at health food stores, either Barley or Brown Rice typically).
14. Dark Chocolate Coconut Banana Vegan Matzah Brei
Don't forget about the morning after Seder dinner when you have a home full of family and friends who hit the Manischewitz a little too hard. What Jew Wanna Eat has a vegan version of matzah brei everyone will love waking up to.
15. Smoked Paprika Roasted Potatoes
Smoky, roasted, and full of rich flavors, this is the vegan side dish to beat all other vegan side dishes from Tori Avey. Happy cooking!
Images: Tori Avey; My Name is Yeh; What Jew Wanna Eat?; Cara's Cravings ; Tori Avey; What Jew Wanna Eat; Tori Avey; Domestic Fits; Tori Avey; The Kitchn; Tori Avey; The Kitchn ; i am a food blog; What Jew Wanna Eat; Tori Avey