The 'TIME' List Is Rich In Diversity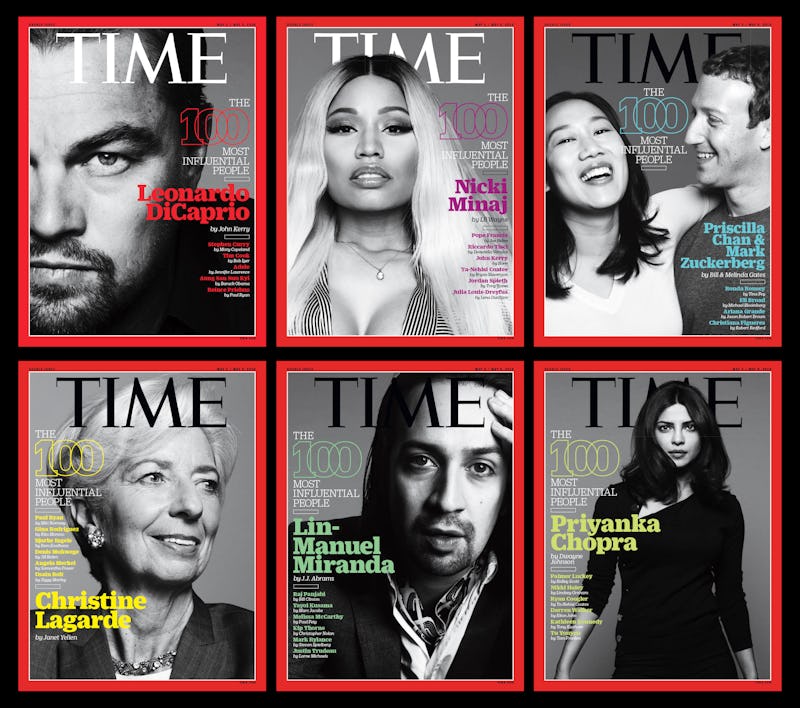 Last year, TIME gave Kanye West top honors on its list of most influential people, and the year before, Beyoncé graced the cover. This year, the covers tell an even more diverse story. Priyanka Chopra, Lin-Manuel Miranda, Nicki Minaj, and Priscilla Chan all get covers, although Chan shares hers with hubby Mark Zuckerberg. But how diverse is the actual list? Last year, 46 individuals on the list were people of color. And this year, TIME's 100 Most Influential People in the World list features people of color in more than 50 percent of its roundup.
Granted, people of color make up more than half of the world's population — much more, in fact. But the milestone is significant for TIME. Frankly, this may be one of their most diverse lists ever, at least in regards to ethnicity. Women still came in at just 40 percent of the list, holding steady from 2015. While there is still room to go on both fronts, it's good to see gradual progress.
Wide sourcing seems to have played a role this year. Some of the diverse names from last year — Laverne Cox, Narendi Modi, and Malala Yousafzai — were already household names. This year, editors clearly searched the country and the globe for influencers whose names we need to know. Take, for example, Ibtihaj Muhammad. She's one of the best fencers in the world, and also a Muslim woman. She'll represent the United States at the Rio Olympics this summer.
Or look at Binny Bansal and Sachin Bansal, who are collectively called the Jeff Bezos of India. Unless you're an online shopper on the subcontinent, you've probably never heard of Flipkart. The two actually met working at Amazon, and then started an online bookstore with just $10,000 of their savings. The company is now worth $13 billion and has 75 million users.
Looking at the different subcategories (the list is split into pioneers, titans, artists, leaders, and icons), some are more diverse than others. The artists list is the most ethnically diverse — 11 of the 18 are people of color. The least diverse category is leaders (16 of 31), despite the fact that there are at least 195 countries in the world. A big portion of those are not white — not to mention leaders at the U.N. and other international agencies.
Perhaps this year's list isn't perfect, but it's positive to see TIME continuing to diversify.
Image: TIME