6 Young Female Eco-Activists Who Are Kicking Ass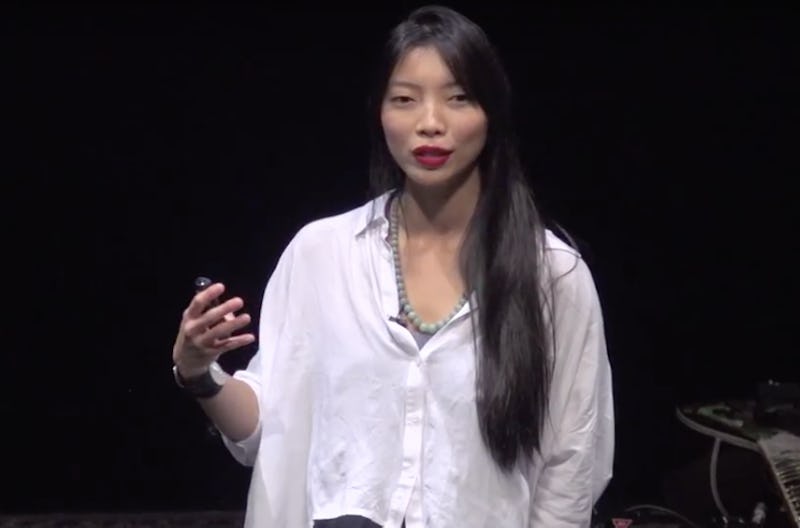 When it comes to saving the world, women are no slouches. If you want to fuel your zeal for ecological activism, just take a look at the careers of Wangari Maathai, winner of a Nobel Prize for her environmental plan to plant 1 billion trees worldwide, or Bija Devi, who's been collecting one of the world's most diverse seed collections at Navdanya (Nine Seeds) in the Himalayas for 16 years. And the new generation is hardly any less impressive. Scratch the surface of young female environmental activism worldwide and you get truly insane stories, from schoolgirls changing the face of environmental consciousness to seasoned veterans tackling a key issue.
These six ladies are just a few notable stories out of thousands making waves in diverse areas, from activism to scientific ecological research, and will likely be the headliners for a new generation of environmental activism. And yes, many of them are women of color. Memorize these names, because these are likely the people who'll be influencing the future of the planet, behind the scenes or at the front line. Enough to make you swell with pride for your entire gender, really.
And hey, who knows? Maybe next year on Earth Day we'll be mentioning you or your friends instead. You've got a year; go change the world.
1. Winnie Asiti
You know people are excited about your work when they term you "the new Wangari Maathai". Winnie Asiti, born in Kenya, is aiming to change the world, no half-steps, no small ambitions allowed. She's been on the radar since 2011, when she helped to form the African Youth Initiative on Climate Change after attending the United Nations Global Conference on Climate Change in Durban. She's now on the Global Greengrants board, an American organization that focusses on giving small loans to environmental causes and activists worldwide; to date, they've given out $45 million to 9,175 projects. Soon, people are going to want to be the next Winnie Asiti.
2. Amelia Telford
Anybody who wins Australian Geographic's Young Conservationist Of The Year is clearly going places, and the winner in 2015, Amelia Telford, has been making waves. She's National Director of the Seed Indigenous Youth Climate Network, an Australian organization focused on involving indigenous young people in climate activism and environmental work (Telford herself is Bundjalung, an Aboriginal nation centered on northern part of the Australian state New South Wales).
Seed itself was developed by Telford with the Australian Youth Climate Coalition, and its mission statement is pretty powerful: "Our vision is for a just and sustainable future with strong cultures and communities, powered by renewable energy. Climate change is one of the greatest threats facing humanity, but we also know it is an opportunity to create a more just and sustainable world." And Telford's still in just her early twenties.
3. Ann Makosinki
If there's one name on this list you probably recognize, it's Ann Makosinki's. And deservedly so; back in 2014, when she was only 16, Makosinki's high school science fair project, the Hollow Flashlight, which uses human body heat to generate electricity and therefore light, got national attention. Makosinki's hardly slowed down since then; she's since invented a coffee cup that can change a smartphone, enrolled at university, and given numerous TED talks about her inventions and how they can help solve the world's energy crisis (and the environmental damage of fossil fuel use) through simple, renewable means.
4. Deepika Kurup
Wunderkind Deepika Kurup is one of the most well-known young activists at the forefront of the environmental revolution, but she's coming at it from a science perspective. It's a pretty inspiring story: young American woman devises water purification system in her early teens, goes on to win a host of worldwide scientific awards, and is still only 18. She's one of Forbes' 30 Under 30 in the energy field, and has been called "the most talented freshman at Harvard". This name is one to watch, if you haven't come across her already.
5. Koreti Tiumalu
Koreti Tiumalu is the Pacific regional coordinator for 350.org, a worldwide grassroots environmental organization, and she's been a very powerful and vocal figure for the rights of the people of the Pacific Islands, whose homes and livelihoods are particularly precarious because of climate change and environmental destruction. She organized big protests, like the canoe blockade in Australia's coal port of Newcastle, that caught world attention.
She's particularly renowned for the fact that her organization isn't about a one-size-fits-all approach to environmental activism or green living; it tries to respect local cultures and faiths as part of its approach. In a 2012 speech, she said, "This has been the strength of 350.org — championing a climate movement that is culturally diverse and enabling us here in the Pacific to fight the climate crisis in a way that makes sense and is genuine, focusing on what is important to our people. And this has given rise to something very powerful. Hope."
6. Claudia Li
One of the winners of British Columbia's 30 Under 30 Awards in 2015, Claudia Li's still only 28, but she first made her name in 2009 when she started an organization based around saving sharks from the industry devoted to shark fin soup. Shark Truth has since grown into a community organization that does things like encourage Chinese couples not to serve shark fin soup at their weddings. They've saved around 80,000 shark fins since they started up.
Li's reached new heights, though, starting the Choi Project to improve food education in her local Chinese community, founding the Hua Foundation to combine cultural heritage and global environmental awareness, and becoming a Global Ashoka Fellow in 2015. (Ashoka specializes in funding "social entrepreneurs," and Li's planning to use their funding to support young visionaries in the Vancouver Chinese community.) Busy woman.