What Happens When Teens Play With '90s Toys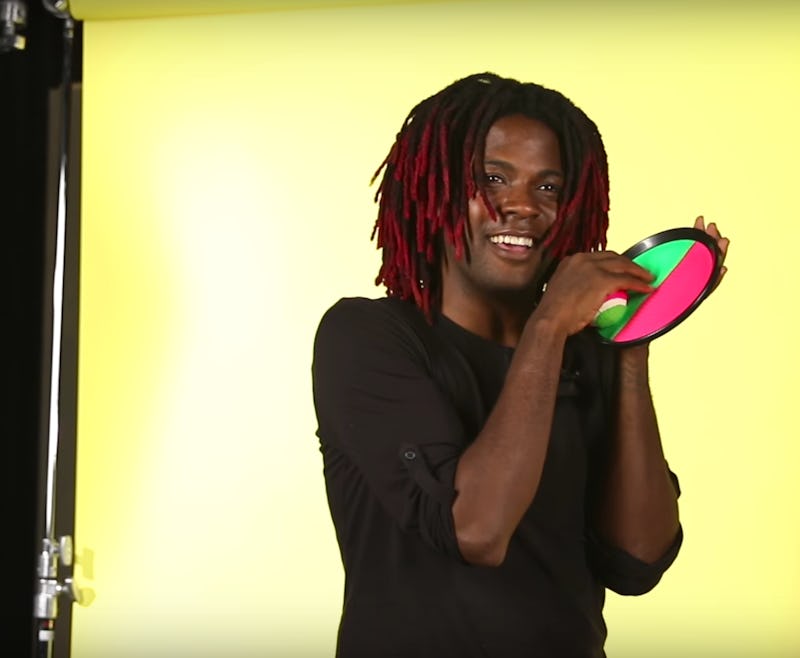 If you were a '90s kid, prepare to get jealous. In a new video from BuzzFeed, teenagers try out '90s toys. Their shenanigans with such '90s classics as Moon Shoes and Socker Boppers will remind you of three essential features of toys in the '90s: They came in super bright colors; they were probably unsafe for children (and, let's face it, adults); and they were 100 percent awesome. If you're like me, you'll end this video wondering desperately why there isn't a Skip-It in your life.
As is typical of these types of "kids these days try stuff from the past" experiments, the teens in question start the video by making sure that all of us who actually remember the '90s feel really, really old. They struggle to remember if they every played with '90s toys growing up. One girl asks, "Tetris? Is that '90s?" OK. I get it, child, I'm ANCIENT.
They move on to testing out their first toy: Socker Boppers. If you don't remember them, Socker Boppers were sort of like inflatable boxing gloves, the idea being that, because they were squishy, you could hit people with them and not cause grave injuries. If my memory serves, that didn't always work in practice. "Nothing's better than encouraging kids to be violent," one of the teens remarks. "What could possibly go wrong?"
The teens have mixed feelings about Gak, the slimy, squishy stuff that was essentially a mix between Play-Doh and… goo. One teen points out that it's a lot less useful than Play-Doh — "You can't shape it, and it can't copy things" — and another says that is smells like condoms. On the other hand, you can make fart sounds with it. "As far as disgusting sounds, being juvenile, I love it," one guy comments.
They then move on to the best toy the '90s ever produced: the Skip-It. OH, SKIP-IT. How I loved you. I have many golden memories of hopping along with my hot pink Skip-It as a child (I had the fancy one with the skip counter, of course). Most of the teens have a hard time figuring out how to use it. (I don't remember it being that hard, but maybe there's something about the child brain that more easily comprehends the physics of the Skip-It?) One of them, however, is a girl after my own heart, and takes to it immediately:
Sigh. I want one of those so hard.
To get your nostalgia fix (including a demo of Moon Shoes, aka one of the most dangerous/fun toys ever invented), watch the full video above.
Images: YouTube (3)