A 2016 'TIME' 100 Reading List To Inspire You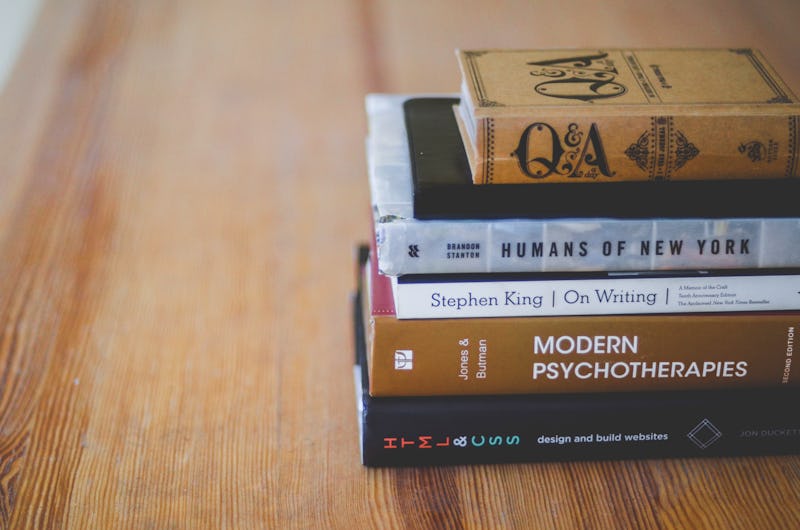 There are so many great ways to celebrate the inspiring people on the 2016 TIME 100 list, but tackling a reading list populated by some of the names is one of the best. TIME's 100 Most Influential People comprises actors, scientists, activists, politicians, and more sorted under five categories: Pioneers, Titans, Artists, Leaders, and Icons. While only two traditional literary fiction writers made the list, there are people in all categories that have published influential, creative, and inspiring books to add to your TBR.
The TIME 100 is the place where our president Barack Obama and candidate Hillary Clinton can mingle with (TIME-described Icon) Leonardo DiCaprio and Indian actor Priyanka Chopra, or Olympian Ibtihaj Muhammad and climate-justice activist Sunita Narain, or controversial (to say the least) world leaders Vladimir Putin and Kim Jong Un, or my (secret) husband Idris Elba and (secret) wife Julia Louis-Dreyfus.
Many of the influential people on the list have released books or have had books written about them, but I'm going to assume you won't have trouble finding a Barack Obama or Hillary Clinton book, or even one by my leader up here in the Great White North, the heartthrob and self-described feminist Justin Trudeau. Instead, I want to celebrate the two novelists and other high-profile and other-the-radar authors from the list you should definitely read.
1. Gilead by Marilynne Robinson
Marilynn Robinson didn't just make the TIME 100 list, she made it into the Icons section. That's how influential this author is on literary and American culture. If you need an entry into her insanely acclaimed work, start with Gilead, the first book in her most iconic series that follows generations of post-U.S. Civil War all in the same locale.
Ta-Nehesi Coates won the 2015 National Book Award for Nonfiction, the Kirkus Prize for Nonfiction, and the ALA Alex Award, and it was a finalist for the Pulitzer Prize. So, yes of course Ta-Nehesi Coates more than deserves a spot on the TIME 100. Between the World and Me is an essential read for today, written as a letter from Coates to his young son about growing up while black in the U.S.
Elena Ferrante's Neapolitan series has been called a "modern masterpiece," and so if you don't want to be left out in pop culture lit convos, the best place to start is at book one, My Brilliant Friend. The name Elena Ferrante is a pseudonym, and the world still doesn't know the true author behind the books, though speculation is always rampant. But the fact that the rumor mill around the author's identity is consistently overshadowed by the quality of the work is a true testament to the literary world and characters she creates.
It's Lin Manuel-Miranda's world, and we're just living in it. If you can't get your hands on elusive Hamilton tickets, reading Hamilton: The Revolution — dubbed "The Hamiltome" — while blasting the soundtrack of the next best thing. Was there any doubt that Lin Manuel-Miranda earned a spot on the TIME 100?
The YouTube sensation PewDiePie, aka Felix Kjelberg, allows 43 million subscribers into his life every day. Watching someone play video games? That's the most watched person on YouTube? But you'll see why when you get caught up in his charming and infectious personality. And This Book Loves You takes that idea into an illustrated book of inspirational sayings.
6. Modern Romance by Aziz Ansari and Eric Klinenberg
Mixing the modern world of texting, Tinder, and dating with cultural anthropology and psychology, Modern Romance makes for a one-of-a-kind part-comedy, part-science book and an interesting turn in the career arc of Aziz Ansari. And with Parks and Rec and Master of None on his TV show list, it's clear that Ansari wants to keep impressing and surprising us moving forward.
Not everyone gets her TIME 100 essay written by President Obama, but Nobel Peace Prize-winner Aung San Suu Kyi is more than deserving. The leader of the political opposition the National League for Democracy in Burma, Suu Kyi has dedicated her life to bringing democracy to her homeland. Her work forced her into house arrest for 15 years, after she spoke out against the military government of the "Union of Myanmar," at the time. Letters from Burma is a collection of her letters, written to people who have supported the NLD and democracy for her beloved Burma.
8. Lab Girl by Hope Jahren
Hope Jahren is a pioneer in science, particularly launching dozens of new studies into plant life. But even more awesome is Jahren's dedication to voicing her frustration with sexual harassment and discrimination against women in the sciences fields. Just released this year, Jahren's book Hope Girl discusses her career in sciences, the struggle she has faced as a woman, and the pivotal relationships she has made along the way.
Revolutionary avant-garde artist Yayoi Kusama has inspired her native Japan and the globe with her work across so many different medium: sculpture, illustration, environmental illustrations, collage, performance art, and so much more. In her autobiography The Infinity Net, Kusama opens up about her oppressive childhood to today, living voluntarily in a psychiatric hospital. You probably recognize some of her most inimitable artwork:
Image: Unsplash