13 Gorgeous Plus Size Bridal Intimates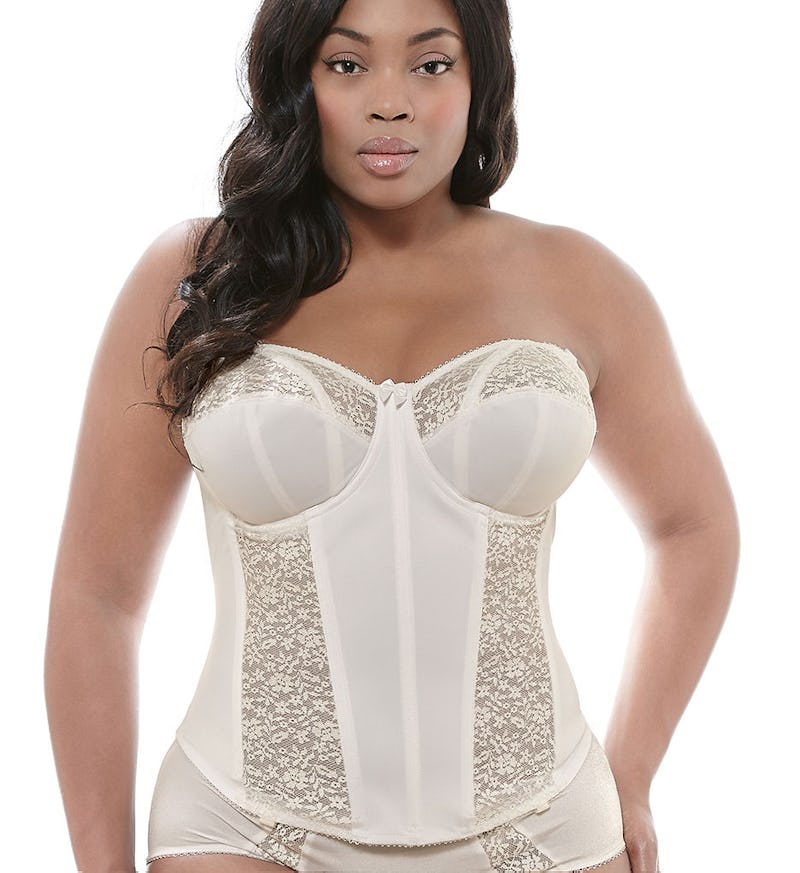 I'm currently planning a wedding, and while I'm finding more plus size bridal options than I expected, it's still taking some effort to locate the kind of unique, gorgeous pieces I'm looking for. While buying a plus size wedding dress turned out to be a surprisingly pleasant experience, trying to find the right lingerie that will work under my dress, but also make me feel sexy on its own, has been more difficult.
Depending on what kind of dress or outfit you want for your wedding, finding things like a good DD+ strapless bra or some pretty but comfortable (i.e. non-thong or G-string) underwear can be a huge pain. Full skirts need petticoats and crinolines to give them some extra volume, body-hugging dresses make avoiding panty lines difficult, and then there's the whole honeymoon lingerie question. I know I'll probably be far too tired after my wedding to struggle into (or out of) complex corset/garter/hosiery combos, so I'm trying to find the ideal sweet spot between easy comfort and romantic style. Then again, there are some really great high femme lingerie looks that I'm quite tempted to try.
Don't worry, though: There are plenty of cute options out there in larger sizes, and I've already done quite a bit of digging to find some of the best functional, fabulous, and inclusive intimates available for plus size brides. If you're looking for cute, pack-able sets to take with you on post-wedding adventures, a full-on goddess getup for your most extravagant fantasies, or a once-in-a-lifetime custom creation, read on for 13 bride-worthy intimates to fall in love with.
1. Short And Sweet
Mesh Bow Babydoll With Lace Panty, Sizes 1X - 3X, $118, Hanky Panky
This wispy set is sheer simplicity. Perfect for the honeymoon and beyond.
2. Sexy Support
Underwire Basque Longline Bra, Sizes 32DD - 44H, $79, HerRoom
If you're planning on wearing a strapless dress for your big day, the right undergarments can be key to giving you the support you need. This lace-paneled bra is available in extended cup and band sizes, and with the thoughtful longline design, you'll never have to worry about your band slipping, no matter how long you're on the dance floor.
3. Lacy Layers
Stretch Lace Bolero, Sizes 1X - 6X, $49.95, Hips & Curves
This versatile little bolero can be layered under a corset top or strapless dress, or you can wear it all on its own. If you want color options beyond white, it also comes in black and red.
4. Bow Tied
Kumiko Bra and Panty Set, Sizes XS - XXL, $95, Toru & Naoko
Offset the cuteness of bow-patterned mesh with sexy cage straps in this adorable set by indie lingerie brand Toru & Naoko. Polka dots and peekaboo details are just icing on the cake.
5. Have It Your Way
Long Slip, $148, Sizes 0 - 24, Impish Lee
If you've been looking around for your dream lingerie set, but can't quite find what you had in mind, you'll love Impish Lee. This lingerie brand allows you to completely customize your own bras, panties, and loungewear with a variety of gorgeous fabrics, colors, and styles up to a size 24 and/or 40J.
6. Easily Effortless
Ivory Lace Boxers, Sizes XS - XXL, $32, Foxers
You'll feel as comfortable as you are gorgeous in these lace boxer briefs from Foxers. Available in dozens of color and print combinations, from brights to pastels to neutrals, you'll be able to find something that matches your own unique sensibilities.
For more great body positive inspiration, check out the podcast below, and be sure to subscribe to The BodCast for even more inclusive style advice!
7. White Hot
Ashley Graham Corset, Sizes 1X - 3X, $95, Addition Elle
Go over-the-top in the glamour department with this stunning lace and mesh corset. Removable garter straps make it easy to add some sexy hosiery if you're in the mood.
8. All Tied Up
Cutout Lace Tie Bikini Panty, Sizes 0X - 5X, $18.50, Torrid
A playful and intimate way to add the proverbial "something blue" to your wedding outfit, these romantic cut-out panties are a delightful way to celebrate your body any day you want. With sizes going up to a 5X and adjustable side-ties, these lacy lovelies will work for a large range of different bodies.
9. Take The Plunge
Gossard Superboost Lace Plunge Bra, Sizes 34I - 44DDD, $55, SimplyBe
Lay the foundation for dramatic or plunging necklines with a bra built for the job. This lacy underpinning is the perfect practical solution that also will look gorgeous on its own.
10. No Thigh Gap
Wide Lace Band Thigh-Highs, Sizes 1X - 6X, $24.95, Hips & Curves
Show your legs some love with sheer thigh-highs topped with frothy bands of stretch lace. Interior silicone "stay-up" bands mean you can wear these with or without garters, as you please.
11. Champagne Dream
Fifi Shorty Panty, Sizes 14 - 24, $19, City Chic
Keep it simple and pretty with champagne-colored stripes and just a hint of lace. You'll feel light and lovely in this clean, microfiber design, ideal for brides who want to avoid anything overtly ruffly.
12. Vintage Vixen
Mucha Ballet Garter Belt, Sizes XS - 3X, $125, Dottie's Delights
If you love a retro pin-up or burlesque-inspired look, then this luxurious silk and lace garter belt is a must-have. Each piece is handmade to order, and you can contact the company with special custom requests if a style you love isn't currently available in your size.
13. Pump Up The Volume
Flossie Fluff Crinoline, One Size Plus, $68, Re/Dress
A great way to add volume to a short wedding dress or circle skirt, this voluminous crinoline will have you looking for excuses to twirl. Don't be afraid to let these frothy layers peak out from underneath your outfit; if you like, you can even wear this piece as an outer layer, as shown here.
If you're planning a gorgeous, plus size wedding outfit, finding the right underpinnings for your big day (and all that comes after it) will help you feel fabulous from head to toe. With all these great pieces to pick from, you'll be sure to find something you love for all your bridal plans.
Images: Courtesy Brands