11 Weird Purse Trends We Loved In The Early 2000s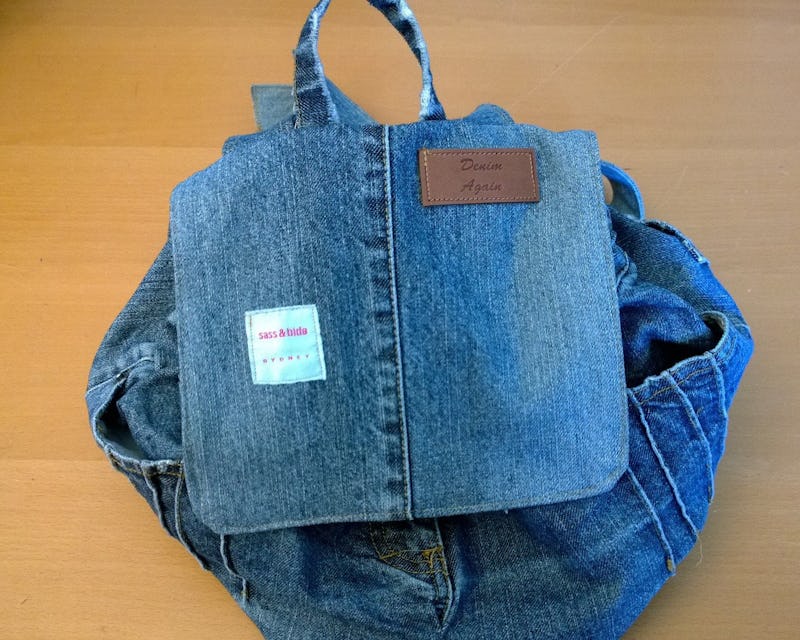 There existed many questionable trends after the millennium broke. For example, asymmetrical skirts, silky capris, and cropped crochet sweaters, to name a few. Those odd sartorial choices didn't just stick to clothing, either. There were a lot of weird purse trends from the early 2000s that now make me want to scratch my head in bafflement. And the thing was, I was guilty of sporting almost all of them.
Granted, I was nothing but a tween growing into a full-fledged adolescent in those times, which meant that I was allowed my cringe-worthy fashion choices. I had my fair share of shoulder sweaters and popcorn shirts, and I definitely had a denim bucket hat and foam platform flip flops. It was like a starter kit on how to be a millennial girl, and the thing that brought the whole tragic outfit together was the purse.
How many interesting purses did I own back then? Too. Many. They all came in varying styles, but most of them were pleather; a handful exploded with sequins; some were just a patchwork hodge-podge, while others were big enough to pack my whole life into and move on. And I'm sure you had a couple of those styles in your own wardrobe, too. So let's go down memory lane together: Below are 11 weird purse trends from the 2000s you were probably obsessed with.
1. Candy Wrapper Purses
Recycled Foil Clutch Bag with Black Fabric Strap, $42, Amazon
How did we get conned into paying good money for this? Like were we aware of the fact that someone was just putting good use to the candy wrappers they kicked underneath their couches? Is this how Etsy started? I have so many questions.
2. Fake Designer Totes
Every girl in my high school had one of these quilted black and white Chanel totes swung over her arm. Well, not exactly.
You could get them in China Town in between looking at dollar trinkets and bubble tea, and they cost you all of $20. This right here brings me back to sophomore year and first driving tests.
3. Denim Handbags
Not only can you wear acid wash denim with no back pockets as pants, but you can also use it as a purse. In case one could not get enough of the sand blasted trend, they now had options.
4. Sequined Shopping Bag-esque Purses
They had zero shape, they were saggy, and they glittered and glinted at every turn. You would think these would be bookmarked for nights out, but they were just worn as everyday attire by tween girls and high schoolers. Bonus points if you had a pink one.
5. Ginormous Totes
I don't mean big totes, I mean ginormous totes. Like, totes that wouldn't even pass as carry-ons. Totes that could fit in five-year-olds if they wanted to. Totes that would get stuck in train doors as they closed (true story).
6. Baguette Bags
Tiny, slender purses with short, short straps that were big enough to fit your clunky cell phone and a credit card alone. That was it. Nothing else. Don't even try it. But Carrie Bradshaw was famous for them so we endured the baguette bags and their useless ways.
7. Shoulder Bags
Thai Patches Shoulder Bag, $25, Amazon
It was impossible to find anything that was inside this black hole of a bag, and it was as shapeless as a 3-D form can become. Fashion was weird in the early 2000s.
8. Lower Initial Pleather Purses
In the early 2000s, there existed an obsession with marking your territory everywhere with your initials, and that trend made its way to purses, too. Especially pleather purses with short straps sold in the stand-alone carts at shopping malls. You didn't deserve your ovaries if you didn't have one of these initial purses, apparently.
9. Patchwork Bags
Rhinestone Buckle Handbag, $30, Amazon
Rhinestones, snakeskin, silver accents, and patches on patches on patches. This is what comprised the ever-chic patchwork bag.
10. Crochet Bags
The Sak Casual Classics Cross Body Bag, $44, Amazon
If you wanted a bag that made you feel like maybe your loving grandma wove it for you in between Wheel Of Fortune episodes, this was your answer.
11. Newspaper Print Bags
Why? Why were we so into newspaper print back then? I remember dresses, jersey shirts, newspaper boy hats, and everything else in that print. No one wanted to read newspapers, but apparently everyone wanted to wear them.
Looking back at the weird 2000s purse trends of our tween years and high school days, one thing is for sure: Our tastes have undoubtedly evolved in leaps and bounds since then. Now, let's just hope we don't cringe over the things we're rocking today 10 years from now.
Images: Etsy (1); Marlen Komar (1); Amazon (4)