Will 'Keanu's Cats Have More Than One Life?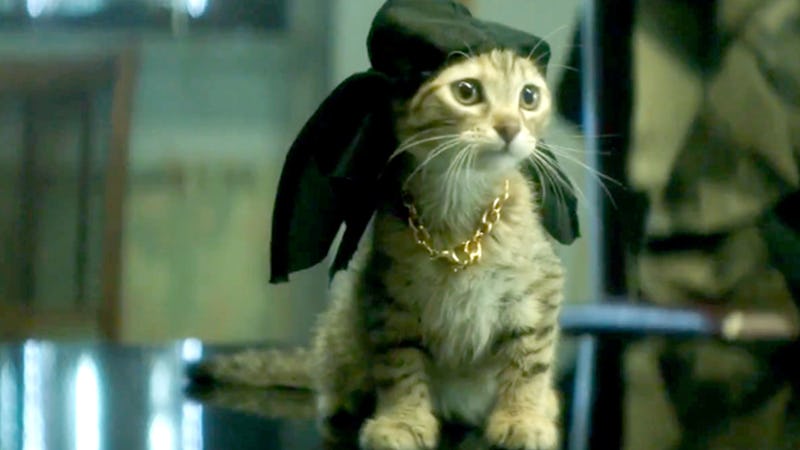 Despite being a hardcore dog person, I still dig the premise of Key and Peele's new film, Keanu. The comedy duo, famous for skewering racial politics, teamed up on the silver screen for a movie that is not a parody of John Wick, as you might think, but instead tells the story of friends trying to retrieve a kitten who's been catnapped by a Los Angeles gang. The feline on the line gets his name from Keanu Reeves, but that's the only connection to the Speed star — it's comedy for cinephiles, made by cinephiles. Basically, this movie sounds righteous and ridiculous, leaving me to already wonder if there will be a sequel to Keanu coming out in the future.
While the movie is essentially the cat-video to end all cat-videos — a premise sure to bring in big audience numbers — neither Key nor Peele have mentioned a sequel to Keanu as of yet, and it seems unlikely that the news will pop up soon. Instead the comedians told The New York Times that the movie probably marks the beginning of their continued cinematic collaboration, albeit not with Keanu 2 in the mix. This is still pretty great news if you're like me and could watch Key and Peele do geometry homework and still think it's the most entertaining thing on the face of the planet. And while I am certain that these dynamos have plenty of ideas for their next flick, I've got a few concepts of my own. Here's what Key and Peele's next movie could look like.
Barack Obama Vs. Dracula
You might remember Key's turn as President Obama's anger translator. He could take it to the next level by playing the Commander in Chief in a comedy-horror spoof about fighting monsters. What's a better metaphor for political competitors than literal bloodsuckers?
Race in Hollywood: The Musical
If Key and Peele's previous, daring work is any indication, a musical farce about how Hollywood tackles race could prove to be full of biting satire about the industry.
Thelma And Louise
Key and Peele wouldn't star in this remake, but could team up to write a truly compelling script and cast two women — Uzo Aduba and Lupita Nyong'o, perhaps? — as the two heroines in the center of the movie. Key and Peele said in the NY Times interview above that the original film is one of their favorites, but I'm of the opinion that it needs a remake that address the intersections of race and gender more blatantly.
So what will the future actually hold for Key and Peele? While fans like myself have plenty of ideas, the pair will have to get through Keanu's opening weekend first. Here's hoping it proves to be the cat's meow.
Images: Giphy; Warner Bros. Pictures