17 Cute & Creepy Beauty Products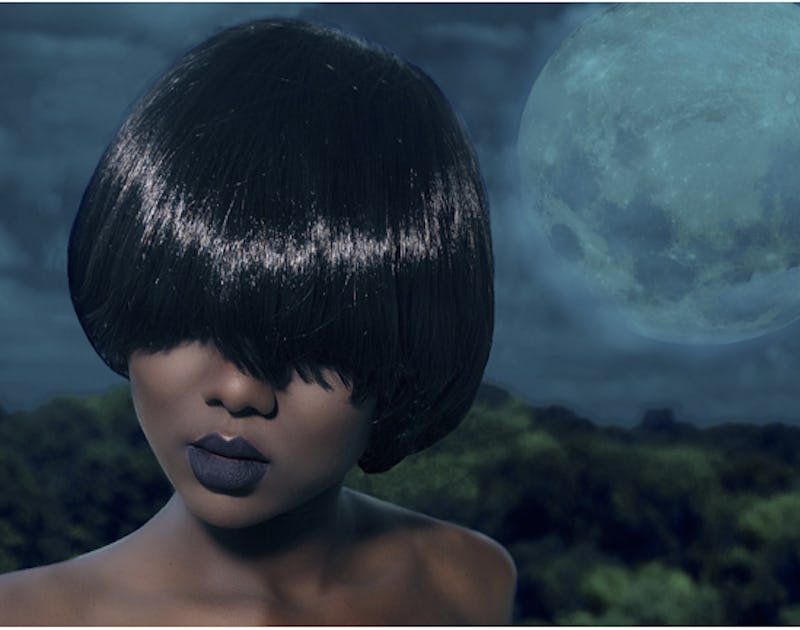 There's something so subversively cool about goth style and beauty. Pulling from a range of philosophies and aesthetic influences as varied as 19th century romanticism, 1950s kitsch, Victorian occultism, and modern Punk Rock, the goth look has a dramatic and powerful appeal. If you value unconventional individualism, playing with these stylistic elements can be a fun way to express yourself.
Growing up with a sister who revels in all the dark, macabre details of goth beauty routines, I've become quite skilled at shopping for the perfect black lipstick or Vampira-esque corset dress. I love the sense of tongue-in-cheek creativity that runs through goth fashion and beauty trends, and the way these looks often mix quirky cuteness and unsettling edge in equal amounts.
Put your own unique spin on this iconic look with a few of the many beauty products designed especially for darker sensibilities. Whether you prefer a campy vintage vibe, a mystical, neo-Victorian sensibility, or a grungy, punk-inspired style, there's something out there for you. If you watch every horror movie to hit the theaters, collect vintage taxidermy, or are uninterested in pretty much any color that isn't black, these deliciously disturbing products will be sure to give you chills.
Supernatural Eye Palette, $30, Lunatick Labs
Create a sense of mystery with this macabre mirrored eyeshadow palette from Lunatick Labs. Shades of smoky plum and ghostly white will bring some eerie appeal to your makeup routine.
Purgatory Lipstick, $18, Black Moon Cosmetics
Get the long-lasting lipstick of your darkest dreams. This vegan, cruelty-free liquid lipstick is a rich, almost-black plum shade that will soothe your gothic soul.
Imp Fragrance Sampler Set, $20, Haute Macabre
Sample each of the four fragrances from Haute Macabre's collaboration with Black Phoenix Alchemy Labs. Pick your favorite, or layer a few to create your own potent brew.
Macabre Nail Wraps, $16, Whats Up Nails
Want a lot of spooky glamour without much prep time? These skull and bone nail wraps will help you create a fiendishly fierce manicure with ease.
Bastet Lipgloss, $18, Nero Cosmetics
Named for the ancient Egyptian cat goddess, this ultra-violet lip color will add some potent magic to any look. Use this vivid hue to accent an all-black outfit for a bold, unearthly statement.
Spider Paper Lashes, $18, Paperself
Give the unsettling illusion of tiny arachnids crawling through your lashes with these cut-paper falsies from Paperself. No matter where you're going, these eye-catching accessories will be sure to draw some major attention.
Interstellar Eyeshadow Palette, $46, Kat Von D
You'll feel like the queen of the night with all these shimmering shades to mix and match for the perfect moonlit glow. From palest silver to deepest black, this palette has everything you need for enchanting eyes.
Vampira Lip Gloss, $3, Merchant of Gallifrey
Every day will feel like Halloween when you're wearing this pumpkin-flavored, soot-colored lip gloss. With moisturizing jojoba oil and a major dose of shine, this little lip pot is perfect for tossing in your bag for spooky beauty on-the-go.
Want more beauty tips? Check out the playlist below, and be sure to subscribe to Bustle's YouTube page for more hacks and tricks!
Brightening Serum, $95, Mun Skin
Thankfully, unlike the movies, we don't have to rely on eye of newt or or adder's tongue for beauty treatments so good they seem positively magical. Pamper your bad self with a botanical-packed serum meant to brighten, smooth, and even skintone for an almost supernatural radiance.
Tarot Deck Solid Perfume, $34, Catbird NYC
Evoking visions of dusty manuscripts, swirling incense, and dried flowers, this solid perfume is an ideal companion for your next trip to the local crystal shop or herbalist. Use this scent to add an undefinable touch of mystery to an otherwise ordinary day.
Skull Lip Balm, $8, Rebels Refinery
Add a little drama to your beauty necessities with this skull lip balm (embossed with a quote from Hamlet for the ultimate in moody romance). It's also available in neon pink, if you prefer your macabre with a side of cute kitsch.
Dust to Dust Nail Polish, $16, Laqa & Co.
A shadowy shade ideal for grimly glamorous manicures. If you think of charcoal and steel as bright colors, this polish will fit perfectly with all the other deep, dark tones you love.
Lady Vengeance Perfume, $125, Juliette Has A Gun
If you're not a fan of sweet, quaint scents, try this fragrance on for size. An elegant but deadly combo of rose, lavender, patchouli, and vanilla, this perfume will leave a trail of danger in your wake.
Danse Macabre Sparkle Eyeshadow, $6, Fabled Fragrances
Dust a little of this deep, wine shimmer across your lids for a soft, mystical glimmer. Depending on the light, this color shifts from dark red to smoky purple to dusty rose, adding an uncanny dimension to your look.
High Definition Microfinish Pressed Powder, $20, Lunatick Cosmetic Labs
Use this translucent powder to help achieve a flawless, Morticia Addams-style finish. Unearthly perfection becomes you.
Bloodletting Nail Polish, $10, Grim and Glamorous
A glistening, morbid red flecked with black, this handmade nail polish works well on its own, as well as layered over other shades. Wear this, and give a whole new meaning to the word "slay."
Cult of Beauty Lip Balm, $6, La Luna Bruja
Show your lips some love with a handmade, natural lip balm scented with soothing vanilla and spicy cardamom. Available in natural and tinted versions depending on your preference, this moisturizing miracle will banish dry, cracked skin as effectively as any spell.
If you enjoy the visual appeal of the creepy and macabre, these dark beauty essentials will help achieve the moody looks you love. Add a few to your makeup bag for those times when you need a bit more unsettling glamour in your life.
Images: Black Moon Cosmetics; Courtesy Brands