8 Gross Things You Should Throw Away & Replace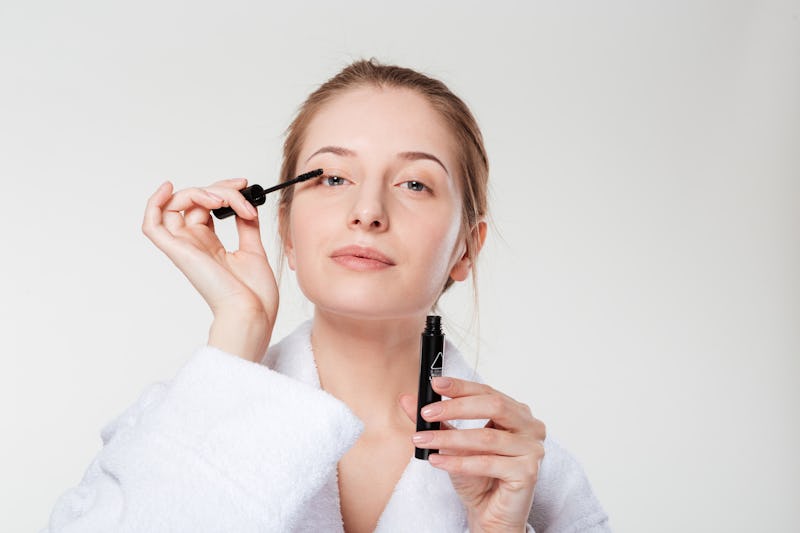 Where are you reading this — in your bed? At your desk? While commuting? If so, you're likely surrounded by dirty surfaces and bacteria. While you can't do much about public transit, there are certain things you can do to improve the situation at home. There are gross things in your home you should really replace, if you're not interested in climbing into a Petri dish of bacteria every night.
Here's something that's super gross but fairly important to know: You lose between 30,000 and 40,000 skin cells every single hour . And in your sleep? Your sweat, oil, and considerable dead cell shedding provide a veritable feast for bed-dwelling dust mites. When was the last time you got new sheets? Are yours fighting off bacteria, instead of tucking them in every night? And think about the items you place so closely to your face every day, especially that traitorous mascara wand. If you're a pumper (constantly dipping your mascara wand in and out of the tube for better pigment), it's a good idea to toss that bad habit (and mascara tube) out the door. (Pro Tip: Mascara shouldn't be held onto for longer than three months anyway, even if you're not done with the product yet.) Ahead, eight gross things in your home that deserve an immediate replacement.
Your Bacteria-Transferring Pillowcases
Fishers Finery 100 Percent Pure Silk Pillowcase , $26, Amazon
Cotton pillowcases are a breeding ground for bacteria — any germs, dirt, and toxins your face met during the day can be transferred to the material, and back onto your face again by morning. When you upgrade your pillowcase to silk, which is more tightly wound, your pillow is much less likely to harbor moisture and bacteria than other fabric blends. Dermatologist Dr. Kally Papantoniou recommends silk pillowcases for being less aggravating for acne-prone skin, too.
Your Germ Spreading Toothbrush
ProFloss Toothbrush Sanitizer , $18, Amazon
How long have you and your toothbrush been together? If it's longer than three months, out it goes! According to the American Dental Association, any longer than that, and the "bristles become frayed and worn with use and cleaning effectiveness will decrease." This genius toothbrush sanitizer eliminates 99.9 percent of germs, including E. Coli. One traveling reviewer writes, "Well made and sturdy (it has survived many trips in my checked luggage — so it has to be sturdy), I recommend this product to everyone on the road." While it's a good idea to get a new brush, it also just makes sense to ensure you're cleaning yours between uses, as your mouth houses 1,000 to 100,000 bacteria at any given time.
Your Mildew Sheltering Loofah
Konjac Face Sponge with Bamboo Charcoal and Green Tea , $13, Amazon
Loofahs and exfoliating sponges are excellent for scrubbing off grimy build-up — but the pores that make them great for sloughing away skin also make them great for holding onto it, too (yech!). If you're a loofah lover and can't picture ditching the shower tool, then at least upgrade yours. These face sponges are made with bamboo charcoal and green tea, which have natural antibacterial properties and protect your skin against sun damage, in addition to decreasing inflammation.
Your Skin Cell-Hoarding Mattress Pad
Gel Infused Memory Foam Mattress Pad + Bamboo Cover (Twin) , $70, Amazon
Your mattress likely houses anywhere from 100,000 to 10 million dust mites. If that doesn't get you in the mood for a restful sleep, then take some preventative measures! Not only does this gel-infused memory foam pad and bamboo cover (available in full, queen, and king sizes, too) add a protective two-inch barrier between unavoidable shedding and your mattress, but it does so while feeling "like heaven to sleep on," according to a reviewer. Plus, the real treat is the antimicrobial bamboo cover that's custom fit for this cushy pad, keeping things just a bit more hygienic where it counts.
Your Dingy Sweat Towels for Exercise
Copper Bamboo Antibacterial Hand Towels, $14, Amazon
If you're still throwing old dishtowels into the bottom of your gym bag — don't think your body doesn't notice. Treat your skin better with antibacterial microfiber towels crafted expressly for that purpose. This set won't lose its durability when you throw it into the wash, and the antibacterial properties make it better suited for repelling unwanted odors and quickly absorbing sweat and moisture left behind by throw-away towels.
Your Air Purifier & Filtration System
WBM Himalayan Glow Hand Carved Salt Lamp , $28, AmazonYou can't guarantee your breathing space will be completely free of sniffle-causing allergens or other airborne germs, but an air filtration system of some type is a good start. There are many different options to consider, including this handcarved Himalayan salt lamp. It works by releasing negative ions into the air when heated, which then purify the surrounding air. If you're content with your current air filtration unit, just be sure you're paying attention to how often you switch your filter (could be anywhere from three to six months, depending on your use).
Your Expired Sunscreen
Andre Lorent UVA/UVB Protection Daily Rehydrating Sunscreen, $25, Amazon
If you're still squeezing from a tube you've had past its expiration date, the formula inside is likely not as potent or protective as it used to be. Toss it, and instead, upgrade your sun protection to one of the best advancements in sunblock these days. This formula is safe (and encouraged) for daily use, which will spread a rehydrating mixture of vitamins A, B, C, and E and seaweed, algae, and orchid extract over your exposed skin. The sunscreen enhances your skin's elasticity, in addition to stimulating cell renewal, and one user describes it, "It soaked in, and wasn't greasy; it felt as if I had just put on my favorite lotion."
Your Messy, Germ-Harboring Mascara
Too Faced Better Than Sex Mascara, $32, Amazon
Did you know that every time you pump your wand in and out of the bottle, you're actually shoving bacteria and other air-born germs right into your mascara? It's a pretty damaging habit, especially considering it's a tool you're placing near your eyeballs pretty much every day. Throw away your bad habit, and your germy mascara along with it! This Too Faced Better Than Sex Mascara is your next necessary upgrade, and it's vetted by beauty maven Kylie Jenner herself. Its clump-free, film-forming formula remains smudge-proof for all-day wear, and its Acacia Senegal Tree ingredient ensures your lashes are nourished, in addition to being lengthened and thickened.
Bustle may receive a portion of sales from products purchased from this article, which was created independently from Bustle's editorial and sales departments.
Images: Fotolia (1); Amazon (8)