'Inside Amy Schumer' Premiere Has Amazing Cameos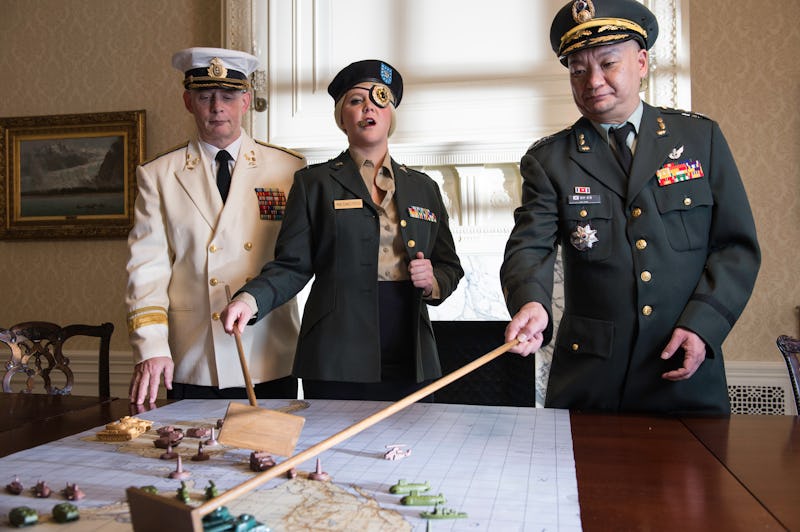 Amy Schumer is one of the busiest women in show business — in 2015 she changed the romantic-comedy game by writing, producing, and starring in the decidedly feminist film Trainwreck and had her own HBO special, Live at the Apollo. As if we needed further proof that she's one of the best comedians in the business, the Inside Amy Schumer Season 4 premiere packed in an astonishing number of laughs within less than 30 minutes. Schumer's signature irreverent, unapologetic sense of humor resulted in a number of hilarious sketches — and there were plenty of awesome celebrity cameos on Inside Amy Schumer that made the season premiere even better.
Fun cameos are nothing new for this amazing show, and having guest stars illustrates Schumer's versatility as a comedian. She excels during solo hourlong stand-up shows, but Schumer is equally hilarious when she's part of an ensemble. Last season, a varied group of A-listers made guest appearances on Inside Amy Schumer — highlights included Tim Gunn, Julia Louis-Dreyfus, Bill Nye, Tina Fey, and Patricia Arquette. I'm sure Season 4 has plenty of other great guest stars in store — but, first, let's recap all the cameos from the premiere:
Bridget Everett
This up-and-coming cabaret comedian has previously appeared on several Inside Amy Schumer sketches and she had a small but hilarious role in Trainwreck. Her cameo on the premiere was blink and you'll miss it, but it's probably not the last we've seen of Everett on the show.
Rachel Feinstein
Feinstein didn't get much screentime in the premiere, but be sure to check out her Comedy Central special Amy Schumer Presents Rachel Feinstein on April 23. If her act has the Amy Schumer stamp of approval, I'm sure it'll be hilarious.
Chris Parnell
He's easily recognizable from Saturday Night Live and his role as the wildly incompetent Dr. Spaceman on 30 Rock, but Parnell killed it in the premiere's "Relationship Center" game show sketch.
Rachel Dratch
This wasn't Dratch's first appearance on Inside Amy Schumer, and her performance in the Yo-P*ss sketch makes me pray it wasn't her last.
Kim Caramele
The premiere's best and most adorable cameo was undoubtedly Kim Caramele, Schumer's real life sister and Golden Globes date. She's always a welcome addition to the show and she totally held her own in the final sketch, which focused on hip-hop musical about either Betsy Ross or Bethany Ross (one of the Real Housewives).
Here's to a great season premiere — I can't wait to see who else shows up on Season 4 of Inside Amy Schumer.
Images: Comedy Central (2); Giphy (3)