Are Rihanna's Puma Slides Sold Out?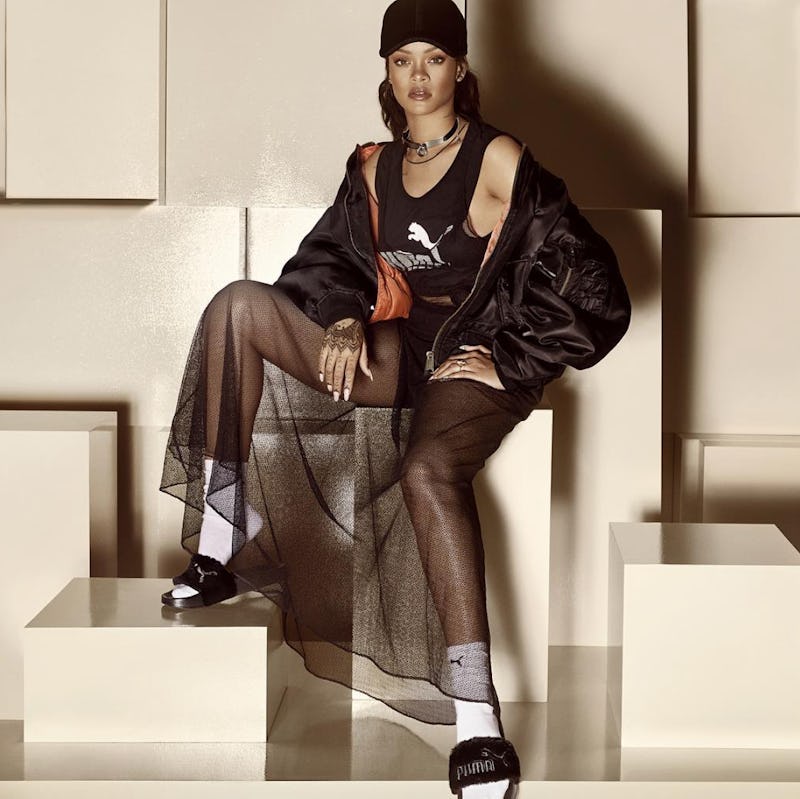 You better book your next pedicure, since the shoe of summer 2016 has arrived. Rihanna's Puma Fur Slides, her third shoe following the sold-out Creepers and the fashion-forward athletic trainers, are officially going on sale at 10 a.m. The turnt shower shoes, available in white, black, and a shell shade that looks pink, retail for $80 and are being sold at the Puma site, in stores, and online. Of course, the RiRi Navy and stylish athleisure lovers are making a mad dash to scoop up a pair of the slippers that RiRi designed "with comfort and style in mind, having to travel extensively as part of her busy lifestyle," per the press release announcing the shoes. Now that the on-sale is here, your question has to be this: Are the Rihanna Puma Fur Slides sold out?
UPDATE: As of 11:00 a.m. ET the Rihanna Puma Fur Slides are almost totally sold out on the Puma site, which kept crashing at the on-sale. Only a select few sizes in black are left. There are a handful of sizes and colors still available at the Nordstrom site, as well.
As of 9:25 a.m. ET, the black and white versions of the shoes are available at the Nordstrom site. As noted, they are scheduled to go on sale at 10 a.m. at the Puma site. I am expecting a quick sell out, which should not be shocking, since the style influencer took a footwear basic (the slide) and elevated it a whole other level with that faux fur fabric. You can totally dress up leggings and skinny jeans with these babies. Or you can schlep around the house and do laundry while wearing them and still feel insanely glamorous while completing menial tasks because #fashion.
I'm not tryna brag here, but I just purchased a pair via the Nordstrom site quickly and with ease.
They look so damn comfy, don't they? Maybe she'll even wear them with her Stance socks.
Remember when she rocked the slides, preview style, on her THE FADER cover?
These seriously are the quintessential summer shoe.
Versatile — these branded babies go with anything. They really are so much than shoes you wear while chilling at home. This is footwear that's meant to be taken to the street.
ICYMI: The trainers! So futuristic. Even when rocking basics, RiRi is never, ever boring.
Here's a tip: If you miss out on the Rihanna x Puma Fur Slides, you need to start planning ahead for the possible restocks or think about shopping third party sites, which will require some homework and a little more spend.