23 LGBTQ Books Starring A POC Protagonist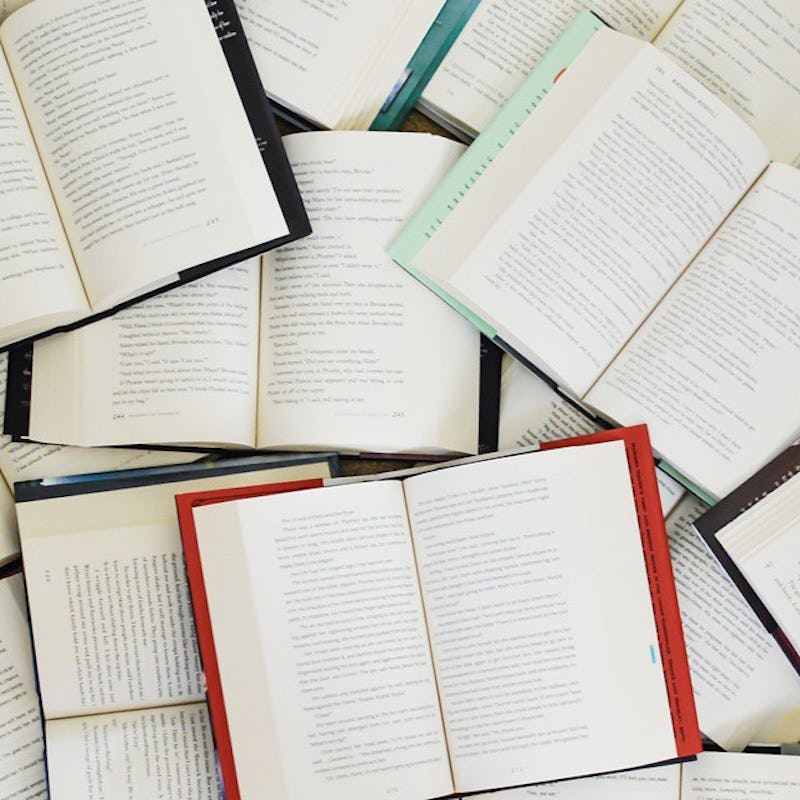 When you go to make your newest TBR book list, you probably look at recent bestsellers, upcoming buzz books, classics you've been ignoring, and new releases from your favorite authors. One place you probably haven't been checking but should be is the library of LGBTQ books with POC protagonists, because no matter what your race, gender, or sexuality is, you need to be reading these essential and diverse stories.
No matter who you are — black, white, gay, straight, male, female — reading provides you with an opportunity to see inside someone else's life. Books are the perfect tool to help you navigate through the diverse experiences of other people, and they have the ability to help you better understand and empathize with someone outside of your own circumstances. Diverse books are essential, especially now, in our white-washed world that leaves young women of color begging for more stories about girls that look like them, and especially in our nations, a place where other countries like Britain see that it is necessary to issue travel warnings about visiting anti-LGBT states.
We need to share, read, and talk about diverse stories now more than ever. There is an entire population of the country continually underrepresented or misrepresented, misunderstood, and straight up discriminated against, and we need to hear their voices. Here are 23 LGBTQ books with a person of color as the protagonist to get you started.
While seeking safety from the civil war in Nigeria, 11-year-old Ijoema meets and falls in love Amina, another young girl from a different community. When their romance is discovered, the world, including Ijoema's mother, are determined to show the girls that they can't be together. A lyrical novel that spares no emotion, Under the Udala Trees is a remarkable coming of age story every kind of reader will love.
Hannah Moskowitz examines stereotypes of race, gender, religion, and sexuality in her powerful coming of age novel, Not Otherwise Specified. Etta, a black bisexual teenager struggling with an eating disorder, doesn't seem to fit in with anyone, including the ballerinas, lesbians, and sick girls, but when she meets Bianca, a girl that is her complete opposite yet understands her better than anyone, everything changes. A moving and breathtaking story, Not Otherwise Specified should be considered required reading.
A novel in stories, Don't Let Him Know explores the lives of family members in an Indian family, including a closeted Indian man who tries to hide his true self from everyone, including his wife and his son. A poignant story about old versus new, duty versus passion, and tradition versus progress, Don't Let Him Know is a contemporary Indian story readers of every ethnicity, gender, and sexual orientation can enjoy.
Alice Walker's Pulitzer Prize-winning novel The Color Purple has been praised for its portrayal of both African American women and lesbianism. A powerful story that frankly deals with issues of racism, sexism, violence, and discrimination, The Color Purple is usually required college reading for a reason.
After coming out to her family and getting a less-than warm reception, Juliet, a Puerto Rican lesbian from the Bronx, takes off for Portland, OR, where she is determined to figure her life (and herself) out. Juliet Takes a Breath is a rich and gorgeous novel featuring a bad ass feminist POC protagonist and a story that is both insightful and empowering.
6. Ascension by Jacqueline Koyanagi
Science fiction is often criticized for its exclusion of both LGBT characters and people of color, but Jacqueline Koyanagi changes that with her spectacular space opera, Ascension . Alana Quick, a young black lesbian who happens to be an incredible sky surgeon, gets more than she bargained for when she stowed away on the cargo vessel Tangled Axon. Although all she wanted was a job, Alana finds danger, adventure, and an unexpected romance. An intriguing and thrilling story, Ascension is a dramatic space adventure well worth reading.
In the third book of Manil Suri's The Hindu Gods series, Mumbai is on the brink of nuclear destruction, and two unlikely allies come together in an effort to survive. Sarita is desperate to find her husband when she meets Jaz, a gay Muslim man trying to relocate his own lost lover. A hilarious and thought provoking novel, The City of Devi is smart and wholly original.
On the pages of Luis Negrón's stunning debut collection, Mundo Cruel , readers will find raw, unforgettable characters, hilarious and heartbreaking stories, and beautiful writing. The nice short stories explore gay life in Puerto Rico, from youth to adulthood, with insight, emotion, and honesty. This is a slim collection you'll want to read again and again.
The first in her family to leave home, Missy Fuego, an 18-year-old queer, feminist Chicana girl, heads to an elite university in Santa Cruz where she finds a world unlike anything she's experienced before. A fun and empowering novel about sexuality, race, class, gender, and feminism told against a backdrop of punk shows, strip clubs, and California beaches, Life is Wonderful, People are Terrific is a one of a kind story.
Earl, a black gay man who tried to make it as an actor, and Bette, a white secretary, may be two completely different people, but they both came to New York for the same reason: to reinvent themselves and find a new home. Sarah Schulman's highly praised novel The Cosmopolitans explores these neighbors' lives in vibrant detail and beautiful prose. A modern retelling of Cousin Bette, this is a captivating story about loss, rejection, and, ultimately, love.
11. Huntress by Malinda Lo
In the follow up to her LGBTQ YA retelling of Cinderella, Ash, Malinda Lo explores Kaede's story before she met her princess. Another moving love story between two strong and powerful women, Huntress is filled with enough action, adventure, and fantasy to keep readers hooked until the last page.
12. Guapa by Saleem Haddad
Coming of age is difficult for everyone, but it has a whole different set of obstacles if you're a young gay man in an Arab community. Guapa brings readers into the life of Rasa, a closeted gay man in the Middle East, for 24 hours as he searches for his best friend who has been arrested and struggles with his own problems, namely his grandmother catching him in bed with his lover. A provocative and emotional coming of age story, Guapa is a excellent debut novel.
13. Funny Boy by Shyam Selvadurai
Set in Sri Lanka, Funny Boy chronicles the life Arjie, a young and affluent gay man struggling with his sexuality, his race, and the threat of war. A stirring and emotional novel of identity and violence, this debut beautifully captures growing up in turbulent times.
Haruki Murakami consistently writes about LGBTQ characters, and in his unforgettable coming-of-age novel, Kafka on the Shore , he includes the story of Oshima, a young gay transgender man. Though he is not the main protagonist, Oshima's role in Kafka's story is an important one every reader will be invested in.
Marci Cruz was raised in a strict religious Latin household, but no matter what her family or the Bible says, she knows who she is and how she feels. The story of an 11-year old girl coming of age and coming into her own as a lesbian, What Night Brings is a gut-wrenching story about family, abuse, and survival that will move you to tears.
In Iran, being gay isn't just taboo; it's illegal and could result in violence, jail time, or even death. Sara Farizan's If You Could Be Mine explores the those realities through the relationship between Sahar and Nasrin, two Iranian girls who are willing to risk everything to be together, even change who they really are. When Nasir's parents arrange a marriage to a rich doctor, Sahar considers getting sex reassignment surgery — a legal operation — to become a person her love can be with. A unique and sensitive novel, If You Could Be Mine is a heartbreaking story worth all the tissues you'll use reading it.
From award-winning author of Brown Girl Dreaming, Jacqueline Woodson, comes The House You Pass On the Way, an evocative coming of age novel about a young biracial lesbian, Staggerlee, and the summer she realized who she really was. A quiet yet emotional story, The House You Pass On the Way is a poetic book perfect for readers young and old.
Nancy, a gay Japanese-American high schooler living in a primarily African American community with her single father, falls for fellow basketball player, Raina, but things get even more complicated for her when her dad moves in with Raina's mother. The Necessary Hunger is wonderful story about identity, family, and love that basketball fans will love.
In the third installment of Max Gladstone's Craft Sequnce, Full Fathom Five, it's all about women, specifically the badass women. Among them are Kai, a transgender woman, and Izza, a lesbian POC. If the cover isn't enough to draw you in, the incredible world building, fully-fleshed characters, and exciting story surely will.
After getting out of rehab, Jed, a young, gay, black man in Chicago, leaves America behind and heads to Berlin. Set during the Reagan era when the Berlin Wall still stood strong, Black Deutschland explores racism, prejudice, and self-discovery through the eyes of an American expatriate trying to escape his past and create a new history for himself. A moving and intellectual novel, Darryl Pinkney's story is a recent must-read.
Growing up in the religious south, 16-year-old Horace was raised to believe homosexuality is a sin, which makes his own sexual desires that much more difficult to navigate. In A Visitation of Spirits, Horace's complex and conflicting emotions are explored through his struggles to transform into the person he is meant to be. Told through a variety of voices, this is an eloquent debut that will break your heart while, at the same time, leave you with the seeds of hope.
22. I am J by Cris Beam
When J, a Jewish Puerto Rican boy trapped in a girl's body, loses his only friend, he decides not to hide his identity anymore, no matter what his family, school, or community thinks. An inspirational YA novel about a transgender boy's struggle to become who he truly is, I am J is a diverse story every young person can relate to.
23. Skim by Mariko and Jillian Tamaki
Youth, cliques, depression, suicide, struggles of sexual identity — it all comes to life on the pages of Skim, Mariko and Jillian Tamaki's breathtaking graphic novel. In it, Kimberly, better know as Skim, tries to navigate the murky waters of adolescence at a private girls' school and coming to terms with her own identity, mental illness, and sexuality. A powerful and visually stunning book, Skim is as wonderful to read as it is to look at.
Images: twirlingpages/Instagram