How To See 'Purple Rain' In Theaters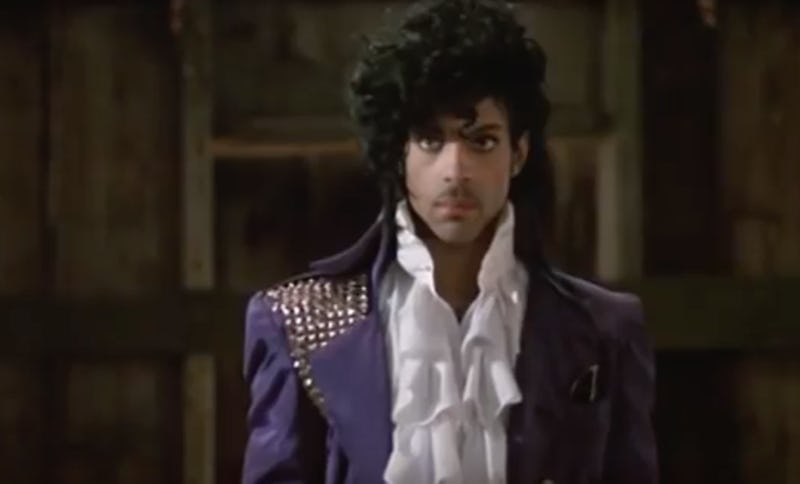 On Thursday, the planet stopped when news broke that one of the greatest musicians to ever walk this planet and generously share his genius with the rest of the planet had passed away. And the grieving planet has yet to resume spinning. On April 21, rock and pop icon Prince was found dead at his Paisley Park compound at the age of 57. To honor the "Little Red Corvette" artist, AMC Theaters and Warner Bros will bring a certain acclaimed feature film back to the silver screen. According to The Wrap, Purple Rain will be shown at 87 different AMC locations from April 23 through April 28.
The 1984 musical drama was directed by Albert Magnoli and stars Prince, Apollonia Kotero, and Morris Day. Purple Rain scooped up the Academy Award for Best Original Song Score, and I have to think this one of the least shocking wins in Oscar history: the OST track list includes Prince hits "When Doves Cry," "Let's Go Crazy," "Purple Rain," "Baby I'm A Star," "Darling Nikki," and "I Would Die 4 U." It's not just one of the best soundtracks of all time, but it also happens to be one of the best albums of all time. Period.
The flick will play in movie houses in Atlanta, Dallas, Chicago, Los Angeles, San Francisco, New York, Minneapolis (of course), and more.
You can check out the complete list of all 87 theaters and buy tickets here.
Image: Warner Bros.