13 Tiny Purses You Would've Killed For In The '00s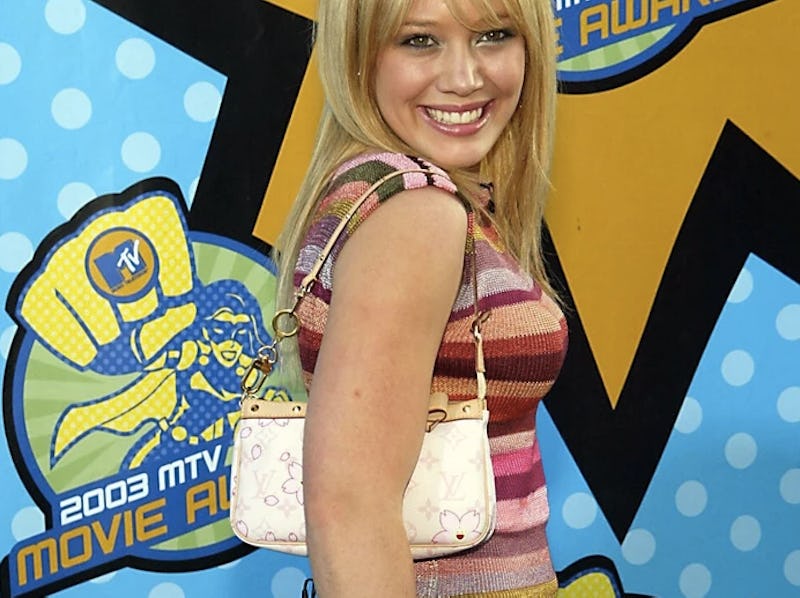 Whether you like it or not, the early aughts are back in a big way. Don't worry, '90s lovers: Your decade is here to stay, too. We're just getting a little bit of an update with a few early aughts trends like the infamous mini purses of the 2000s. From beloved baguettes to heavily branded carry-alls, the mini purses of the earlier '00s are making a major comeback in 2016. Needless to say, as a kid of the early aughts, I am thrilled.
While my pre-teen years were filled with butterfly clips, jelly shoes, and one too many pairs of gaucho pants, the one item that I wish I kept from those days of fashion faux pas was my little blue backpack. It wasn't just any blue backpack, though. It was of the mini variety and completely see-through. While I have to admit it was not the most practical bag, it is still to this day one of my favorite possessions ever. Unfortunately, my little blue backpack didn't make it past 2010, but fingers crossed it will be brought back with the early 2000s revival.
While there are many bags I would have killed for in the early '00s, I am partial to the denim patchwork styles — or maybe the little leather wristlets. If you are a fan of the the aughts resurgence or just want to take a walk down memory lane, check out 13 bags most of us would've died for in the early 2000s.
1. The Denim Baguette
Denim on denim didn't just mean Texas Tuxedo in the early 2000s: It also included accessories.
2. The Mini Handle Bag
What's better than a clutch? A purse with a teeny tiny handle.
3. The Initial Purse
Women's Kelly b Blue Purse, $19.99, eBay
Whether paired with a Juicy Couture sweatsuit or with a popped collar Polo, this was the "It" bag of the early 2000s.
4. The White Wristlet
White accessories are at an all-time high right now, so I have a feeling this little white wristlet is on its way back.
Want more beauty tips? Check out the playlist below, and be sure to subscribe to Bustle's YouTube page for more hacks and tricks!
5. The Little Louis
There was nothing cooler than this little Louis Vuitton shoulder bag in the early 2000s.
6. The Oversized Coin Purse
I am pretty sure I had five of these exact same bags in my closet.
7. Juicy Couture Carry-All
Juicy Couture is Bliss handbag, $11.99, eBay
A '00s roundup just wouldn't be complete without a little Juicy Couture.
8. The Studded Bag
Avril Lavigne-inspired purses were all the rage in the early aughts.
9. The Fabric Carry-All
A brightly hued fabric purse was a must-have back in the day.
10. The Mini Bowling Bag
This round shaped bag is too small for a bowling ball, but just perfect enough for a night out.
11. Dooney & Burke
Dooney and Burke Multi Color White Leather Shoulder Purse, $45, eBay
If I could have had any purse in the early 2000s, my pre-teen self would have chosen this multi-colored Dooney and Burke shoulder strap one.
12. The Wristlet
Wristlets were just big enough to carry your flip phone and just small enough to hang from your wrist. Why did these bags every go out of style?
13. The Branded Bag
Louis Vuitton Monogram Multicolor Mini Speedy, $416, eBay
Whether it was Guess, Coach, or Louis Vuitton, heavily branded mini bags were all the rage in the early aughts.
Who would have thought that a bag so small would make such a big impact?
Images: Lee Celano/AFP/Getty Images (1); Ebay