Bravo's 'Motherhood' Is Full Of Successful Women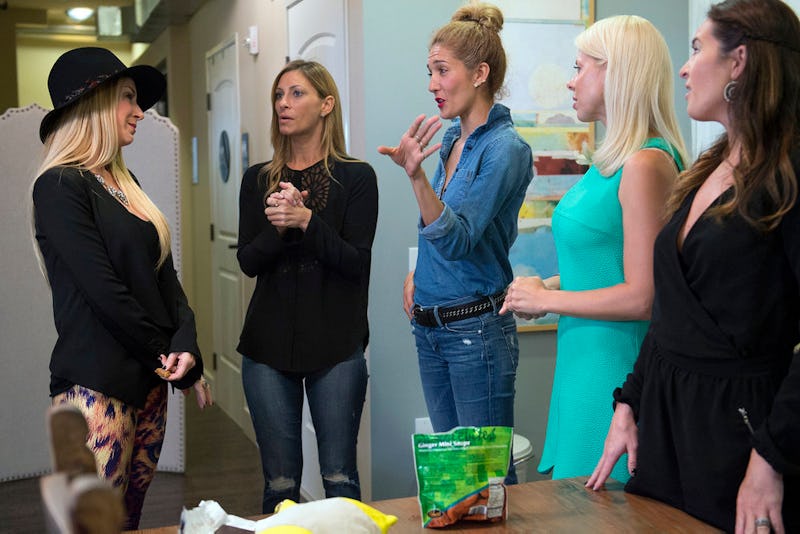 The women of There Goes the Motherhood have a whole television show devoted to their conflicts over how they should parent their children. And, as you might expect considering the show's setting in some of LA's wealthiest neighborhoods, the There Goes the Motherhood cast's net worth seems pretty large. In the series premiere, the stars' homes and careers were as impressive as the depth of knowledge they have about the difference between attachment and free-range parenting. And for many of these women, it's their high-powered careers that help them afford to stay home temporarily and focus completely on parenting, or start a new career that offers a good work/life balance.
The show centers on the "mommy group" and money has even popped up occasionally in the trailers for upcoming episodes. But since a lot of these women aren't public figures just yet, there aren't any publicly confirmed amounts of their net worths. However, their success is clear from what we do know, such as the details of their careers and in some cases, expenses. Of course, there's so much transition within this cast, as some of the women go from married to divorced, or go from working as powerful executives to staying home temporarily, their monetary situations might be in flux. So keep in mind, many of these are estimates — but all of these women seem to be doing a great job of providing for their families.
Jill Spivack
Jill, the host of the group, is the successful creator of Sleepy Planet Parenthood and Mom Assembly, the company that's responsible for setting up the mommy group. She's practically a prophet to these women, with just a simple, even-handed piece of advice able to totally shift how they see the world. That, paired with her many TV appearances, the popularity of her services, and a brand new Bravo show, must make her net worth pretty solid.
Beth Bowen
Beth's first introduction on TGTM is about how she grew up and started her marriage wealthy and privileged, but is quickly realizing that she can't shop quite as much as she used to, having to worry about money for the first time since she was 22 and first met her husband. And according to Beth, she once was spending $60,000 per month in normal monthly expenses.
Jen Bush
Jen's home in the Pacific Palisades is gorgeous, and this successful former stylist/current writer quit her job in New York City (according to Chron, average salary is $64,500) in order to attempt to become a writer. I don't think there's any way that she would do that without having some savings to fall back on. And with Jen's dad at home with Rivers, her 2-year-old son, she's not spending money on childcare, which is one of the biggest expenses mothers face. So I'm guessing that she must have a good handle on her finances.
Meghan Conroy-Resich
Meghan is a stay-at-home mom, while her husband is the operating manager at a Los Angeles cemetery, as established in There Goes The Motherhood's premiere. According to Payscale, the average salary for that position is around $60,000. But they live in a large, slightly disheveled home with a pool, and Los Angeles is an expensive city, with the average cost for a four-bedroom house in the last year was around $1 million.
Alisa Starler
Alisa is a bit of a mystery, since she hasn't spent a lot of time in front of the There Goes the Motherhood cameras yet. According to Alisa's blog, she's a former creative film executive and has decided to focus on her blogging and being a marketing expert for Chameleon Chair Collection. A marketing exec salary, according to Salary.com, can range from the low to the mid-six figures.
Leah Forester
Leah's career in fashion combined with her husband's work as a film executive likely makes them one of the most successful couples on TGTM. Bill's biography on the Lotus Entertainment website boasts that he's made deals for excess of $400 million.
Stefanie Fair
A former Fergie band member in the 1990s, Stefanie Fair's husband, Ron Fair, is estimated to be worth a reported $15 million, according to The Richest, though that has not been confirmed. Ron also works with Fergie, as a music executive for A&R. And while he's made millions, he still showed up to cook for the season premiere family barbecue. So even though the Fairs seem like some of the wealthiest members of the There Goes the Motherhood cast, they also might wind up being the most down to earth.
Images: Nicole Weingart/Bravo (2)