Lin-Manuel Miranda Sings On 'Last Week Tonight'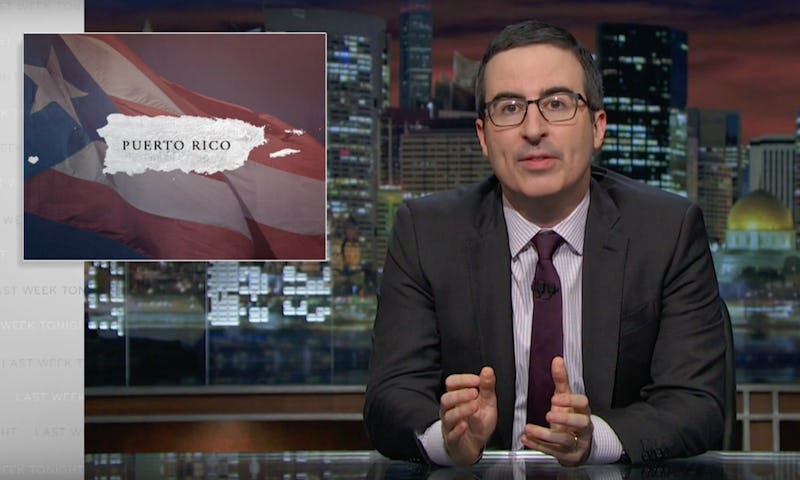 Things aren't looking good economically in Puerto Rico these days, and John Oliver wants to help you understand why Congress is to blame. But he's not the only one. On Sunday's Last Week Tonight, Oliver tackled Puerto Rico's debt crisis, with the help of Lin-Manuel Miranda of Hamilton fame. Like Oliver, the creator and star of the hit Broadway musical — who deserves some credit with saving Alexander Hamilton's spot on the $10 bill — has his sights set on the island that's just 100 miles across but home to some 3.5 million Americans. They owe about $72 billion in bonds.
That sounds dire, and it is. Before Miranda joined him on the set, Oliver explained the unworkable position Puerto Ricans find themselves in. Unemployment is way up but so are taxes on its struggling citizens. Sales tax, for example is at 11.5 percent, higher than any state. Oliver compared the territory to a failing Tower Records: "Right now, Puerto Rico is like the last Tower Records. Everything is overpriced, everyone is being laid off, and there's still a weirdly large number of Ricky Martin CDs."
States can't find themselves in a similar situation because there are laws in place, like Chapter 9 of the federal bankruptcy code. The law allows state and local governments to restructure their debt in federal court in a way that is fair to creditors but also workable for the cash-strapped state. Well, Puerto Rico is not a state, and American law doesn't always apply there, something Oliver attributed to a 1901 Supreme Court decision that said Puerto Rico is "foreign to the United States in a domestic sense."
However confusing that may be, in practicality it means that Congress can write a law that then doesn't apply to Puerto Rico. So, in 1984, a law was passed that excluded Puerto Rico from Chapter 9 protection — tacked on to a totally unrelated bill. So since then, no more bankruptcy. "If you are massively in debt and can't declare bankruptcy, you are stuck," Oliver said.
So, Oliver says, Congress essentially created this mess — but not just by excluding Puerto Rico from Chapter 9. It's actually much worse than that. Congress has written plenty of laws over the years that only apply to Puerto Rico, creating what Oliver called "little legal quirks." They have had, Oliver explained, "massive consequences — some good, but many utterly devastating."
One of the good ones was a law that offered tax breaks to companies that had previously planned to relocate overseas but then went to Puerto Rico instead. Starting in 1976, U.S. companies did not have to pay taxes on income that originated on the islands. Many companies relocated some aspect of their business there. At one point the island was home to many pharmaceutical plants — one town alone even had 14, Oliver said. Among the drugs they made? Viagra.
But in 1996, Congress signed a bill — to offset tax cuts stateside — that would phase out the preferential treatment over a 10-year period. By 2006, the special treatment was over. Then arrived the Great Recession, making matters even worse and the island lost over half its manufacturing jobs. As Oliver put it, that left Puerto Rico's economy in a "flaccid state that no amount of Viagra could fix."
To fix the budget shortfall, the state started selling bonds. And Congress went along with it, incentivizing them. Anyone that had a Puerto Rican bond didn't have to pay federal, state, or local taxes on the earnings. That, combined with the fact that Puerto Rico couldn't use bankruptcy courts to get out of its debts, made them attractive to investors. Now vulture funds own a lot of the bonds and are trying to get the most they can out of Puerto Rico.
To make it even worse, the law says that debt payments must be made before government services are paid for. Imagine it in the U.S. We owe China and so instead of paying the fire department, we pay those loans. In Puerto Rico, this has begun. Once the power was turned off at the local hospital because they weren't able to pay — they at least waited until surgeries were done before pulling the plug. Doctors have started to move away too, moving, as Oliver said, at "an attrition rate rivaling that of Grey's Anatomy."
Now it's on Congress to solve the problem, something The New York Timescalled on the House and Senate to do in an editorial Saturday. The next big payment is due May 1. Attack ads have already started trying to block the legislation, but Oliver said it's time that the United States start treating Puerto Rico like "an island of American citizens," which is what it is. After all, as Oliver noted, some of our best judges — both from the Supreme Court and American Idol — come from Puerto Rican families.
After Oliver's typical rant with a purpose, we're back to Miranda. He recently went to Congress to ask them for a bill that would allow Puerto Rico to restructure its debt. His parents are from the island, and moved to New York before he was born.
He reiterated his plea on Last Week Tonight in a song:
Yo, my family's fromPuerto Rico. The tropical destinationWhere you can spend your Washingtons, the spot where you vacationA Commonwealth with not a lot o' wealth, a not-quite nationSeventy billion dollar topic of conversationHopin' to God John Oliver's comical dissertationResonates with the Congress that got us in this situationAlong with suicidal tax incentive declarations:"Yeah, we'll pay your bonds first. Close the hospital, fuck the patients."
This is an island, a hundred miles acrossA hurricane is coming and we're runnin' up a loss
We got here through a million misguided loopholesThat giveth and take away businesses 'n' poop in our soup bowlsThey crapped in yours? They crapped in mineAnd somewhere down the lineStrom Thurmond's ghost busted a cap in the chance at Chapter 9The great debate over statehood has to waitThat's Rose and Jack on the Titanic askin', "When's our next date?""The ship is sinking," we have to say, and pay shit that mattersThen we'll figure out our Facebook relationship status
"Will they or won't they?" It's Friends' Rachel and RossWe have to help our island just a hundred miles across
To recap, 3.5 millionAmerican civilians are on the hook for billionsVulture bond are circling and lobbying for payoutThere's nothing left to tax or cut. We're stuck. We need a way outAllow them to restructure. There's no structure for what happensIf you let this crisis play out when May is less than a day outIt's non-partisanThe hard part is inConvincing Congress Puerto Rico matters so their heart is inThe fight for reliefNot a bailout, just reliefA belief you can pass legislation to ease our griefPaul Ryan, I'll come sing Hamilton at your houseI'll do-si-do with Pelosi. I'll wear my Hamilton blouse!
Your citizens are suffering. Stop the bleeding, stop the lossHelp Puerto Rico, it's just a hundred miles across
If you haven't seen Hamilton, at least check out this week's John Oliver. You can hear Miranda and learn a thing or two about a debt crisis affecting 3.5 million Americans.