'Voice' Star Daniel Passino's Instagram Is Awesome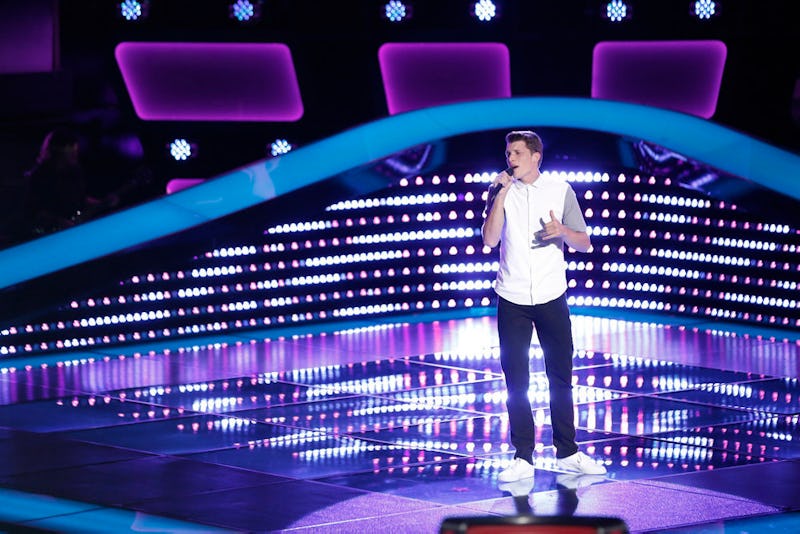 After he was eliminated on The Voice , singer Daniel Passino got the rare opportunity to come back to Season 10, thanks to Pharrell Williams' coach's comeback. It's an aspect of the competition that was introduced this season and totally benefitted the 21-year-old singer from Michigan. Since he got to stay in the competition, the young singer has been posting on social media about his life as part of the show this season and The Voice 's Passino has revealed on Instagram many different things about his life and personality. Passino is currently a college student at the University of Michigan, so his IG feed has some good ol' college antics, along with behind-the-scenes pics from The Voice.
Passino told USA Today College that he got his start singing at the back of his marching band's bus during his freshman year of high school. "My band director came up to me and said I could make a career of [singing] if I took it seriously," he told USA Today. "In tenth grade, I started taking voice lessons at the University of Michigan and never really stopped."
Aside from The Voice, Passino is also studying vocal performance at the University of Michigan and is involved in the school's a capella group The Friars and the glee club. Check out more fun tidbits about Passino's life from his IG account below.
He's Pharrell's Favorite Male Contestant
Passino is Pharrell's only male singer left on his team, but let's not ruin this for him, OK?
He Was So Disappointed To Be Eliminated
Passino posted a photo with a lengthy caption when he was elimated after the Knockout Rounds. "Sometimes in life things don't go the way you had hoped they would," he wrote. "I obviously would have preferred a different outcome, but I put my heart and soul into that performance, and I will never regret that." But, then Williams brought him back after all.
He's Good At Eating Pizza
Passino got the bragging rights in this ol' fashioned Chicago deep dish pizza duel.
He's Got Michigan Pride
Not only is Passino from the state, he is currently a student at the renowned University of Michigan in Ann Arbor.
He Knows How To Be One With Nature
You know, just climbing a mountain.
He's A Big Michael Jackson Fan
And worships MJ's star on the Hollywood Walk of Fame, just like me.
He Has A Supportive Family
Aw, how sweet.
His First Solo Performance Was To A Jackson 5 Song
Specifically to "ABC." According to Passino's caption, the video is from when he performed the song when he was 13 years old. "It is crazy how many things change in eight years," he wrote. "I will always love music for the opportunities it has given me in life."
He Has A Sense Of Humor
Passino captioned this one: "Original Blind Audition outfit. It was denied by the producers. I just don't understand." Hey, that robe looks super comfy.
I can't wait to learn more about him as he goes further in the competition!
Image: Tyler Golden/NBC