This Is The Emoji Keyboard You've Been Waiting For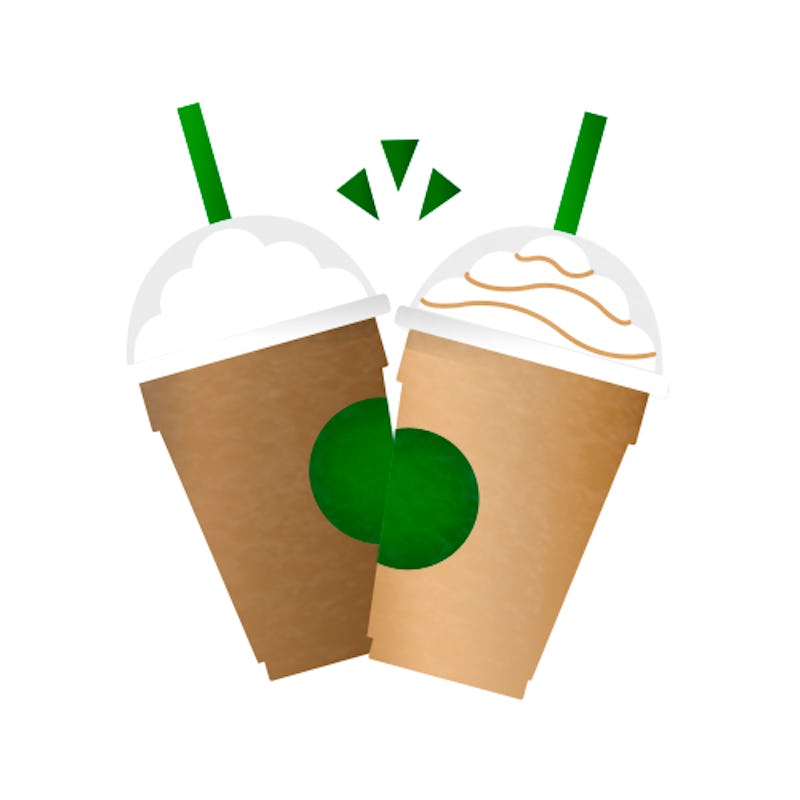 If there are two languages I'm fluent in, it's emoji and Starbucks. So, naturally, nothing could make me happier on this Monday morning than learning that the Starbucks emoji keyboard is now a thing that actually exists. Huzzah! We all finally have an adequate way to express our innermost thoughts and desires — namely, exactly how much I'm craving a Frappucino the size of my head. And since you're now undoubtedly wondering how you can get in on this magical Starbucks emoji action, I'll walk you through it. 'Cause, c'mon, who hasn't at some point needed a purple unicorn #sipface to get their message across? Any day that includes a purple unicorn #sipface is a day that is infinitely better.
Before we delve into the specifics, I've got even more good news for you, though. Not only is the Starbucks keyboard now available for free (score!) download via the iTunes App Store and Google Play Store, but its wonders won't cease just yet. Throughout the year, Starbucks will be refreshing the keyboard content and adding even more emoji. Naturally, I downloaded the keyboard this morning and promptly began using it to communicate with my favorite people, whose love language also happens to be coffee. What I've learned so far is that the Starbucks emoji are huge news in more ways than one.
And by that, I mean they are literally huge — when you use them, you may get a message that says something along the lines of "share large files with your contacts." If so, just follow the prompts and get your Starbucks emoji on. Here's how. (And, of course, check out more detailed instructions on how to get the Starbucks emoji keyboard here.)
1. Download the Starbucks Keyboard App
For iOS, this means heading into the iTunes App Store. For Android, you'll need to go into the Google Play Store and search.
2. Add the Starbucks Keyboard App
If you're operating on iOS, go to Settings > General > Keyboard > Keyboards and select "Add New Keyboard." Then choose "Starbucks" from the third-party keyboards. If you're an Android user, simply go to the keyboard settings in your phone settings. And, actually, the app will probably bring this up for you during the installation process (it did for me).
3. Enable the Starbucks Keyboard App
Once you've added the "Starbucks" keyboard for iOS, select it and toggle on "Allow Full Access." Android peeps, you should get a prompt asking you to enable Starbucks keyboard as default.
4. Say It With Starbucks
Who needs actual words when you can communicate via cute little emoji of caffeinated beverages, cake pops and coffee raised hands? Since you can use the new emoji with iMessage, Facebook Messenger, WhatsApp, email, and virtually every other messaging platform, there's no limit to how much Starbucks love you can send. One day, anthropologists and linguists of the future may look back on this day as a pivotal moment in the evolution of language history.