This Summer Starbucks Favorite Is Back!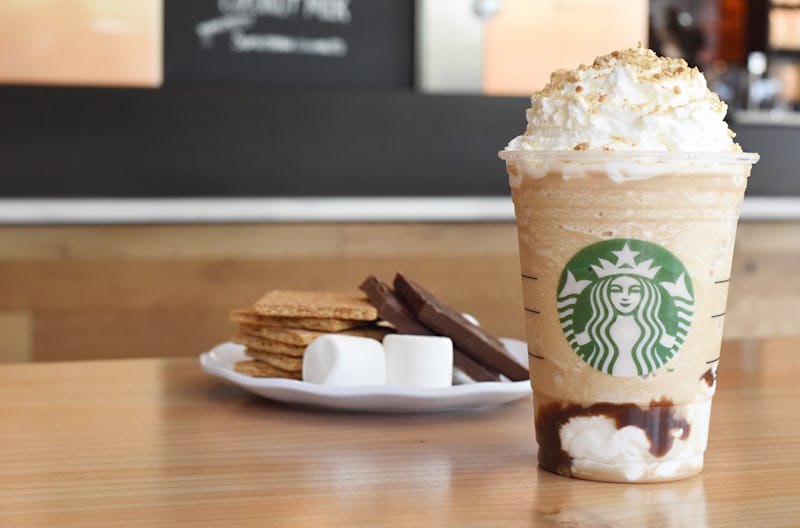 Good news, coffee fans who also have fond memories of camping under an open sky during the summers of your youth: The Starbucks S'mores Frappuccino is back for 2016! What's more, you can get your hot little hands on it today. (That's Saturday, April 23, in case you are somehow without a calendar.) Summer may not have officially begun yet, but with the improbably warm weather we've been having recently, it may as well have — so this frosty coffee drink's re-release is timely, indeed.
The S'mores Frappuccino made big waves when it debuted last April; alas, though, it was a limited time offering, which meant that it had vanished by the time the leaves began to turn. It was so popular, however, that ever since its disappearance from the menu, Frappuccino fans everywhere have been clamoring for its return. Happily, it looks like the coffee gods have been listening.
As you may recall, the S'mores Frapp takes its cues from the time-honored summer tradition of roasting marshmallows over an open flame — ideally a flame that belongs to a campfire roaring beside you as you gaze up at the stars, tent pitched nearby and sleeping bag at the ready. (And if that's not in the cards, hey, you can always roast marshmallows in your kitchen over the burner of a gas stove. That works, too.) As such, the star ingredient of this gorgeous layered drink is... well, this:
Mmmm. Marshmallow.
According to a press release provided to Bustle, it starts with a dollop of marshmallow-infused whipped cream and milk chocolate sauce deposited into the bottom of your cup; then it adds coffee, milk, and ice all blended up together (of course — it's not a coffee Frapp otherwise) before being finished off with another dose of marshmallow whipped cream and a graham cracker crumble. A Tall, 12-ounce S'mores Frapp also contains 50mg of caffeine, because hi, coffee; however, you can also order a S'mores Crème Frappuccino, which is totally caffeine-free, if the buzz isn't your jam.
True story: Last year, I did not actually get a chance to try this remarkable sounding drink, as I lived stupidly far away from a Starbucks. (Such is life in the 'burbs.) This year, though, I have not only returned to a city, but moreover, I literally live across the street from my nearest Starbucks. So, hey, guess what I'm doing today? City life is grand!
The S'mores Frappuccino will be available from April 23, 2016 at participating Starbucks locations across the United States and Canada until the end of summer or while supplies last; the price will vary by market, but a Tall, 12-ounce S'mores Frapp will set you back somewhere between $4.25 and $4.95. Find your friendly neighborhood Starbucks location here.
Happy summer, y'all!
Images: Starbucks; Giphy (2)