9 Ways To Keep Strapless Bras In Place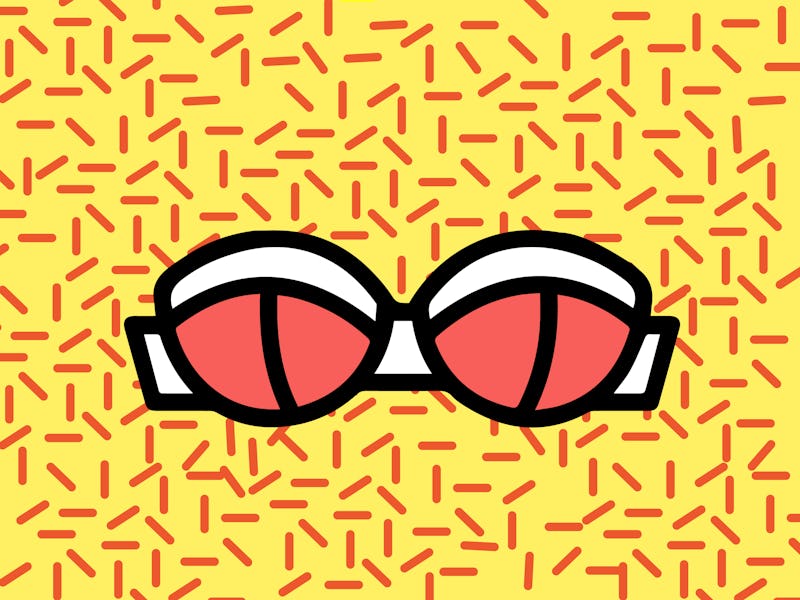 Certain fashion struggles can be so real — like what undies are most comfy under a tight pair or jeans, or how exactly to wear a blanket scarf (still working on that one). Along with these wardrobe issues is the infamous strapless bra dilemma that many women face, which is how to actually make strapless bras stay in place whenever wearing those collarbone-baring tops and dresses.
Thankfully, hacks exist to keep strapless bras in place and make them more comfortable. With these simple tricks, you won't have to worry about your bra falling down to your belly button when you reach for something, and you won't need to reach into your shirt to constantly rotate and adjust when out with friends. So, whether the strapless bra quick-fix you need to have on hand is double-sided fashion tape to keep your dress in place or a multi-way bra with a removable strap feature that wraps around your bra to keep it secure, there are better no-strap days on the horizon. You'll no longer have to fret about sporting your favorite neckline because you don't want to deal with a frustrating bra situation — in fact, with these easy tips, you might just feel inspired to go all strapless, all the time.
Adhesive Lined Bra Gives Support With Strapless And Backless Pieces
You bought a strapless dress that also has an exposed back — but you're still searching for support. If you're not into the idea of going braless underneath it, this stick-on bra will be your go-to. It has adhesive-lined foam cups and a front closure that creates natural cleavage. Plus, you'll feel comfortable and free with its flexible shape and lightweight material. You can hand wash it with regular soap and water, and one user said she was surprised she didn't have to adjust it at all while wearing, saying, "I wore it for about ten hours the first day and barely noticed I was wearing it."
...Or Apply Reusable Pasties For A Barely-There Bra Alternative
If there are certain occasions when you want to ditch your bra altogether, you can rely on these reusable nipple pasties to smooth things out for up to 60 uses. They are made with comfortable silicone that won't irritate sensitive skin. Plus, they're both waterproof and sweat-proof — so you can wear them in the ocean or to a hot summer wedding. Users rave about the perfect stick and coverage that these pasties offer. Users say they stay sticky all day, but are easy to peel off when it's time without causing irritation or discomfort.
Keep Double-Sided Fashion Tape On Hand To Keep Everything In Place
Having the right double-sided fashion tape tucked away in your bag can save you from a multitude of undesired wardrobe malfunctions — one reviewer even said she used this 20-foot long Flash Tape to keep her wedding dress in place. You can also use the sticky stuff to mend undone hems, or keep those finicky shirt button openings from puckering. Simply tear off some of this extra-tough adhesive tape, apply it where you want a little more peace of mind, and feel free to focus on killing it on the dance floor this weekend. One user calls this "magic tape" because "it sticks and holds really well between skin and cloth and even cloth on cloth."
Use A Bra Strap Hack On A Comfortable, Multi-Way Bra For Extra Security
WhoWhatWear has a simple hack to keep your strapless bra in place using only a bra with removable straps. You simply take a strap from one side, wrap it around the front of your bra, bring it around to attach it to the other side and voila! A secure undergarment in which you can feel more secure. When you take the straps off of this comfortable multi-way bra, the strapless option will still offer great shape and support with lightly lined cups and no-slip silicone piping. Plus, this bra is super cute with a black lace overlay.
Pin A Lightly Lined Strapless Bra To Your Clothes So It Stays Put
One of the easiest ways to keep a lightly-lined strapless bra in place is to safety pin it to your no-straps top or dress. To keep this little hack low-key (and from ruining the look of your outfit), pin it from the inside to keep it hidden. This bra has smooth, no-show cups and is soft and comfortable enough to wear every day.
Wear A Seamless Strapless Bra For Ultimate No-Show Comfort
If you want to wear a strapless top, but you often run into sweaty situations that cause the bra to slip — there's an answer! This seamless microfiber bra with wicking technology will keep you feeling nice and cool all day, while a power band keeps the bra securely in place — regardless of if you're breaking a sweat or not. Plus, its nude color, shaping foam cups, and versatile material make it easy to wear under many different pieces in your closet. Bonus: If you want to turn this into a regular bra, there are tabs included to give you the option to add straps.
Wash Bras In A Protective Mesh Laundry Bag, So They Last Longer
If you're not taking special care of your strapless bras in the washing and drying process, they could lose their shape, softness, and elasticity — resulting in poking underwires or having to constantly reposition things under your clothes. To be on the safe side, wash your bras in a protective mesh bag that won't let them stretch, pill, tear, or rip. Bonus: These bags come in six different shapes and sizes, have built-in loops for drying, and even feature zipper-protectors so they don't snag on other items.
Choose A Size That Fits On The Loosest Adjustment For When Your Bra Does Lose Shape
Cosmo suggests that strapless bras have to work a lot harder than traditional bras, so they're more likely to wear out faster over time. To prevent yourself from having to toss a good bra prematurely, make sure that it fits on the loosest hook closure option when you buy it, instead of on the tightest — a common mistake. This way, when your bra stretches or loses some of its shape, you can simply make it tighter to fit securely again. This hook-and-eye closure strapless bra has soft silicone elastic all around the back, cups, and bands to help it stay in place and keep its shape. It also has molded cups with underwire and removable straps — all features that have earned it an extremely high rating from reviewers who have always, always struggled to find a strapless that actually fits.
Store Strapless Bras In Organizers To Preserve Cup Shapes
DecoBros Closet Underwear Organizer Drawer Divider 4 Set, $13, Amazon
Say goodbye to the days of carelessly tossing bras into your designated drawer — just to pull them out to find them squished and bent into all kinds of crazy shapes. By organizing your bras in these four mold-proof and moisture-proof non-woven fabric dividers, you'll help your delicate strapless bras hold their shape. Plus, it'll make your morning routine a little less chaotic when you're not frantically searching your floor for the bra you threw off when you were running late for spin class. Users love the organizers' durability and how they fit perfectly into their drawers.
Bustle may receive a portion of sales from products purchased from this article, which was created independently from Bustle's editorial and sales departments.
Images: Isla Murray/Bustle; Fotolia (1); Amazon (9)