The 'Twin Peaks' Revival Cast Is List Is Here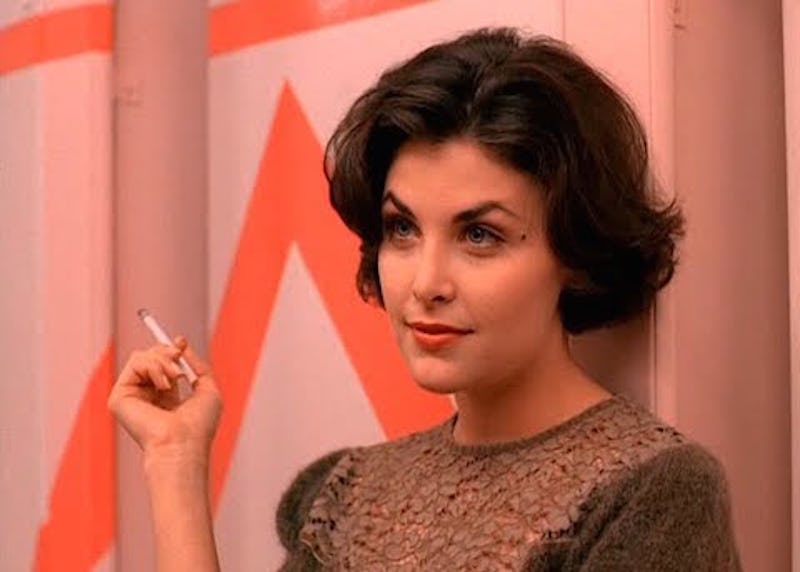 That cast you like is coming back in style... with a few extra faces, to say the least. Monday afternoon the official cast list of Showtime's 2017 Twin Peaks revival was released into the world, and it's a whopping collective of 217 actors. And granted, some of these names are returning Twin Peaks residents, but there are other familiar figures that should make for some bizarre new characters.
Now I'll be honest with you, as a perpetual member of the Lynchian cult, I've been skeptical when it comes to the Twin Peaks reboot. Forget the fact that revivals are very often a greedy way to capitalize on nostalgia, or the fact that half of Season 2 is a hot, hot mess; there was that whole debacle when David Lynch left the revival for a hot sec last year. But since Lynch is now firmly reinstated and we have all these bizarre additions to the list, the reboot should be... interesting, at worst. Strange and wonderful at best. So who made the cut?
Well, one name that chalks up serious Laura Palmer vibes is Amanda Seyfried. The Veronica Mars alum once starred as a popular blonde teenager with blonde hair and a bevy of secrets... and in true Twin Peaks fashion, her murder was the initial catalyst for the series. Is it possible that Laura and Lilly Kane are both partying in hell together? Or that Seyfried will play an unknown Lilly-esque doppelgänger that inhabits the Black Lodge?
Also interesting is that we should expect an appearance of previous Lynch co-collaborater (and industrial rock's prince of darkness) Trent Reznor. Reznor had previously produced the soundtrack for Lynch's 1997 film Lost Highway, so it isn't crazy to think that he might have some musical input behind the scenes as well. Still, I don't think we should expect Nine Inch Nails to be the in-house entertainment at The Great Northern.
Instead, maybe Reznor will take a cue from his idol, the late, great David Bowie. Bowie made a cameo in Twin Peaks: Fire Walk With Me as tortured former FBI agent Phillip Jeffries, so maybe Reznor will follow suit by playing a formerly straight-laced co-worker of Agent Cooper who went mysteriously off-the-radar and off-the-rails. Actually, it isn't insane to think that Reznor will straight-up co-opt Bowie's role and play Phillip Jeffries himself (without any explanation). I mean, if Lost Highway, Muholland Drive, and the majority of Lynch's works have taught me anything, it's that the same name gets assigned to different faces all the time.
And then you have the weirdest (or perhaps most fitting?) addition to the Twin Peaks revival: Michael Cera. Cera could kill it in Twin Peaks by staying in the awkward-teen persona he's been rocking for the past decade, because that somewhat-stilted personality would fit right at home in the ominous Washington town. Perhaps, though, this is the moment for Cera to inject some variety into his resume and play one of the Black Lodge's evil forces. There's already a Mike and Cooper may have adopted BOB, but maybe Cera could be, like... a Steve?
The possibilities are endless, but what's certain is that we're welcoming a lot of potential weirdness... as you would expect from Twin Peaks. Feel free to check out the full cast list here, and perhaps you'll be able to wrap your head around these new inhabitants before the series debuts next year.
Images: ABC (1); Giphy (3)