This 'Game Of Thrones' Episode Quiz Is HARD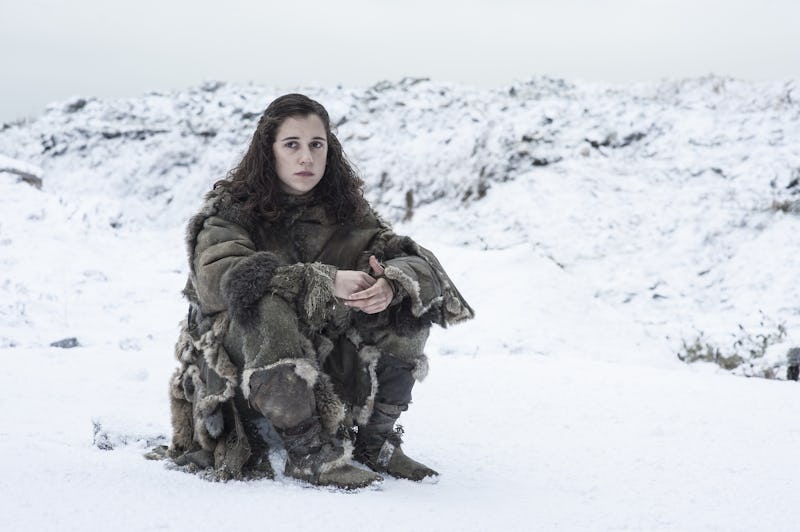 Have you ever noticed that HBO's Game of Thrones episode descriptions sound like children's books? Maybe I grew up reading too many books like My Father's Dragon, but every time I see one of these episode descriptions, it makes me feel like I'm strolling through the kid friendly stacks in the library. Take for example the official HBO description for the episode "Book Of The Stranger." It reveals that "Tyrion strikes a deal. Jorah and Daario undertake a difficult task. Jaime and Cersei try to improve their situation." That doesn't say all that much, does it?
The infamous Season 5 finale's description warned us simply that "Jon is challenged" and "Dany is surrounded by strangers." I suppose that's one way to look at being stabbed to death and/or taken by Dothraki bloodriders. In order to avoid spoilers, these descriptions strip down the basics of the plot with hilarious, innocent-sounding results.
In order to put my theory to the test, I've mashed up parts of the descriptions from the available and upcoming Season 6 episodes and some popular children's books. It's silly, but one of those things that I can't un-see ever again. Can you tell the difference? Scroll all the way to the bottom for the answers.
1. Tyrion Demands Good News, But Has To Make His Own
We'll start with an easy one.
2. Sansa Learns A Lesson
She has learned several since Season 1, to be honest.
3. Ramsay Bolton Proposes A Plan
There is nothing childish about Ramsay, but this sounds innocent enough.
4. Blueberries For Rickon
The littlest Stark loves to snack.
5. Theon Greyjoy Is Missing
When is he not, to be honest?
6. Jaime Confronts A Hero
They do say never to meet your heroes.
7. Varys The Spy
He has "little birds" everywhere...
8. Bran Learns A Great Deal
Preferably something about R+L=J, thank you very much.
9. Daenerys Meets A Strong Man
Is she going to the circus?
10. Arya In Rapture, Sort Of
Her "coming of age" story is a little different.
11. Cersei Sees Her Daughter Again
From a certain point of view, that did happen.
12. Brienne Saves The Day
Girl, yes! She deserved a win.
13. Arya Faces A Difficult Choice
It's tough being a teenager, isn't it?
14. Meanwhile, Back At King's Landing
Yikes.
15. Jon Snow Hears A Who
His watch has ended, indeed.
16. Varys Finds An Answer
We're waiting...
17. Ramsay Gets A Gift
Oh, is it his birthday? Facebook didn't notify me. Weird.
18. Melisandre And The Terrible, Horrible, No Good, Very Bad Day
Sorry, couldn't help myself. That's a freebie. How did you do?
Answers:
Game of Thrones Season 6, Episode 2, "Home"
Children's book. That's a standard American Girl title.
Game of Thrones Season 6, Episode 2, "Home"
Children's book. Blueberries For Sal.
Children's book. Miss Nelson Is Missing.
Game of Thrones Season 6, Episode 7, "The Broken Man"
Children's book. Harriet The Spy.
Game of Thrones Season 6, Episode 5, "The Door"
Game of Thrones Season 6, Episode 1, "The Red Woman"
Children's book. Alice In Rapture, Sort Of
Game of Thrones Season 6, Episode 1, "The Red Woman"
Children's book. Another standard American Girl title.
Game of Thrones Season 6, Episode 6, "Blood Of My Blood"
Children's book. Meanwhile, Back At The Ranch
Children's book. Horton Hears A Who
Game of Thrones Season 6, Episode 3, "Oathbreaker"
Game of Thrones Season 6, Episode 3, "Oathbreaker"
Children's book. Alexander And The Terrible, Horrible, No Good, Very Bad Day
Images: Helen Sloan/courtesy of HBO; Giphy (18)