Too Faced PB&J Palette Is Back, But Not For Long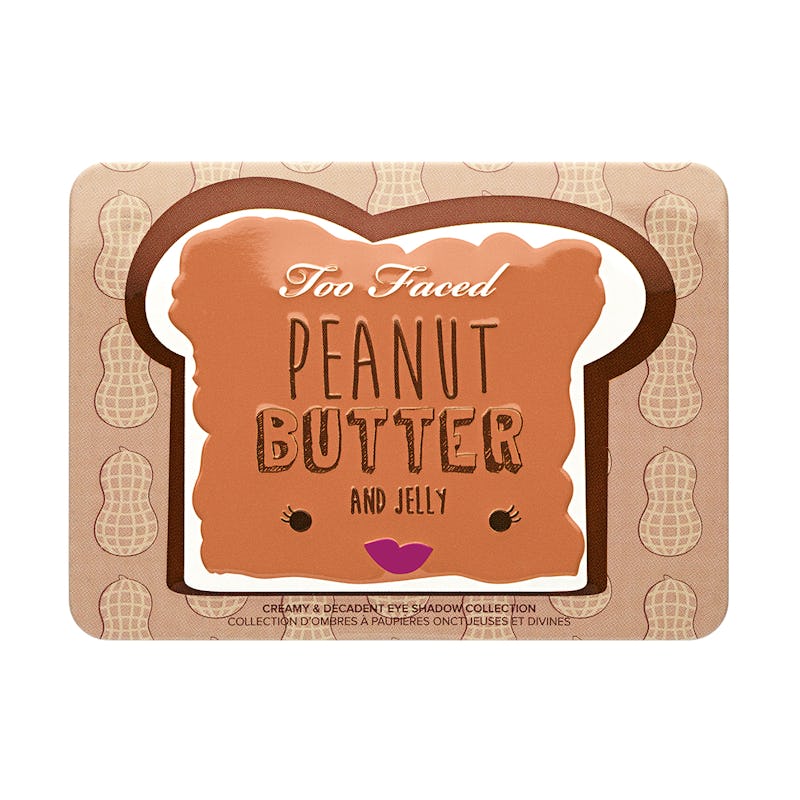 It's peanut butter and jelly time, beauty lovers! Too Faced has brought back one of its most popular palettes, but it probably won't be around for long. The makeup company has surprised fans with a restock, and the Too Faced Peanut Butter & Jelly Palette is back at one location, and one location only — the Too Faced website. That means you'll have to act fast if you want to get your hands on these scented eyeshadows.
Honestly, I never expected a palette filled with bright purples and browns to gain so much hype, but this is not your average shadow collection. This PB&J scented palette was an instant hit as soon as photos of the product hit social media, and now it's back with yet another surprise restock. Every single scented eyeshadow palette from Too Faced has been a complete hit, and this one is no different. Plus at $36 for nine shadows, it's smaller and less expensive than scooping up one of the Chocolate Bar or the Sweet Peach palettes.
According to the Too Faced site, inspiration for the childhood throwback palette came from the obsession with the gorgeous "Peanut Butter" shade originally from the Chocolate Bar Palette. Add that to the adorable lunchbox-style packaging, the on-the-go size, and nutty chocolate scent, and you've got a winner. on your hands. Even those of you with allergies can get in on the fun, since it's not actually made with peanuts.
Just because the PB&J palette is a little bit smaller than the usual Too Faced eyeshadow offerings doesn't meant that there aren't just as many ways to rock the colors. Because the palette has everything from a pop of color to subtle, everyday shades, the makeup possibilities are endless. Take a look at just how many gorgeous looks you can create with nothing except the nine nutty shades.
1. Daytime Glam
Using only the neutral shades from the palette, this tutorial proves that subtle colors can still make a statement.
2. Purple Lower Lashes
Orange and purple come together to make for one stunning spring eye look in this tutorial.
3. Pop Of Color
After hearing that the palette could only create one look, this vlogger decided to prove otherwise with a purple smokey eye.
Want more fashion and beauty tips? Check out the video below and subscribe to Bustle on YouTube!
4. Inner Corner Surprise
If you reach for the same old color for your inner corner every single time, then this is the tutorial for you.
5. Subtle Glow
The shiny orange color on the eye works perfectly with a heavy cheek highlight.
6. PB&J Cut Crease
Yes, you can use every single color on your eye at the same time. If you do it right, the results will be gorgeous.
7. Purple Lip
Commit to a purely PB&J look by pairing a gorgeous eye look with a purple lip.
8. Soft & Wearable
This tutorial is great for beginners looking to try out some color for the first time.
9. Super Smokey
When it comes to packing on the color, it's the smokier the better.
Who knew there were so many ways to wear just nine colors?
Images: TooFaced.com (2)