11 '90s Fashion Trends That Your Parents Rocked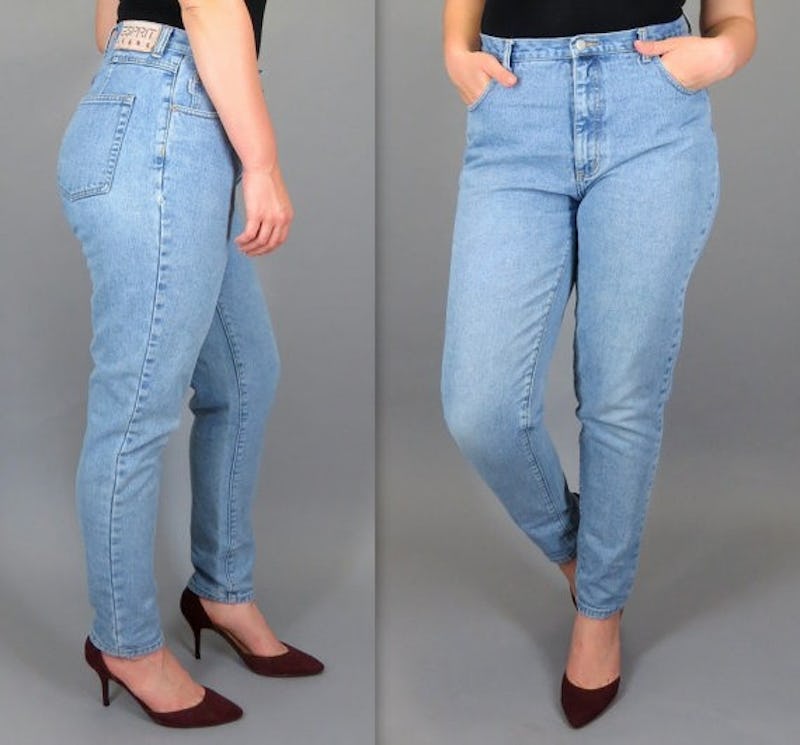 As fashionable as the '90s were, some of the things our parents wore back then were rather hit or miss. It's sort of surprising some of the 11 items that every '90s parent had in their wardrobe were even considered stylish to begin with, while others are undeniably still cool today. One thing is for sure though — if you were a kid growing up back then, chances are your mom and dad rocked at least a few of these pieces.
Some trends come and go, but the '90s are forever. Whether these items are still hanging in your mom or dad's closet, burned in your memory for eternity, or even finding new life as part of your own wardrobe, you definitely know the pieces I'm talking about. From shoulder pads and jumpers to team jackets and super thick colorful sunglasses, it was like all parents from the era were on the same page when it came to style. Some of these trends are making a comeback today, and others deserve to be shoved to the back of the closet with our naked baby pictures and those crayon drawings we did approximately one million of in elementary school. But either way, each and every one is guaranteed to bring back some fond memories.
While some parents seemed to draw inspiration from iconic TV folks when it came to outfits — how many dads rocked Danny Tanner's tucked-in button-downs while mom's wore Peggy Bundy's giant earrings? — others went a simpler route. But chances are, you saw most of these 11 items will make you think back on your childhood.
1. Jumper Dresses
Vintage Denim Overall Jumper Dress, $35, etsy.com
The denim jumper on its own is pretty adorable, but imagine it with a powder pink turtleneck and some thick tights. That's pretty much how all parents styled this look in the '90s.
2. Brightly Colored Track Suit
Retro Nylon '90s Teal Track Suit, $60 etsy.com
If you were lucky, your dad only wore one half of the brightly colored jogging suit to pick you up form your friend's house. While teal and purple was the ultimate combination, there were so many different colorways to rock.
3. Mom Jeans
'90s ESPRIT Mom Jeans, $32, etsy.com
How could I do a round-up like this without talking about mom jeans? I don't think moms who rocked this style knew they were making a statement at the time, but these days the high-waisted style is seen on everyone from Instagram famous teens to supermodels. Moms really do know best.
Want more fashion and beauty tips? Check out the video below and subscribe to Bustle on YouTube!
4. Shoulder Padded Blazer
Wool Flannel Blazer, $30, appleseeds.blaire.com
The working mom had this shoulder-padded blazer in just about every color. Odds are that you can think back to a time when you saw your mom sport this style around town.
5. All White Nikes
Nike Air Huarache, $110, nike.com
Every dad on my block wore sneaks like these, and they haven't gone anywhere. This all-white Nike's are still ultra popular today.
6. Long Floral Dresses
Vintage '90s Floral Dress, $58, etsy.com
Way before the maxi dress was popular, '90s moms rocked long floral dresses that are very much back in style today.
7. Clip On Earrings
Square Woven Love Knot, $30, blingjewelry.com
If you looked in your mom's jewelry box in the '90s, you'd probably see a lot of large gold clip on earrings.
8. Patterned Button Ups
Fish Patterned Shirt, $22, etsy.com
Dads loved to rock short sleeved button up shirts. The patterns were always colorful and almost always involved animals.
9. Turtlenecks
Vintage '90s Pastel Turtleneck, $32, etsy.com
The turtlenecks of the '90s were nothing like they are today. They were always super thin and had an in-between neck length that fit perfectly under any styled jumper.
10. Super Thick Sunglasses
'90s Neon Sunglasses, SOLD, etsy.com
Family vacations weren't complete without my dad pulling out his brightly colored thick sunglasses. Honestly he'd probably still wear them — if he could find them.
11. Square Toed Heels
Sage Green Suede Pumps, $98, etsy.com
Whether these were worn for comfort or style, I might never know, but they sure are both practical and retro-chic.
I hope you enjoyed your walk down '90s memory lane!
Images: Courtesy Brands (11)