Warsan Shire Has A Poetry Book Coming Out Soon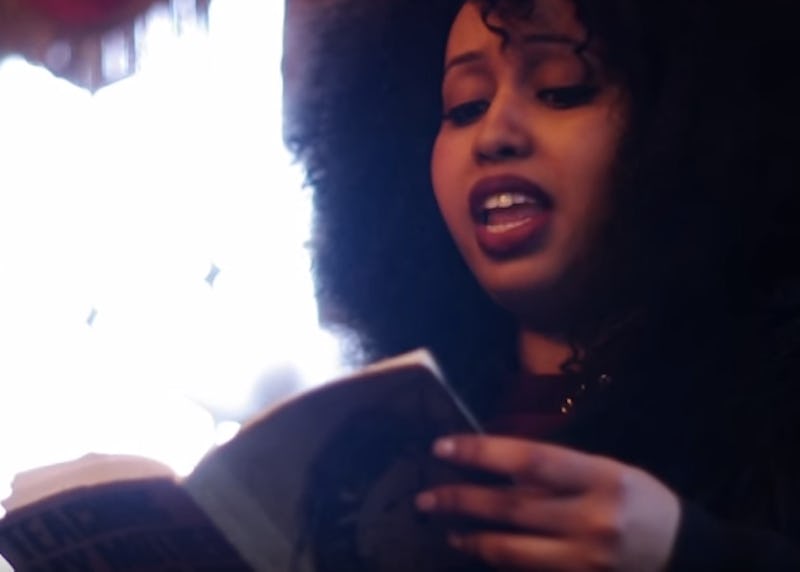 As an internationally established poet and performer, Warsan Shire's debut collection of poetry was always highly anticipated. Having already released two pamphlets of poetry, and held prestigious positions like young poet laureate of London, Shire's star was on the rise, and the poetry world was incredibly excited to see what she did next. Now that she's been featured on Beyoncé's visual album Lemonade, anticipation for Warsan Shire's forthcoming debut collection is unreal. According to Vogue, the collection will be called Extreme Girlhood , and will be released some time in Fall 2016. But exactly when does Warsan Shire's poetry book come out?
In an interview with Araweelo Abroad in April 2015, Shire said, "I'm almost finished working on my full collection of poems, to be released later this year." In December 2015, Shire tweeted, "i've been working on my full collection of poetry since 2012, it will be published 2016 and i'm really excited about it." Her second pamphlet, Her Blue Body, was limited to only 191 copies, and has already sold out unsurprisingly. Poems from both of Shire's pamphlets will likely feature in the full collection, including some of those used by Beyoncé on Lemonade. But, as yet, Warsan Shire's new book doesn't seem to have a release date.
It's likely that Shire is working closely with her agent at Rocking Chair Books, a London-based literary agency, to find a publisher for her collection. While the poet's two short pamphlets were published by flipped eye, an independent publisher based in Manchester, UK, Shire will probably be flooded with offers for her new book. Having had her work featured throughout Beyoncé's new album, Warsan Shire's poetry is not only in demand, it's being listened to constantly right now. And with fans as famous as Beyoncé, it's likely that Shire's first full length collection will be incredibly successful.
We'll all have to wait a little longer to find out more about Extreme Girlhood, but at least we can continue to enjoy Warsan Shire's work on Lemonade.
Images: Keats House/YouTube