You Can Buy Lady Gaga's Love Bravery Line Here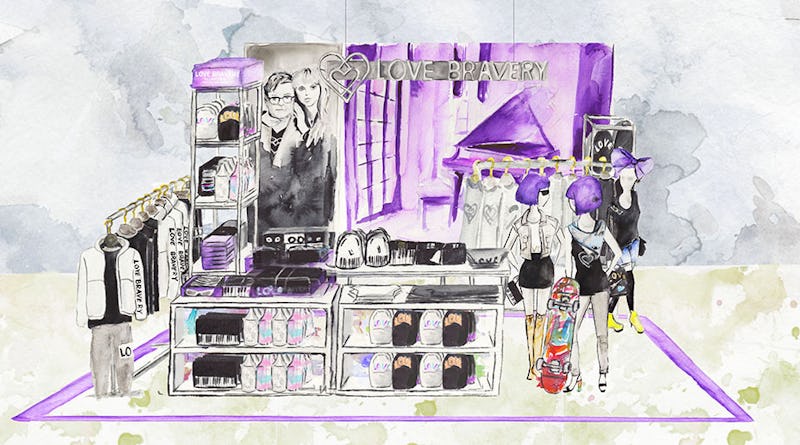 There's a new celeb clothing and lifestyle collection on the horizon and it's pretty, well, epic. Lady Gaga and Elton John's Love Bravery collection is coming this weekend! The range is full of clothing and accessories, including tees, crop tops and sweatshirts, enamel pins, patches, beanies, keychains, and outerwear. There are also cool items like water bottles and skateboards. The limited edition Love Bravery collection is all-encompassing because duh! Everything with Gaga is larger than life.
Love Bravery was created with Gaga's designer little sister Natali Germanotta and the singer's beloved stylist and designer Brandon Maxwell, for whom Mother Monster played fashion assistant during NYFW last year.
Where can you shop the line? Love Bravery will be available exclusively at the Macy's website on Saturday, April 30. It will then be sold in 150 Macy's stores beginning May 9.
You will look adorbs in the apparel and accessories, but you can also feel good about wearing these items. That's because 25% of each purchase will support Gaga's Born This Way Foundation and the Elton John AIDS Foundation, according to Women's Wear Daily. You can passively and fashionably do good by shopping Love Bravery, which is designed "to inspire compassion and combat prejudice."
Love Bravery will only be available through August. While you have several months to shop and stock up, there are plenty of cute pieces you will want to own and incorporate into your look. I don't see any reason to delay, especially since the collection is hooked up to good causes.
What else is "in" Love Bravery? There are scarves, Neoprene backpacks, pins and patches that are shaped like guitars, platform shoes, the Monster claw, and other tools of their shared trade. There are also clutches that come in the shape of sunglasses, pianos, and hearts, like the one posted above. Who wouldn't want to carry that baby around?
The collection is unbelievably affordable, with pieces starting as low as $12 and going as high as $99. You know what that means? It means you can purchase a bunch of stuff without emptying your piggy bank.
Love Bravery boutiques will live on main floors in Macy's stores.
Yes, I plan to shop Gag x Elton's Love Bravery line. I will probably wait to see the pieces in person at Macy's and decide from there. But there is plenty of this stuff on my Love Bravery wishlist.
Images: Courtesy Love Bravery (3)