The 'Key & Peele' Sketch They Never Got To Make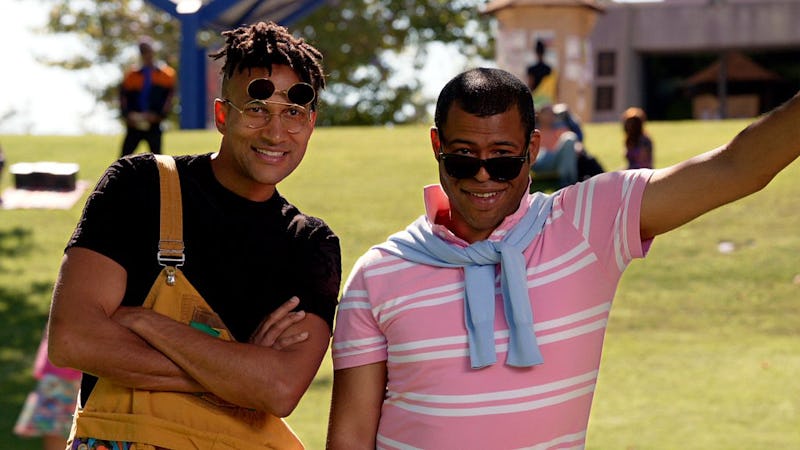 It was a dark day in the comedy world when Keegan Michael Key and Jordan Peele announced their Comedy Central sketch show, Key & Peele, was coming to an end. It graced the air for six glorious seasons, giving audiences memorable sketches and a multitude of laughs. But the duo wouldn't dare leave us high and dry. Instead, they crafted a feature length film — Keanu — starring both men and written by Peele and Key & Peele writer Alex Rubens. Hallelujah!
While the men are able to further their comedy together on the big screen with the kitten-centric story, I have to wonder, were there any Key & Peele sketches they regret not making? "Oh, a lot of stuff," the pair tell me in unison.
"We've had lots of sketches we had to put on the back burner because of scheduling or production," Key explains. "There was one that was very expensive and very ambitious we were going to do. But then a weird, random event took place in the world and we couldn't do it. It was called Aliens on the Run. It was an homage to Teenage Mutant Ninja Turtles."
"It was where Vanilla Ice comes in and sings a song about the turtles," Peele says. "It was written by Alex Rubens, and a lot of his things have this throwback quality. It was a music video. We were these characters named Luxley and Holmes who were late '80s, early '90s musicians."
It sounds just strange enough to be a Key & Peele sketch. In one sketch from the show, "Liam Neesons," the pair plays a couple of Bellmen who are obsessed with Liam Neeson, but can't pronounce his name. In another sketch, Key's character adopts a dog for his wife, but the dog has the head of Peele and the attitude of Ice-T. In "Auction Block," the pair play slaves up for sale on an auction block who begin to wonder why no one wants to buy them. It's safe to say that a sketch about aliens and ninja turtles would feel right at home. So why didn't the sketch get made?
According to Key, as they were prepping to do it, "Someone said, 'There's a guy driving down the 10 who is coming to [the location] and says he's gonna shoot everybody.' Our line producer was like, 'Yes! We don't have to do this sketch.' But it knocked our whole schedule out of whack. No one got hurt, and nothing happened. Everything turned out fine, except the sketch didn't get made."
But luckily, the feature length film — which includes several references for Key & Peele fans watching closely — did get made, and according to Peele, the experience was, "very different" than working on the show. "The big difference is you can't just do a bunch of sketches and edit it all together. You have to have a bigger sense of what the character needs to do later," he says.
Key agrees. "You need to always be aware of the blue print. It's a much shorter, tinier blue print with a sketch: beginning, middle, end, we're done. Here it's making sure that every scene is feeding the main story. Sometimes you have to kill your darlings. You have this moment where you're like 'That was amazing! That was hilarious!' but it has nothing to do with the movie, and you've got to cut it out."
Fingers crossed we'll see all the cut scenes, one-liners, and Liam Neesons references on the DVD extras. But for now, see Keanu — the bright ray of hope that suggests Key & Peele's days of collaborations are far from over — when it hits theaters Friday, April 29.
Images: Comedy Central; Giphy; Giphy