Clear Up Cystic Acne With 9 Expert Tips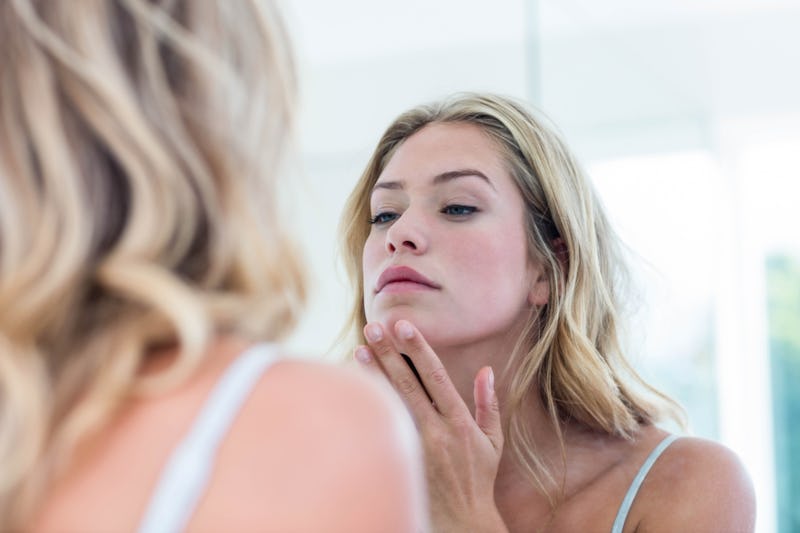 While it might not look like it on the surface, your skin is a hugely complex organ that's affected by everything from hormones to eating habits, and that's perhaps why so many different kinds of acne exist. Understanding how to get rid of cystic acne can seem especially overwhelming, but it's absolutely manageable. Nevertheless, it's a particularly painful kind of breakout, and it's a tad more temperamental than your usual whitehead. That's why I enlisted the help of dermatologist Dr. Kally Papantoniou, MD, FAAD, and let me tell you — her insights on the matter were beyond interesting.
"I see cystic acne every day in my practice," Dr. Papantoniou told me. "Cystic acne [happens because of] deeper inflamed acne lesions which can take a very long time to resolve and can leave behind scarring. There are really multiple causes that contribute to cystic acne, with age, genetics, hormones, and skincare practices playing a role." Thankfully, though, despite its common occurrence, Dr. Papantoniou was also able to give me a few very valuable tips explaining how one might go about fixing their cystic acne. Here's a list of her most helpful information, along with some habits, solutions, and lifestyle changes you can implement into your day for clearer, healthier skin.
Add Sulfur To Your Beauty Routine
Premium Sulfur Lavender Soap, $17, Amazon; TreeActiv Anti Acne Sulfur Mask, $16, Amazon
When I asked Dr. Papantoniou which ingredients really help with cystic acne, she told me, "Sulfur is a great anti-inflammatory ingredient to look out for, coming in masks, cleansers and lotions." This sulfur lavender soap contains 10 percent micronized sulfur to help with inflammation, but it also contains natural and healing ingredients like lavender and coconut oil. Reviewers say it's very mild, but does its job well — skin noticeably clears up without any irritation or adverse reactions. If you're more curious about testing out sulfur in mask form, this detoxifying bentonite clay mask with sulfur, hydrating aloe vera, and witch hazel could be a great option, too. It helps reduce inflammation and exfoliate away dead skin with sugar, and one reviewer who has cystic acne said, "My skin is looking clearer by the day!"
Wash Your Face With Salicylic Acid
Lavo Clarifying Facial Cleaner, $22, Amazon
"Salicylic acid, which helps exfoliate and open pores, is an anti-inflammatory and has antibacterial properties," Dr. Papantoniou said. "It's a great over-the-counter ingredient to look for, as it is a work horse for acne." Lavo's clarifying facial cleanser is one of the highest reviewed cleansers for acne because it contains salicylic acid in combination with glycolic acid. It also has vitamin B and botanical extracts that control oil production and lessen inflammation, and according to those who have used it regularly, normal to oily skin clears up very quickly after this is added to a skincare regiment.
Moisturize With Rosehip Seed Oil
Teddie Organics Rosehip Seed Essential Oil, $13, Amazon
If you're wary of chemicals on your face and skin, Dr. Papantoniou suggests rosehip oil. "Rosehip oil is anti-inflammatory and can help soothe skin without causing more breakouts," she told me. The Teddie Organics rosehip oil is widely considered the best on the market because it's 100 percent USDA-certified organic, contains nothing but high-quality rosehip, comes in a dark amber bottle to preserve the oil's nutrient-rich properties, and has a convenient squeeze applicator. Reviewers have called this "a fantastic product on every level" and "a miracle oil," and they use it for everything from skin to hair. It absorbs quickly, won't leave any grease behind, and moisturizes like nothing else.
Track The Amount Of Sugar You Eat
Food Journal & Blood Sugar Log, $11, Amazon
According to Dr. Papantoniou, sugar causes the type of inflammation that makes cystic acne much worse. "Foods that will cause a spike in your glycemic index and cause you to release insulin can also worsen your acne. If you like to eat white bread, pasta, rice, cookies, chips, candies, etc., try substituting with less processed foods and incorporate a protein, like almond butter." When I personally first cut sugar out of my diet, I kept a food journal and sugar log, and it made all the difference. This handy little diary not only allows you to track your sugar intake from all your sources (so you can find out which foods are the culprits), but it also includes an extensive nutritional index for referencing sugar levels in more common foods. It has 90 pages for notes and journaling, and reviewers say it's helped them an immeasurable amount on their journey to a healthy diet.
Fight Bacteria With Benzoyl Peroxide, But Skip Dryness And Irritation
Humane Face Wash, $22, Amazon
"Benzoyl peroxide 5-10% works great as an antibacterial ingredient, addressing the bacterial component to why cystic acne occurs," Dr. Papantoniou told me. "However, it can be drying/irritating if applied too generously." Humane's face wash contains 10 percent benzoyl peroxide, but even reviewers with ultra-dry skin state that this wash didn't irritate or dehydrate their pores. The company promises that, although you'll find harmful ingredients in most other face washes, like parabens, formaldehydes, and sodium lauryl sulfate, you'll never find any hazardous chemicals here. While others' benzoyl peroxide (BPO) particles are often too big to penetrate the skin, Humane breaks down their BPO particles so they can clean and disinfect without causing irritation to the skin's surface. Reviewers say that the company cares more about quality than popularity, and the effects of that are right in the results.
Try The Combination Of Honey And Coconut Oil
Honeyskin Cream, $15, Amazon
"I do think at-home remedies can help," Dr. Papantoniou told me. "You can make a cinnamon honey coconut oil moisturizer by mixing two tablespoons honey, two teaspoons virgin coconut oil, and one teaspoon cinnamon." However, for those who prefer to leave it to the experts, there's this 100 percent organic and nutrient-rich Honeyskin cream. It has healing Manuka honey and moisturizing coconut oil, like Dr. Papantoniou suggested, but it's also got aloe, shea butter, and blue green algae to soothe and rejuvenate skin. It's super lightweight and won't clog pores or leave a greasy residue, but because of its ultra-healing abilities and easy-to-absorb texture, reviewers use it for everything from mild acne to rosacea.
Tone Your Skin With Witch Hazel
Thayer's Witch Hazel With Aloe, $10, Amazon
Witch hazel acts as a natural astringent because it tightens and soothes pores to reduce inflammation. That's why, as Dr. Papantoniou pointed out, "Witch hazel can be used as a toner." Thayer's witch hazel (with aloe) is a soothing, natural mixture that leaves out the abrasive alcohol, but includes aloe vera, which is great for softening, healing, and moisturizing purposes. It has a very light and subtle scent, and reviewers say that the addition of aloe makes this toner way less drying than witch hazel alone. It works well as a makeup remover or a quick cleanser after the gym, and because it's tough yet gentle, it'll definitely help reduce acne-related inflammation.
Treat Yourself To A Facial Mask That Works
Peter Thomas Roth Therapeutic Sulfur Masque, $28, Amazon
When it comes to healing facial masks, Dr. Papantoniou suggested this one: "Peter Thomas Roth line has a sulfur based mask called 'Therapeutic Sulfur Masque,' which is a great treatment for troublesome skin. It contains sulfur, kaolin, and bentonite clays, which draw out oils and treat acne at the same time." The mask also features eucalyptus oil, which has antibacterial properties, and aloe juice, which makes a gentle and effective moisturizer. It calms skin and leaves it feeling wonderfully smooth once the mask is washed off. Reviewers have used it for oily skin, dry skin, whiteheads, cystic acne, T-zone, clogged pores, spot correcting, rosacea, hyper-pigmentation, scars, and redness, and it seems to be a home-run across the board. Simply spread it on once a week, let it sit for a few minutes, and wash off with warm water when finished.
Reduce Your Dairy Intake
Go Dairy Free, $25, Amazon
"Studies have shown a direct link between diet and inflammatory acne," Dr. Papantoniou said. "Diets that have high dairy and whey protein were shown to worsen severity of acne and increase flares. There are higher levels of hormones naturally occurring in the milk which can interfere with your own body's balance." While it might seem like a bit of an overwhelming task, if you're willing to give the no-lactose life a whirl, this Go Dairy Free cookbook makes the whole process much, much easier. It's written by Alisa Fleming, founder of GoDairyFree.org, which is today's largest resource for dairy-free living, and the book contains everything — recipes, dairy replacement suggestions, grocery shopping tips, calcium information, and a whole chapter about how to identify your allergy or sensitivity. Reviewers say that this cookbook is one of the most entertaining, easily accessible, and helpful resources they own, and the food is delicious, too.
Bustle may receive a portion of sales from products purchased from this article, which was created independently from Bustle's editorial and sales departments.
Images: Fotolia (1); Amazon (10)