These Rosie The Riveter Breastfeeding Photos Rule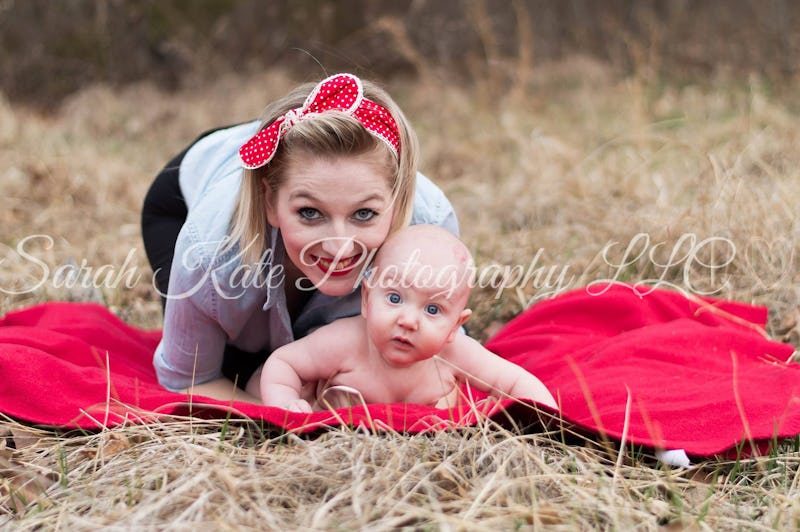 As a woman who breastfed both of her babies, I always empathize with the moms I see struggling to adapt to this particularly trying (but rewarding!) endeavor in motherhood. Alex James from Lee's Summit, Missouri, is such a woman who found a unique way to empower herself throughout the process — a Rosie the Riveter breastfeeding photo shoot. With the help of Sarah Kate Photography's Sarah Fowler, James dressed up like the iconic figure of feminism to feed her sweet tyke. And, yes, it is every bit as amazing as it sounds.
When James first approached Fowler to commission some photographs, the new mom was committed to breastfeeding but admittedly trying to work her way through issues like being judged and finding a safe and sanitary place to nurse while in public. James' plight resonated with Fowler, who is a mother herself. "I myself was a nursing mommy for 13 months," she tells Bustle via email. "It's a full-time job in itself. I settled on Rosie because breastfeeding is beautiful, but not for the faint of heart. It's messy, time-consuming, so hard in the beginning, and the sleep deprivation is ridiculous. It's tough and takes a tough woman." (This isn't to say, by the way, that women who choose not to breastfeed aren't tough — it goes without saying that every woman makes the choice that's best for her and her baby, and all of them are tough.)
The resulting photos of James taken by Fowler are works of art that pay homage to the true fortitude of mothers everywhere. And, specifically, James told Cosmopolitan.com, they make her feel "bold and empowered." Elaborated Fowler, "Alex loves the photos, as do I. It shows the strength and love of a mom." It's a gratifying feeling for Fowler, who specializes in labor and delivery photography, to be part of James' journey.
"Motherhood is a universal language," she says to Bustle. "Whether you formula-feed or breastfeed, everyone is on the same side. We should support each other no matter what, and not ridicule and stare when someone has their baby's best interest at heart. Male or female: if you don't like it, just look away." Unfortunately, women who breastfeed are all too often subjected to everything from harsh scrutiny should they feed their baby in public to downright deplorable conditions should they choose to feed their baby in privacy. (If you've ever nursed your child atop a toilet in a public restroom stall, you know the struggle is far too real.)
It is Fowler's hope that these stirring photos serve as a welcome reminder to breastfeeding moms that they are powerful, and that breastfeeding is natural, beautiful, and worthy of celebration. "I'm so blessed to be able to do what I love, and I hope to motivate and empower women everywhere — breastfeeding or not." Mission accomplished! Right, ladies? These photos are indubitably badass, and the message conveyed is one that will surely resonate with all women. We are strong. We are enough. We can, and we will.
Images: Courtesy of Sarah Kate Photography LLC