10 Books For Your Next Study Break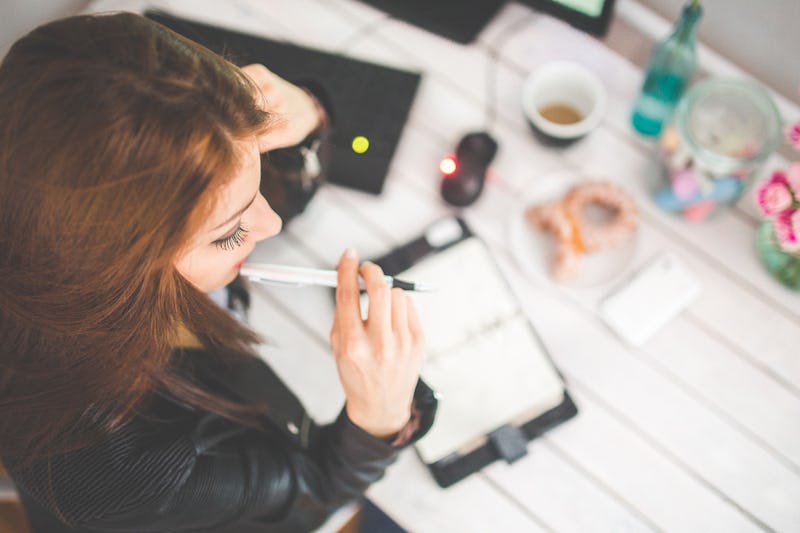 We're so close to summer, with just one hurdle to conquer: finals. Finals week is easily the most stressful week of the year, but these books are a great distraction.
When it's cram season, it's easy to get wound up and freaked out. Sometimes the best thing you can do to get through finals week is to put down the textbook and pick up something fun instead. Just like athletes need a warm-down after a long race, light activity mixed in with your study sessions will make your brain feel a lot better. Break up the long, caffeinated stretches of memorization and practice tests by getting lost in a whole new world. Discover magic, bond with some characters, and get wrapped up in an adventure, then go back to your study session. Believe me, an A will feel so much more achievable.
Many of these are beloved classics that you may have read a while ago, some of these are easy reads, some of these are light jaunts. None of these will make you work too hard, and they'll all fit easily into your overstuffed backpack. So, if you feel the panic attack coming, just pick one of these up, and give your brain a much-deserved break. And don't worry—you've got this.
1. Nimona by Noelle Stevenson
Shape shifters! Science! Magic! Sharks! This graphic novel is pure fun, and if you're a child of the Internet, you'll be delighted by its snarky humor. As Nimona, a teenage shapeshifter, declares herself the apprentice to the not-so-evil mastermind Lord Blackheart, the two's adventures will have you laughing out loud.
Mindy Kaling is the BFF that every girl wants to have, and her first book is purely delightful. Confident and funny, Kaling has something hilarious to say about every subject. Plus, Kaling's life story is the perfect example of how hard work can really pay off. As you're going into your test, this one will certainly help you believe in yourself.
3. Sex Criminals by Matt Fraction and Chip Zdarsky
Sex and superpowers? Can it get any better than that? This comic series is a gem. Suzie and Jon each have a special gift: when they have sex, time stops. When the two find each other, they naturally start using their powers to rob banks. Bonus, this is often hailed as one of the most women-friendly sexy reads out there.
Everyone needs to reread this delightful classic for young readers at least once a year. After being cursed as a baby, Ella must obey anything she is told to do. But when her mother dies, saucy and rebellious Ella goes on a grand adventure to find the fairy that cursed her. With unforgettable characters and plenty of adventure, Ella's story is certain to take you far away from your troubles.
This book is one of my all-time favorites. The narrator, Antsy Bonano is one of the funniest, goofiest people you'll meet in literature, and he has a brilliant knack for getting in trouble. When Antsy and his gang make friends with the Schwa, a boy at their school who is "functionally invisible," they try to figure out how the effect really works. This book is certain to lift your spirits.
Who can resist a sweet, Sarah Dessen romance? In this book, Macy's summer is looking grim: her father recently passed away, and she has plenty on her plate. But, much to her surprise, as summer unfolds, she ends up finding some unexpected sources of happiness: from her co-workers at her new catering job to a beach house renovation project with her sister. And don't worry, in perfect Sarah Dessen fashion, she discovers a little romance along the way.
This one will get you psyched up for all that traveling you're going to be doing over break. When Ginny's aunt passes away, she leaves Ginny with some cash and a scavenger hunt that takes her galavanting across Europe. As she follows her aunt's instructions, romance and adventure bloom for Ginny in the best of ways.
8. Holes by Louis Sachar
This classic is another one that will feel amazing to reread. (And even more amazing if you haven't read it before.) Stanley Yelnats, victim of a family curse, is mistakenly sent to Camp Greenlake, a camp for juvenile delinquents in which boys must spend all day in the hot, Texas sun digging holes. But among the terrible conditions of Camp Greenlake — the heat, the attitude, the deadly yellow-spotted lizards — Stanley manages to find friendship. With a decades-old mystery wrapped around the camp, this book is filled with its own special type of adventure.
Every hardcore studier needs a book with lots of pictures. Snark and MS Paint drawings come together to tell some wonderfully goofy stories about life in this hilarious book. This book is perfect because you can read one story at a time if you need just a quick burst of fun. If you're already be a fan of the Hyperbole and a Half blog, and this book contains some of the posts already on the web plus some originals.
This book will captivate readers of any age, and is sure to give you a nice dose of adventure. There is a highly advanced fairy world living beneath the surface of the Earth in secret. When millionaire boy genius Artemis Fowl kidnaps fairy police Captain Holly Short, the fairy world and the human world are confronting each other for the first time in centuries. Filled with characters that will make you grin from ear to ear, this is the perfect choice to read (or reread) if you need to get your mind off of exams.
Images: kaboompics/Pixabay