10 Ways To Celebrate May Day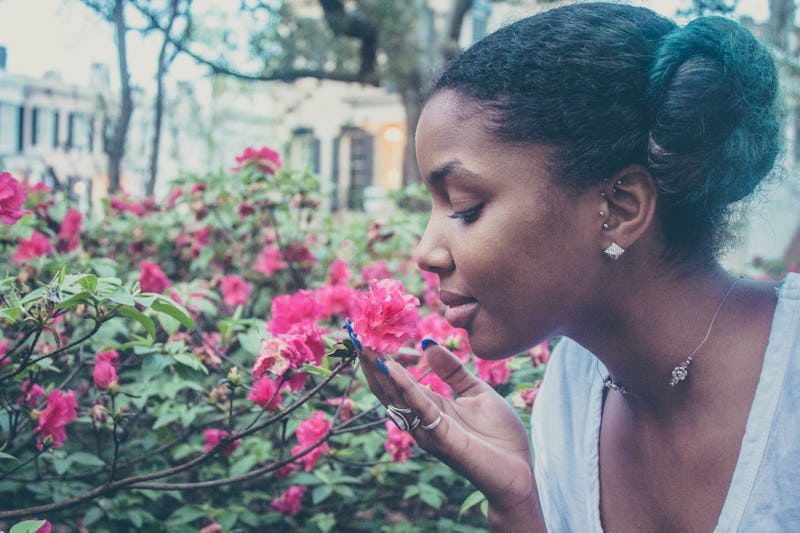 My parents' wedding anniversary is on May 1, so the date has always been a significant one in my family, and each year, we find a way to make it special. It wasn't until I was in middle school that I realized the love of my folks wasn't the only reason others were observing the date, because all over the northern hemisphere, people find different ways to celebrate May Day. Just because it isn't an official holiday in the U.S. doesn't mean you can't celebrate it yourself.
Though it isn't considered an official national holiday in America, May Day is still celebrated across the country in different ways. To some people, May Day is a celebration of all things spring. The annual holiday honoring the season has its roots in ancient Indian and Egyptian spring festivals, the ancient Roman festival honoring Flora, goddess of springtime, and the druid tradition of tree worship. It's a day to bask in the warm weather, spread springtime joy, and appreciate the environment.
But for many, especially in the United States, May Day isn't all flowers and sunshine. It's also International Workers Day, an annual event that not only honors the contribution of working people, but also gives them a day to have their voices heard. Since the spring of 1886, a time unions, reformers, workers, and others came together in Chicago to protest against unfair working conditions, May Day has become a day for civil protests and social activism.
It's a holiday we should all be paying more attention to, so whether you're interested in making flower crowns or marching for working moms, here are 10 ways you can celebrate May Day this year.
1. Plant A Tree
Earth Day may have come and gone, but it isn't the only holiday that celebrates the planet. May Day has its roots in festivals that honor the renewal of spring, so you should spend the holiday embracing nature, and even contributing to its survival. Plant a tree in your community, or start your own at-home garden, and help keep Earth green for many May Days to come.
2. Participate In A Local March Or Protest
May Day is also International Workers Day, and in many places around the world, including the U.S., organizations and everyday citizens come together to make their voices heard through marches, protests, and other kinds of activism. Get involved in International Workers Day events in your city, like the annual May Day March for Workers and Immigration Rights in major cities including Seattle, Boston, and New York. You really can make a difference, but the first step is getting involved.
3. Make A Maypole
It isn't truly May Day without an official Maypole. Traditionally, the Maypole was a tall wooden pole decorated with brightly covered ribbons used for dancing at folk festivals. You can make your own and incorporate it into your day's festivities.
4. Have A Dance Party
What do you do with a Maypole, one might ask? You dance around it, of course. Watch a few YouTube videos on Morris dancing until you've mastered the art of folk dance, and really get the party started by busting a few moves of your own.
5. Get Creative With Flowers
April showers bring May flowers, so get your hands dirty and have some fun with them. Plant some flowers in your garden, use them in a new recipe, create a freshly picked centerpiece, or play around with floral crowns. Your options are endless, and they all smell pretty good.
6. Write A Letter To Your Elected Official
If you want to see changes in the labor laws, you have to make your voice heard, and a great place to start is with your government representatives. Write a letter to your local elected officials about policy changes you want them to support, or to raise your concerns with common practices. Make their agenda, your agenda.
7. Put Together A May Day Basket
Spread the joy of this springtime holiday by making a May Day basket for someone you love. Remember when you were younger and played Ding, Dong, Ditch? Yeah, it's kind of like that, but instead of ringing someone's door bell and running away for the sake of driving them crazy, you leave a basket of small gifts, from fresh flowers to candies and trinkets, behind. But watch out — if they catch you before you get away, you owe them a kiss.
8. Go Out For Happy Hour
May Day serves as a secondary Labor Day, which is meant to celebrate the hard working men and women of the world. Since you don't actually get the day off from work, though, you're going to have to wait until after hours to be appreciated, and what better way to say "thank you" to yourself than with cheap drinks with good friends and coworkers?
9. Bake A Cake
While you might not want to follow the exact tradition of making a Beltane cake, which could result in egging, shaming, and a year of harsh judgement for the person who got the unlucky black slice, you should still make something sweet for May Day's springtime celebration. I mean, any excuse to bake a cake is a good excuse, right?
10. Start A Conversation
To some people, May Day is a cheerful holiday that celebrates the renewal of spring, but for millions of others, it's a day to stand up and fight for their rights. Even if you don't grab a sign and march down your city's street in protest, you can still use this as an opportunity to talk about workers' rights. Whether it's with your friends and family, your own employer, or your local government officials, use May Day as an opportunity to talk about things that matter, including fair and equal wages, and opportunities for all.
Images: Tonglé DakumIm, Amy Pleasure, Zachary Staines,Brigitte Tohm, Vadim L/Unsplash; Fotolia