'Zombieland 2' Needs Emma Stone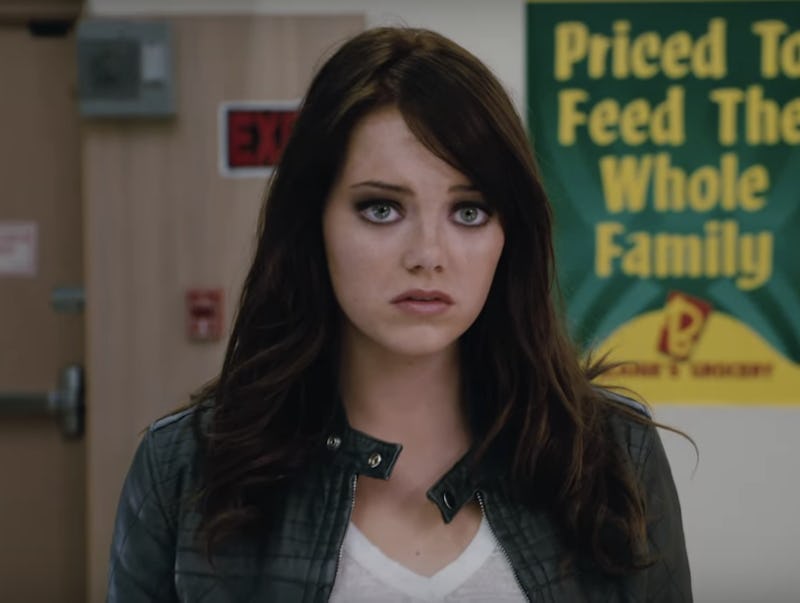 Move over The Walking Dead. The 2009 movie Zombieland may finally be getting it's sequel. And after years of wanting more, news of a possible continuation of the Jesse Eisenberg and Emma Stone-led classic is not something to take lightly. In fact, for the first time, the possibility of the ball finally starting to get rolling is clearer than ever. Blood-Disgusting.com is reporting that filming for Zombieland 2 could begin this August. However, now is where all of the serious questions come in. Because, as much as zombie fans love Zombieland, it really could have been the up-and-coming star-studded cast that is accredited to all the film's success. With news of sequel, I want to make sure that this possibility of filming also includes members of the original cast. More specifically, I want to know whether or not Emma Stone will be returning for Zombieland 2 as Wichita.
While nothing has been officially confirmed from the studios as of yet, it's the casting notice said to be going around that lists filming in Atlanta, Georgia this summer — following the Fall 2014 announcement from Sony Pictures — that is causing all of the stir. Now, yes, ever since Stone appeared in Zombieland, her career has taken off. She ended up following up the zombie film with coveted roles in Easy A, Crazy, Stupid, Love, The Help, The Amazing Spider-Man, Birdman, and more. So, why would the Academy Award nominated actress return to a cult film such as Zombieland?
For the fans and the fun, of course. However, sadly, it could be the busy schedule of the A-List actress that prevents her from being on-set. As it was recently announced that Emma Stone will be playing Cruella De Vil in the Disney live-action film, Cruella, and the actress is also currently said to be filming the comedy bio-pic, Battle of the Sexes , set to be released in 2017.
However, aside from possible scheduling conflicts, Emma Stone's latest hair change could be the proof fans need: the red-haired beauty is now sporting dark brown hair and bangs. While it could be for her character Billie Jean King in Battle of the Sexes, I'm recognizing the dark-haired look from her days playing Wichita in the 2009 horror-comedy flick. And, personally, with her hair currently being the way it is and August still a ways off, jumping into filming for Zombieland 2 would be a reasonable next move. Don't you think?
Now, of course, if for some reason Stone isn't able to return for a Zombieland sequel (and if production still continues somehow without her), then there is also a chance that the actress from the cancelled 2013 pilot, Maiara Walsh, could be in the running to play Wichita again. Or, instead, fans will then be introduced to yet another all-new cast. However, considering the seemingly open schedule and Stone's hair change, I've got my fingers crossed that this sequel is going to be just the one we have been waiting for.
But, until we know anything for sure, I'm just going to grab some Twinkies, and re-watch Zombieland to fill my hearts content. Let the nostalgia flood back in.
Images: Sony Pictures Entertainment; Giphy