You Can't Even Handle Hemsworth In 'Ghostbusters'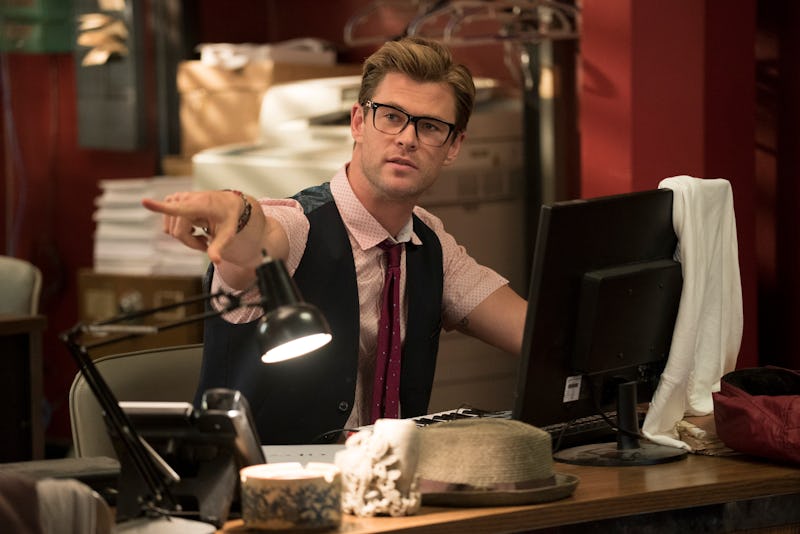 I know it's probably not great that while there is an all-female Ghostbusters squad headed our way on July 15, I'm heavily focused on the Ghostbusters' receptionist, Kevin, played by the wonderful Chris Hemsworth. Don't get me wrong, I am obsessed with Melissa McCarthy, Kate McKinnon, Leslie Jones, and Kristen Wiig's ghostly mission, but I have to take a moment to appreciate the glory of Hemsworth acting as an assistant to these kickass ladies... and those glasses, which somehow make him even more handsome. And in my defense, when I dropped by the Boston set of Ghostbusters in September, the cast and crew couldn't stop talking about him either.
"Oh, Chris. Mm. Let's just take a moment and give Chris his due. Goddamn," says Jones, talking to a circle of reporters about working with the Aussie actor. "He's a real good looking man. He's so sweet. He's too normal for how good looking he is. I'm so serious. Seeing him talk to his kids and it's just like, how are you this beautiful and this normal?"
But it wasn't just that Hemsworth is handsome or that he manages to be as wonderful as he is goodlooking, he also appears to be something of a secret weapon in this hilarious ensemble.
"He was so goddamn funny," says co-screenwriter Katie Dippold, who also co-wrote The Heat with Ghostbusters director Paul Feig. "I feel like I've never laughed so hard..."
And according to Wiig and McCarthy, Hemsworth was so funny, he was practically disruptive. "Chris Hemsworth made us break more than anybody, which is like, don't you have enough? Haven't you been given two scoops to begin with?" says McCarthy. "He is a really really funny guy and one of the best improvisers I've ever worked with. That was not our most professional day—"
"There were tears," adds Wiig, who apparently made the situation worse in her efforts to curb her giggle fits.
According to McCarthy, "I was bawling at one point and there was a lot of Kristen going like this" — at this point McCarthy starts making funny faces and gestures — "and trying to get it together which made me laugh more because she does weird things when she tries to stop laughing."
Well, folks, you've been warned: Hemsworth is going to make you laugh harder than you'd ever expect from the dude who also plays a superhero/alien famous for slinging a giant hammer and letting his long locks flow in the wind.
Unfortunately, Hemsworth had wrapped his part in the film before we arrived on set, so he wasn't able to respond to his co-stars' overtures, but I'm sure, if he's as wonderful as they say, his response would be heartbreakingly perfect.
Ghostbusters hits theaters July 15.
Images: Courtesy of Sony Pictures (2)