Look Into These Mystery Shows After 'Grantchester'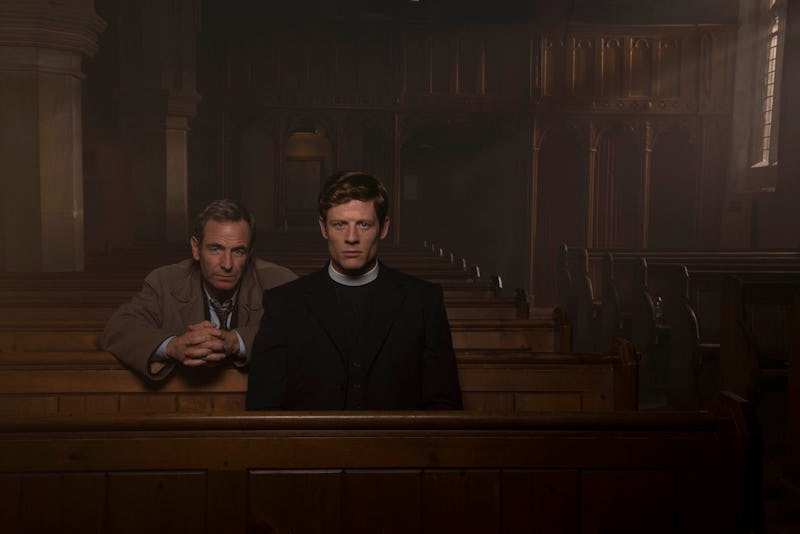 Whether you always used to catch a glimpse of the beginning of Grantchester after the latest episode of Downton Abbey aired every week or you're actually a diehard fan of the titular crime-solving vicar, PBS' latest Masterpiece Mystery! series is about to come to an end. The Season 2 finale of Grantchester airs Sunday, May 1 at 9 p.m. ET, but we're still going to have one mystery left to solve once those end credits start rolling. And that question is will Grantchester return for Season 3?
The answer is most likely, at least for us yanks. If you live in the United Kingdom, Grantchester will for sure be returning to your neck of the woods. ITV, the network that airs Grantchester in the U.K., announced earlier this month that it had renewed the series for a third season. PBS has yet to reveal whether or not Grantchester will be returning for Season 3. However, since the show is actually a co-production between Masterpiece and Kudos, it should only be a matter of time before we see Season 3 episodes of Grantchester on PBS' schedule.
Unfortunately, we don't know exactly when that will be. No official premiere dates have been announced for Season 3 in either the U.K. or the U.S., but expect the series to air overseas first because that's how things have gone for the past two seasons. It's also difficult to predict when exactly Grantchester will air on PBS because Season 1 premiered on Jan. 18, 2015 and Season 2 premiered on March 27, 2016, according to TV Guide. But my guess would be that Grantchester Season 3 will premiere sometime in the second half of 2017.
Well, that certainly seems like a long way away, and it kind of is. But the great thing is that Grantchester isn't the first mystery TV series, and it certainly won't be the last. Do some snooping around for one or two you might be interested in watching in the meantime. These will give you some clues.
Sherlock
Sherlock Holmes is the most famous fictional detective, so naturally any mystery fan should be watching Mark Gatiss and Steven Moffatt's contemporary take on the legendary sleuth and his trusty sidekick Dr. John Watson. It's elementary! (Sorry, I couldn't resist.)
House
If you're into mysteries of the medical variety, you'd be hard-pressed to find a better series than House, which is both satisfying in its reveals and compelling in its portrayal of its characters' personal narratives. Plus, Hugh Laurie is just so, so good. I don't think he's had a better role before or since this FOX drama.
Death Comes to Pemberley
I don't think there's been a series that's more perfect for Masterpiece Mystery fans than Death Comes to Pemberley. Based on the best-selling P.D. James novel of the same name, Death Comes to Pemberley picks up where Pride and Prejudice left off. Elizabeth Bennet and Mr. Darcy are busy preparing for the annual ball at Pemberley, Mr. Darcy's estate, when a dead body is suddenly found. James Norton, the actor behind Grantchester's Reverend Sidney Chambers, also stars in Death Comes to Pemberley, so you basically have no choice but to watch it.
The Bletchley Circle
If you're in the market for another period mystery, look no further than The Bletchley Circle, which follows group of British women that cracked the codes used by the Germans during World War II who reunite to help solve a string of murders. Yeah, these ladies are as fierce as they sound.
Miss Fisher's Murder Mysteries
Speaking of fabulous female detectives, meet Phyrne Fisher, one of Australia's leading sleuths. Phyrne solves mysteries against the backdrop of 1920s Australia, which is just as swanky as it sounds. Crimefighting never looked so glamorous.
Top Of The Lake
While we're Down Under, we might as well travel to the east and stop over in New Zealand to check out Top of the Lake, Jane Campion's mystery series starring Elisabeth Moss and Holly Hunter. The series starts with a 12-year-old girl who is five months pregnant going missing, and it only gets stranger from there.
But if Grantchester is the only mystery series that can adequately keep you on the edge of your seat, it'll hopefully be back before we know it.
Images: Courtesy of (C) Des Willie/Kudos & ITV for MASTERPIECE; passionjamesnorton, pink-elephant-productions, davinjaqobis, incorrectmfmmquotes, lexagf/Tumblr; Giphy (2)