'Inside Amy Schumer' Address Gun Control Perfectly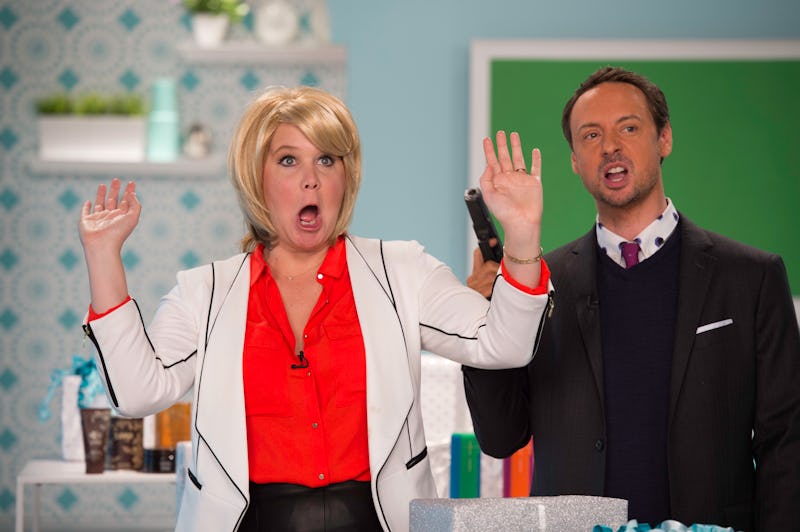 It's no secret that Amy Schumer is an advocate for reasonable gun control laws — after a tragic shooting killed two young women at a screening of Trainwreck, she met with the victims' families and has worked with politicians on initiatives to promote gun safety. So, it's fitting that the April 28 episode of Inside Amy Schumer places a strong focus on gun control. The episode opens with a comedic sketch in which shopping network hosts freely sell guns to every single caller, including those who say they have been convicted of violent felonies and are suspected terrorists on the No Fly List. When the hosts receive a notification that a mass shooting has occurred, they caution viewers that "this means the government might come for your guns soon. They never have, but they always might."
The sketch was jarring because it's all too realistic — it has been reported by TIME and numerous news outlets that gun sales spike after mass shootings, such as San Bernardino and Sandy Hook. After the sketch, Schumer addresses the fact that people are sometimes annoyed when celebrities get involved in politics — and she totally understands why. However, she explains that a meeting with the families of the Trainwreck shooting victims changed her mind. They told her that people listen to celebrities (often more than they listen to politicians) and she decided it would be irresponsible to not use her platform to promote gun safety.
Later in the episode, Schumer interviews Brina Milikowsky, Chief Strategy Officer at Everytown for Gun Safety, the nation's largest gun violence prevention organization. Milikowsky addresses the misconception that the organization wants to simply take everyone's guns away — in fact, she regularly meets with sheriffs, hunters, conservative elected officials, and even NRA members all over the country. She emphasizes that we can find common ground and she thinks the majority of NRA members are reasonable — rather, she views the leadership as problematic.
We have a lot of work ahead of us, but she stays motivated and optimistic thanks to the amazing conversations she has with people all over the country. Milikowsky works tirelessly for an important cause and it's so important that millions of people will hear her message on Inside Amy Schumer. She also provided a sobering reminder that, although mass shootings at schools and movie theaters are what make headlines, the most common type of mass shooting is domestic violence related — therefore women are at the greatest risk. Everytown reports that American women are 11 times more likely to be murdered with guns than women in other developed nations.
As much as I love Schumer's straight-up comedy, sometimes she's at her best when she's addressing a serious issue. We all hear about the infamous mass shootings (which have become a frighteningly common occurrence), but the domestic violence issue is not addressed nearly enough. She urges her viewers to get involved and not wait until it affects us or our families directly. Milikowsky and Schumer left us with this message — it's an election year and we all have a responsibility to get out there and vote.
Schumer was initially reluctant to voice her political opinions, but I'm so glad she decided to become involved in the movement to implement gun safety laws. Having experts like Milikowsky on her show is so important — because, sometimes, we need to take a break from comedy and hear the sobering statistics.
Image: Macall Polay/Comedy Central