Where To Buy Moleskine's New Leather Bags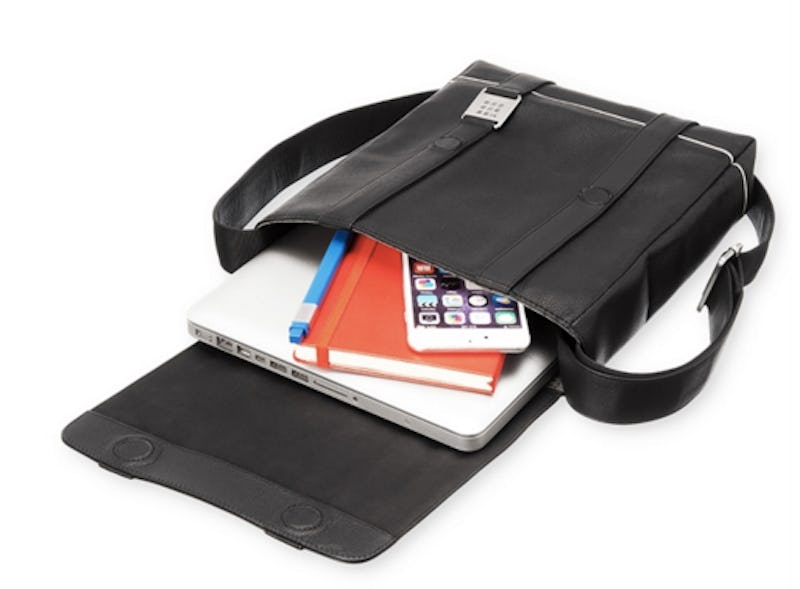 If you're a fellow writer, chances are you're familiar with Moleskines — The gorgeous, bound notebooks that I almost always feel bad about writing inside. They've become almost an obsession, and collecting them is now one of my hobbies. And now, Moleskine is launching a line of leather bags, meaning your beautiful journals can now have an appropriate counterpart.
I've been obsessively organized for as long as I can remember. When I was little, I used to staple together pieces of paper and draw a pretty cover to put on top to act as my many different notebooks. And I actually used to try to sell these designs to my mother's friends (organizer and entrepreneur at age seven, apparently). As I grew older, I'd collect free ones that my mother would bring home from work, one that my sisters no longer wanted, or anywhere I could get my hands on a new one.
I can still remember the day I got my first Moleskine journal. I was a sophomore in high school, and when I saw it in a bookstore in Cambridge, I had to have it. So I bought my first — Plain black with the grid (which I found easier to write in). I wrote everything in them: Recipes, little scribbles, song lyrics, poetry (I was an angsty teen back then). And when it came time to go off to college, all, and I mean all of my planners were Moleskine. They were like these luxurious gifts that I could stare at and use everyday. It's no wonder they're considered some of the best journals to have.
How could you not fall in love with this beauty that you could write, doodle, color, and do whatever you wanted in? I mean, really, there's no excitement like having a new blank notebook.
And now, Moleskine is getting into the bag business, and I couldn't be happier. The collection, called Lineage, features five different types, all big enough to fit your notebook, laptop, tablet, or anything else you need. The bags are designed by Vittorio Venezia, a Milan-based product designer.
Check the goodies out, below, all of which you can buy on their website.
Leather Lineage Tote, $190, Molskine
Hallelujah to all the things that fit in this tote.
Leather Lineage Reporter Bag, $170, Moleskine
Love the handy side strap on this one.
Leather Lineage Messenger Bag, $290, Moleskine
If you're more a hotdog kinda person, rather than hamburger.
Leather Lineage Slim Briefcase, $290, Moleskine
For a super polished look.
Leather Lineage Backpack, $325, Moleskine
And, if you prefer a backpack, there's an option for you, too!
Like the notebooks, this leather bag collection is simple, understated, and classic. These are the types of bags that'll keep forever and always pair well with your wardrobe. Looking for a new work or school bag? Look no further.