17 Must-Read Fiction Books Of May 2016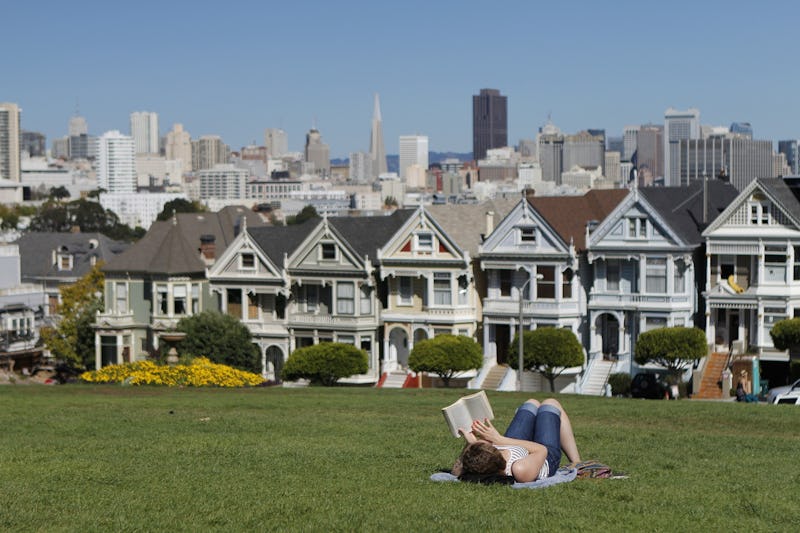 May is finally here. Whether you're finishing up a long semester of school or simply looking forward to some sunshine and R&R, May 2016's new fiction books have plenty to offer.
Because it's May and you've been working hard, you deserve something fun — so many of these reads will let you go on a veritable book binge. From chick lit that sends you on magnificent tristes to thrillers that will keep you flipping pages all night long, these books all have something to offer.
But that's not to say authors this spring aren't afraid of tough topics. Depression, identity, and family secrets all have their part to play. These books will teach you shocking lessons about humanity, and you'll go to places within yourself you never expected to reach.
Plus, friendship is a key theme in many of these reads. New connections and life-long friendships are both explored, as authors this month have found interesting ways to key into the many ways friendship can grow and change. So if you're like me (and you get by with a little help from your friends), there's plenty here that you'll appreciate.
Whatever you're drawn to, you'll be sure to discover a page-turner in these new releases. Find yourself some sun, lay out on the grass, and treat yourself to some well-earned pleasure reading.
I can't resist a book with a hot pink cover, and this book is just as vibrant on the inside as it is on the outside. As twenty-somethings Becky, Harry and Leon flee London with a suitcase of stolen money, this story takes you back through the intertwining ribbons of their lives that led them to this point. Spinning through the worlds of professional dance and drug deals, dead-end jobs and infamous fathers, family history and gender issues, this story will call out to anyone who has ever felt lost in their own life. A poet and a rapper, Tempest's unique control of language is a treat for any reader.
2. The Assistants by Camille Perri (May 3rd; G.P. Putnam's Sons)
If you've ever been an assistant, this book will give you a thrilling wave of vindication. When Tina, an executive assistant to a media mogul, accidentally steals $19,000 from her company to pay off her student loans, the situation snowballs into a scheme worth hundreds of thousands of dollars. With unexpected friendship, a romantic twist, and a unique perspective on the financial divide, this novel is a supremely fun romp through the corporate world.
3. Solemn by Kalisha Buckhanon (May 3rd; St. Martin's Press)
Set in the trailer-park world of Mississippi, this searing story unfurls when teenager Solemn witnesses a man throw a baby down a well. The incident continues to haunt Solemn, and she begins to sense that the baby was her half-sister. As she confronts the mistakes her father has made and tries to find the truth, Solemn sifts through her own identity in a story fueled by emotion.
4. Imagine Me Gone by Adam Haslett (May 3rd; Little, Brown and Company)
This profound book centers on a family with a legacy of depression. Told from the five voices of each family member, this astoundingly expressive book digs fully into its characters, pulling out strands of sympathy and insight into the circumstances that create the human experience.
5. Not Working by Lisa Owens (May 3rd; The Dial Press)
Everyone's been talking about this book, comparable to the classic Bridget Jones' Diary. This is the story of Claire, who has just quit her office job to pursue her passion — except she doesn't quite know what her passion is. As Claire experiments and explores herself, Owens creates a fantastic journey of self-discovery. Charming and funny, this read is simply delightful.
6. The Atomic Weight of Love by Elizabeth J. Church (May 3rd; Algonquin Press)
Spanning from the World War II-era through the 1970s, this sprawling novel is about an adventurous young ornithologist, Meridian, who defers her career to be with a man with whom she's fallen in love. After she and her new husband relocate to New Mexico so that he can work on developing the atomic bomb, Meridian goes on a steely exploration about what sacrifice entails.
7. Keep You Close by Lucie Whitehouse (May 3rd; Bloomsbury)
This is a book to get your heart thumping. When Rowan Winter begins to suspect that her estranged friend, Marianne's, tragic death was not as accidental as she's been told, she dives into an intricate investigation and unearths the secrets of Marianne's family and past.
8. Man and Wife by Katie Chase (May 10th; A Strange Object)
Every time A Strange Object publishes a book, I pay attention, and this short story collection continues their streak of remarkable projects. Filled with stories of young women coming of age, this collection is characterized by Katie Chase's keen eye. As the characters in her stories confront what home is and what we take from it, this book offers a fascinating perspective on what it means to be a woman.
9. LaRose by Louise Erdrich (May 10th; Harper)
Louise Erdrich is a literary icon, and her newest book is just as beautiful as her previous award-winners. Set in a Native American reservation in North Dakota, this story unfolds when a man accidentally shoots his neighbor's young son and gives his own son, LaRose, to the grieving family. Pushed forward by the deep and complex emotions that surround grief and inheritance, this novel will take you on a phenomenal ride.
10. Girls on Fire by Robin Wasserman (May 17th; Harper)
This blazing read will floor you on every level. After a classmate commits suicide, "good girl" Hannah is pushed into a searing friendship with the town's confident "bad girl," Lacey. Together, the two collaborate on a path to chaotic rebellion. This book is fueled by its sharply complicated characters whose lives are built upon secrets and insecurities in a way that will dazzle any reader.
11. The After Party by Anton DiSclafani (May 17th; Riverhead)
Fans of The Great Gatsby will delight in the rich wonders of this novel. Set in 1950s Houston, this book follows Joan Fortier, a glamorous socialite who packs a punch. When Joan decides that she wants more from life than dominating the social sphere, the consequences of her appetite take a toll on her best friend. Just as much about friendship as it is about the rich and the beautiful, this novel is a delight to dive into.
12. The Sky Over Lima by Juan Gómez Bárcena (May 17th; Houghton Mifflin Harcourt)
Translated from Spanish and based on a true story, this poetically-written book fittingly centers around the life of the legendary poet, Juan Ramón Jiménez. Two friends, José Gálvez and Carlos Rodríguez, in a plot to get a copy of Jiménez's latest book, write to the poet posing as a beautiful woman. As their correspondence continues, Jiménez falls for the imaginary woman, ultimately writing one of the world's greatest love poems to her.
From the author of the acclaimed Horrorstör, this book packs all the magic of a summer horror flick. What would you do if you suspected that your BFF since elementary school was possessed by the devil? That's the question Abby must answer in this imaginative read.
This story begins when teenager Vera has an episode that sends her to the psych ward. In response, her father takes her to his home country of Lithuania for the summer. There, he shares the secrets of his family's past and Vera searches for answers about her parents' lives. This book weaves an emotional web that will draw you in completely.
15. Sweetbitter by Stephanie Danler (May 24th; Knopf)
Spend a year in the heart of NYC with enigmatic, 22-year-old Tess in Stephanie Danler's Sweetbitter. New to the Big Apple and working as a waitress in a Union Square restaurant, Tess has a huge, infectious appetite for life. She soon finds herself attached to two servers: Jake, a quiet, handsome bartender, and Simone, an older woman who takes her under her wing. As the year unfolds, Tess learns that finding yourself often involves learning some hard lessons.
16. Enchanted Islands by Allison Amend (May 24th; Nan A. Talese)
Enchanted Islands is the fictionalized story of the real-life Frances Conway, based on Conway's memoirs, which were discovered by the author during a trip to the Galapagos Islands. The novel tells the story of Franny's journey to the Galapagos, where she goes undercover for the U.S. government on the brink of World War II alongside her husband, a fellow undercover officer. This is a dazzling, intriguing adventure that will, well, enchant you.
17. Modern Lovers by Emma Straub (May 31st; Riverhead)
Another knock-out read from the author of The Vacationers. This is the story of a group of friends who met in college and have built a life together. Now, their kids are the ones on their way to college. As the gang faces the impending doom of getting older, the fabric of their lives begin to unravel. As their secrets begin to tumble out, you'll be treated to an entertaining read about the evolution of relationships.
Images: Pexels/Pixabay