7 Dermatologist Tips For Getting Rid of Pimples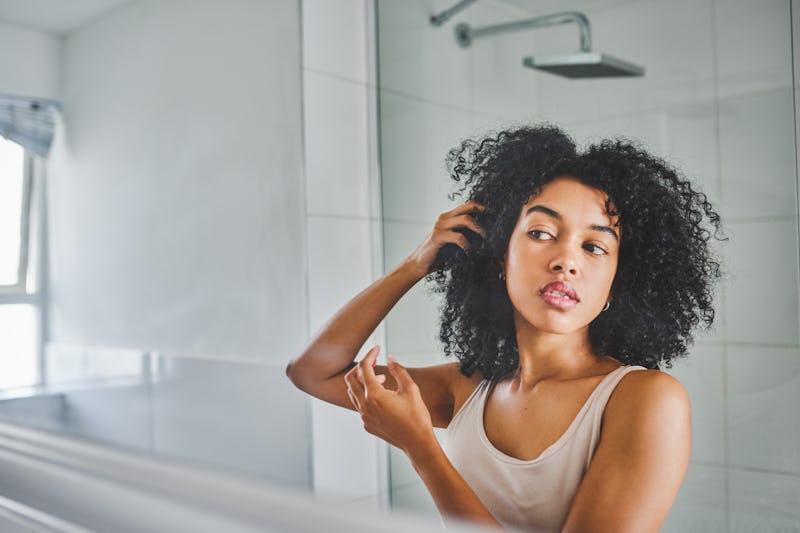 Moyo Studio/E+/Getty Images
Most people know what it's like to wake up to a pimple in the morning: It's annoying, it's painful, and it's a serious morning mood killer. It makes you wish you had a dermatologist on call, so they could tell you how to get rid of pimples in time to get to work. Good news is, dermatologists' tricks for getting rid of acne are actually pretty easy to execute, whether you've got one on call or not.
If you're sick of settling for layered makeup to make your pimple disappear, there's a better way. Dr. Gervaise Gerstner, an NYC-based dermatologist, advises an electronic facial brush, for example, which cleanses your skin six times deeper than you could by just using your hands. The gadget is gentle on your skin, but it works hard enough to wash away dirt and product from your face in minutes. On the other hand, if you forget to wash your makeup brushes (or didn't even know that was a thing), dermatologist and skin cancer surgeon Dr. Jennifer Linder says this practice is crucial for keeping breakout-causing bacteria off your face. To protect your brushes, there is a natural, plant-based brush shampoo that will wipe your favorite foundation brush of anything that causes that frustrating new pimple. Read on for the skin expert tricks that cut down on daily breakouts.
If Your Skin's Oily, Don't Avoid Skin Care Steps — Customize Them
The Body Shop Seaweed Purifying Facial Cleanser , $13, Amazon; Lavo Daily Moisturizing Cream, $22, Amazon
This mild, milky cleanser is great for washing combination skin every day, as its Ireland-sourced seaweed can gently remove makeup and impurities without drying out your skin. That matters, as implementing a regular face washing and moisturizing routine is crucial for breakout-prone skin, says Dr. Linder. When coupled with this moisturizing cream (created with nourishing vitamins A, B, C, and D), your skin can be able to get its oil production back on track. Dr. Linder says, "People with breakouts often think they don't need moisturizer because they are oily, but washing and using a moisturizer that is designed for breakout-prone skin will actually help to reduce oil production."
Use Electronic Facial Brushes For Deeper, More Thorough Clean
Dr. Gerstner agrees that you should be sure to wash your skin daily, no exceptions. For a deeper clean, she suggests "using a Clarisonic brush and rotating two or three cleansers." This electronic face brush cleans six times deeper than your hands can, and it provides a gentle but thorough clean that's effective for all skin types. Plus, consider that any product you use after cleaning your face with the Clarisonic is likely to go on better, too, because your skin will be left completely clear and fresh. Bonus: This brush comes with a charging station and a gel cleanser to get you started.
Eliminate Breakout-Causing Bacteria From Makeup Brushes
Aesthetica Cosmetics Makeup Brush Cleansing Mitt, $20, Amazon; Ecotools Makeup Brush Cleansing Shampoo, $11, Amazon
If you can't remember the last time you washed your bronzer or foundation brush, that may be the reason you've been having trouble. According to Dr. Linder, "makeup brushes that have not been washed frequently can contribute to breakouts." This scrubby silicone glove is a definite multitasking necessity for anyone using their brushes every day (one side cleans larger tools with pronounced bristles, while the other side is more delicate for smaller sized brushes). Lather it up with this hypoallergenic brush shampoo so its gentle, plant-based formula can cleanse brushes of dirt, oils, and bacteria that have accumulated over time. Pro Tip: How often should you clean your brushes? About every two weeks, to be safe.
Treat Sweat-Induced Breakouts With Salicylic Acid For Any Skin Type
If you've been working out a little extra this month, or the temperatures have gotten warmer, you could be noticing more breakouts than usual. This is because "excessive heat and sweating can cause breakouts on places like the forehead and buttocks," says Dr. Elizabeth Tanzi, founder and director of Capital Laser and Skin Care. A quick fix? "Treat them using a two percent salicylic acid cleanser," she advises. No matter what skin type you have, this two percent salicylic acid exfoliant will soften rough skin and remove bumps on the skin's surface, all while infusing it with healthy antioxidants. Plus, this salicylic acid formula won't leave you dry and irritated, as soothing ingredients like green tea and willow herb extract keep redness levels low.
Wash Pillowcases Often To Avoid Bacterial Buildup
Nufabrx Pillowcase for Blemish Prone Skin , $36, Amazon
Waking up to new breakouts — especially the morning of an important event — well, sucks. Play it safe by washing your pillowcases as often as you can to clean them of dirt and oils that can cause overnight breakouts. "Sleeping on fabric that has built up bacteria and debris will make breakouts worse. If the breakouts are on the body, sleep in a clean cotton T-shirt," Dr. Linder says. These comfortable pillowcases for blemish-prone skin are made with natural ingredients like antibacterial bamboo fiber (to cut down on acne-causing germs), lavender, lemon balm, tea tree oil, and wintergreen oil. One pleased user said, "I'm so happy for such a simple solution. I would definitely recommend this product to anyone who is having trouble with adult acne."
Dermatologist-Recommended Pads Smooth & Tone Breakout-Prone Skin
These pads, recommended by Dr. Gerstner for clearing up breakouts, have Vitamins A, C, and E and leave your skin feeling healthy and clean. They remove excess oils and contain witch hazel, so they can even double up as a toner. One user raved about these cleansing treatment pads, saying they gave her smoother-looking skin in one week after she had been dealing with "enlarged pores and a major blackhead problem."
Always Remove Makeup Before Bed — Hydrating Micellar Wipes Make It Easier
Simple Makeup Remover Wipes, Micellar, $6, Amazon
According to Dr. Gerstner, not scrubbing off dirt and oils from your beauty products can be a big contributor to breakouts. "Don't sleep with your makeup on at night," she warns simply. To save yourself from neglecting your skin on nights when you're too tired to cleanse before you snooze, have hydrating makeup remover wipes by your bed. These wipes are different from your old ones, because the 'micelles' (bubbles) inside actually raise makeup up and out of your pores. The triple-purified water ensures nothing else is getting deposited onto your skin that shouldn't be, and they're hardworking enough to remove even the toughest waterproof mascara. One user said, "...these wipes feel nice on my skin. It leaves it hydrated — as in there isn't a 'tight face' feeling when it dries."
Bustle may receive a portion of sales from products purchased from this article, which was created independently from Bustle's editorial and sales departments.
Images: Moyo Studio/E+/Getty Images; Amazon (9)