What 'Below Deck' Newbie Julia Wants You To Know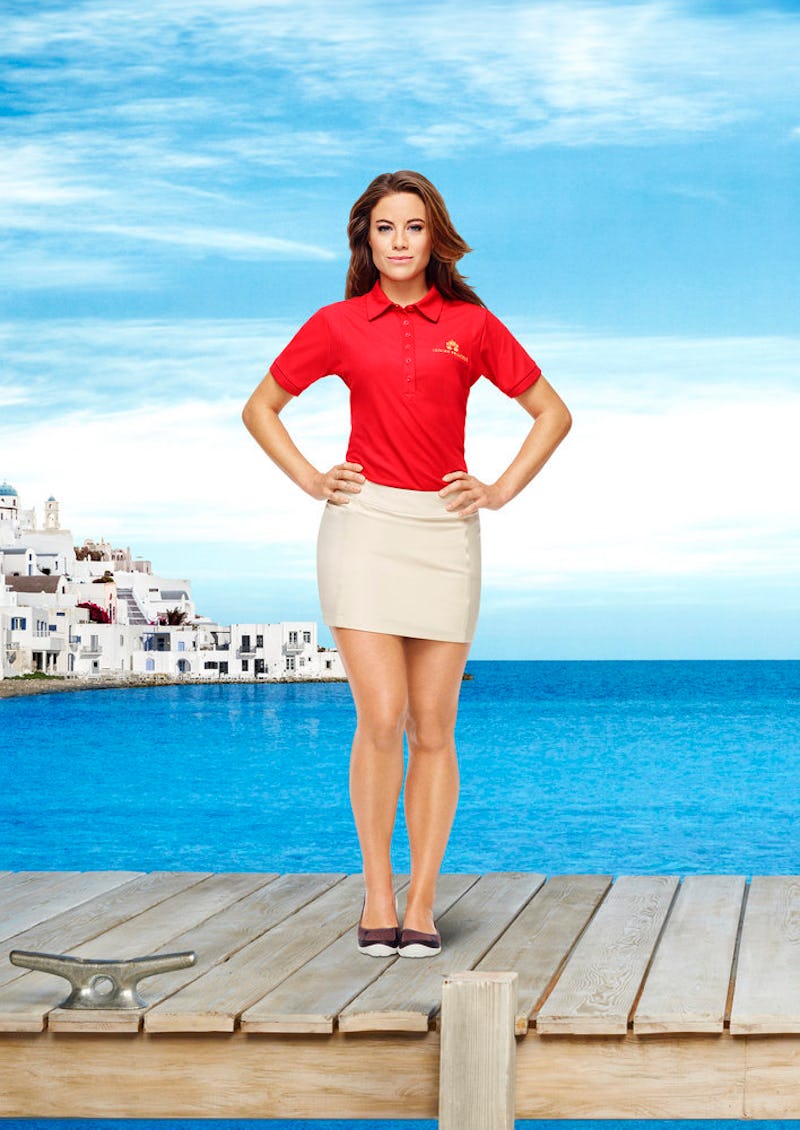 Bravo's spinoff of yachting docuseries Below Deck will bring more than just a change in scenery — it will also introduce a brand new cast. And Below Deck Mediterranean cast member Julia d'Albert Pusay, who spoke to Bustle in advance of the series premiere on Tuesday night, might just become your favorite stew on board. She's relatable, practical, and has a delightfully British sense of humor. Julia reveals that she hasn't seen the show yet, so she'll be watching it for the first time right alongside the rest of the audience on May 3 at 9 p.m.
When asked what role she'll play within the cast, Julia says, "I like to describe myself as the voice of reason," though she did admit that you'll have to "watch and see" if she winds up being involved in any of Below Deck Mediterranean's drama. But I think she'll be just fine, as Julia says that when she's not on the show, "I think that I'm quite sweet, quite kind, compassionate." However, she also has a slightly unconventional side.
"At the same time, [I'm] a little bit quirky, and I suppose I've got that kind of English eccentricity," she says. "But yeah, I'm up for a laugh and a giggle and I love a bit of fun." Sounds like the perfect combination for a Below Deck castmember. The show is a mix of long, long days working to fulfill the wishes of the guests and late night partying, so someone who's a mix of responsible and fun should fit in perfectly.
No matter what happens with the other cast members, Julia is a pro when it comes to yachting. "I've always worked in the yachting industry ... for the last five to eight years, and it's been a really good way of kind of funding my business adventures," she says. Because when she's not on board, Julia is a designer — she has her own clothing line, d'Albert. Julia seems to love her day job because "you're sailing and cruising around the world so it's kind of an unusual way to do it."
And I might just have Below Deck Mediterranean on the brain, but I feel like d'Albert has some nautical inspirations — lots of rich blues and crisp whites that would be perfect for someone chartering an expensive trip on a superyacht.
Ultimately, Julia doesn't think she'll be stirring the pot when it comes to Below Deck Mediterranean drama. "I feel that if I have an issue I say it to someone," she says. "I suppose it's quite a heated environment, and it is quite difficult, so I just hope that people see me being authentic and being myself. I'd like that to come across."
I think anyone on a reality show, particularly one that gets as up close and personal with its subjects as Below Deck, would hope for the same. But no one, even Julia, will know for sure until Below Deck Mediterranean premieres on May 3. Like Julia says, "we'll see what's shown, and go from there."
Image: Tommy Garcia/Bravo