The 'Below Deck Mediterranean' Cast Is Here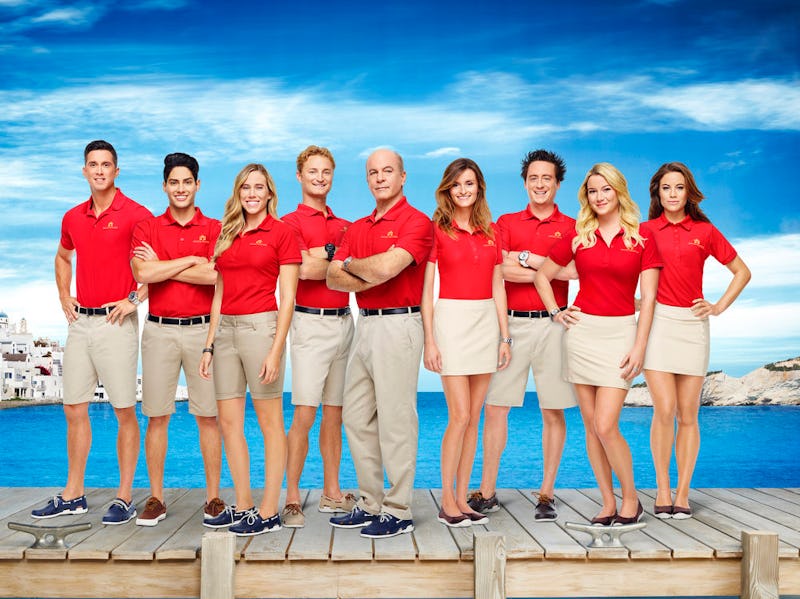 Who doesn't love the idea of spending your days floating around the Mediterranean on a yacht manned by an entire crew? I know I do. But not everybody can afford such luxuries in life, which means I have to get my fix of opulence in every week on Bravo's Below Deck, the show where an entire crew of yachties cater to the rich and fabulous. But what makes this show so exciting is not the five-course meals and mid-afternoon snorkeling expeditions. Let's be real. It's the drama that inevitable erupts among the cast members. So when Bravo announced the Below Deck Mediterranean cast, the first thing I looked for — as an avid fan of drama and anything made by Bravo — was to look for the things about this cast that would cause the most chaos on the high seas. And trust me when I say that this cast is like a perfect storm of personalities.
Drama will likely rampant on these seas, especially as this new iteration of Bravo's popular franchise takes on the Mediterranean, a vacation destination where luxury and yachting are taken very seriously. The clientele are rich, famous, and expect the most fabulous level of treatment. Throw their high demands into a melting pot with this incredible crew, and you have the perfect recipe for some wave-making moments aboard Below Deck Mediterranean.
Mark Howard
As the Captain of the boat, Howard believes that the guest is always right, which means this stickler for authority and incredible service will have no problem coming down on the crew whenever they act out.
Ben Robinson
Get this: Robinson is a health coach specializing in addiction. A perfect voice of reason for the booze-friendly crew?
Hannah Ferrier
As the Chief Stewardess, Ferrier loves being in charge. But, when it comes down to it, she believes in the work hard, play hard mentality.
Julia d'Albert Pusey
As a girl who prefers to avoid conflict at all costs, something tells me that she'll be the first one to cry on the job and the first one to be ganged up on by the other crewmembers.
Tiffany Copeland
Talk about Type A: Copeland has a laser focus for her career and aspires to know it all. She's determined to use this opportunity to take the next step in her career. I'm sure that won't get difficult to deal with after being cooped up in a boat for weeks at a time.
Bryan Kattenburg
For as much as he likes living the yachting lifestyle, Kattenburg likes rubbing elbows with elite clientele even more. Ten bucks says he's the first one to cross the line with a guest.
Jen Riservato
Get ready for Riservato, who apparently doesn't take any nonsense from anyone. My money is on she and Julie getting into it big time.
Danny Zureikat
A people pleaser by heart, he'll be the crewmember taking everybody's side in a conflict. That is, until they all talk and find out.
Bobby Giancola
This all-American party boy apparently also has a huge heart. Love triangle, here he comes.
So strap on those life preservers and get ready for a rocky ride. This new show promises a lot of waves. Check out Below Deck Meditteranean when it premieres Tuesday, May 3, at 9 p.m. on Bravo.
Image: Tommy Garcia/Bravo (9)