'Below Deck Med' Is Going To Be Totally Unique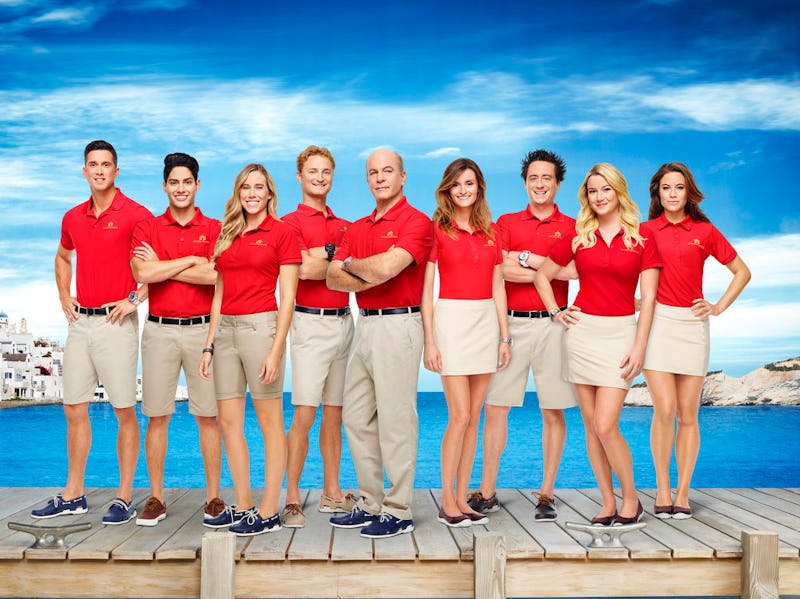 At first glance, Below Deck Mediterranean looks just like the original Below Deck but in a European location: there's a beautiful superyacht, The Ionian Princess, not unlike the Honor, Ohana, or Eros from Season 1-3, where guests expect the staff to cater to their every whim, despite being crowded into tiny quarters and forced to serve from the crack of dawn to the middle of the night. But in an interview with Bustle, cast member Julia d'Albert Pusay, promises that Below Deck Mediterranean is very different from Below Deck — and there are more changes between the two shows than just the location.
The season preview special, which has been available on Bravo's website since March, shows a few of the ways this series will be even more dramatic than the original. It looks like the cast will be at one another's throats, and possibly even get full-on shipwrecked by technical problems. Julia says she's not sure what's responsible for the uptick in drama, but she does have one suggestion — "Was it the Med?" she jokes, "Was the Mediterranean a hotbed for ... drama and romances?" Based on all of the other changes she reveals are ahead, I'm thinking it absolutely was.
It Will Be Even More Exciting
When asked about what the biggest differences between Below Deck and Below Deck Mediterranean, Julia says, "I feel maybe there's more drama, so that's one major factor. And I feel that this cast may be a little bit more outgoing." I'm not really sure how that could be possible, especially after almost the entire cast of Below Deck Season 3 set a record for most partying in a single season of TV.
The Cast Is International
"I think what I have to highlight here is cultural differences, potentially, because most of the crew were American ... so really, working with Americans is quite different to working back at home," Julia says. "There's a different culture in how people work, and I think that's quite interesting." According to her years of experience yachting in the Mediterranean, "when you usually work in the Med you're working with Aussies, South Africans, and I generally work on French boats." The differences between Europeans and Americans will clearly be one of the themes of Below Deck Mediterranean Season 1.
The Captain Might Be A Little More Forgiving
Below Deck's Captain Lee is infamous for throwing out any and all members of the cast who poses a problem, delivering them a "plane ticket home" faster than they can say "aye aye, Captain." Julia wasn't able to give away too much about the season, but she clearly emphasizes that Captain Mark is a good leader. "The captain is very fair, and that's going to have to be something that you watch and see, I can't really give too many teases on that at all. He's a very fair captain, is what I can say," she says.
The Chief Stew Is A Friend Of Hers
"You'll have to see what unravels when you watch the show, but me and Hannah are really tight, and we still talk and text each other," Julia says, which is totally different than the usual rapport between boss and subordinate on Below Deck. "Me and Hannah didn't have an issue at all," Julia says.
There Are Major Relationship Differences
Every season on Below Deck, there's at least one crew member who winds up committing a major long-distance relationship faux pas, from cheating on their significant other to simply complaining about it on camera. But according to Julia, her long-distance relationship actually lasted through the season. "Everyone knows that I've got a boyfriend, so, you know, no tangle-ups with me."
But Not Everything Is Different
Even though Julia promises that there are quite a few unique moments during Below Deck: Mediterranean Season 1, she also teases a few things that sound very familiar: the cast will get in a lot of dramatic confrontations and romantic entanglements, and there's no shortage of drinking. So even though this spinoff will have its own unique identity, it should still be recognizable to Below Deck fans.
Images: Tommy Garcia, Mike Coppola/Bravo; Giphy (2)