The 'Below Deck Med' Crew Earns Their Salaries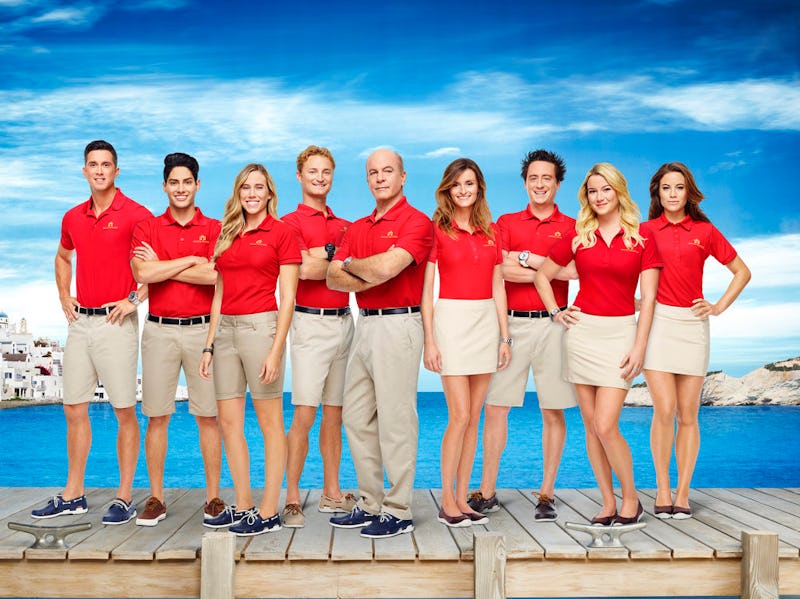 Any fan of The Real Housewives can tell you that there's always drama when you're on a yacht, but it wasn't until Below Deck started on Bravo that I realized how much drama is going on with the yacht staff. Affairs, fights, smooching, breaking up, egos — you name it, we've seen it on Below Deck. While the yacht staff is filming a reality show, they also have a job to do — you know, serving the people who are renting out the yacht, as well as keeping it afloat and making sure everyone on board is safe and sound. Since this is a real job, how much does the cast of Below Deck Mediterranean get paid?
It really all comes down to experience and the size of the boat. According to crew recruitment agency Marincescence, the bigger the boat, the more money each crewmember gets paid. The yacht from Below Deck Mediterranean, the Ionian Princess, is 150 feet long, putting the crew on the higher end of the salary range. You also have to remember that their total earnings might be higher if they have salaries from Bravo for appearing on the series. But since the network does not make those figures public, let's stick to figuring out what the cast pulls in for their work on the yacht. Here are the most likely salaries for the Below Deck Mediterranean crew.
Captain
CrewFinders.com, a yachting website based in Florida, land of the yachts, speculates that a captain's salary can range from $65,000 a year for a 70-foot boat to over $200,000 for a boat that's more than 190 feet. If you're a freelance captain, you can make over $500 a day with the right experience and boat size. For a boat the size of the Ionian Princess, Captain Mark Howard from Below Deck Mediterranean could be raking in $120,000 to $180,000, depending on his experience.
Chief Stew
Because they're not, you know, driving the boat and are thus not responsible for the safety of everyone on board, chief stews make less than the captain — but it's not chump change. Chief Stew Hannah Ferrier could be bringing in from $62,000 to $75,000 per year, according to CrewFinders. If she wants to moonlight on random ships, she could pull in $350 or more a day.
Deckhand
Deckhands bring in a little bit less, just given the fact that most of them have less experience than anyone else on deck. Deckhands are the entry-level jobs of the yacht world, so working on a 150-foot boat, these guys (Jen, Danny, and Bobby on Below Deck Mediterranean) likely bring home anywhere from $40,000 to $52,000 a year. Of course, basically all living expenses are factored in here, so it's a pretty great deal for everyone.
Another thing to consider about all of these salaries? Tips are not only encouraged on a yacht, but they're basically expected. According to Boat International, the Mediterranean Yacht Brokers Association lists 5 to 15 percent of the charter cost as the customary range of tip, which is split up among the crew. Since chartering the Ionian Princess starts at $167,000 per week, that means even for a one-week charter, the crew can expect to share another $8,350 to $25,050.
Bottom line: yachting is hard work, and the cast of Below Deck Mediterranean is certainly earning every bit of their cash.
Images: Tommy Garcia/Bravo; Giphy (3)