These Nikes Would Prove We're In The Future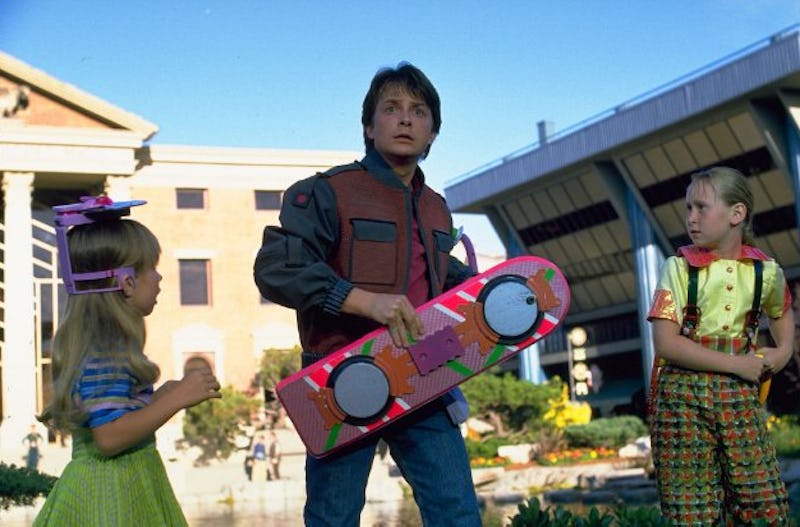 We live in the future! It's something you might think whenever you see that commercial with the cell phone that projects a keyboard or looking insane while talking on the phone without a handset, but this newest development proves that we're in the future once and for all. Nike will release power-lacing sneakers like the ones in Back to the Future II in 2015. Why 2015? Because that's the year Marty McFly travels to in the movie. Say what?!
In the movie, Marty slips on the shoes on and they form themselves snugly around his feet. He responds, "Power laces, alright!" which is a huge understatement because he should have said, "Dudeeeee. Whaaaat? Shoes that fit perfectly around my feet without tying them? No. Effing. Way."
According to Sole Collector, Nike designer Tinker Hatfield was recently asked during an event whether the shoes would become a possibility in 2015 and Hatfield responded, "Are we gonna see power laces in 2015? To that, I say yes!"
Nike previously put out shoes in the style of McFly's called Nike Air Mags, but they did not actually have power-laces. In 2011 the company released around 1,500 pairs of Air Mags on eBay and the proceeds went to the Michael J. Fox Foundation for Parkinson's Research. It is unclear at this point whether the shoes will look exactly the same as the 2011 edition but with a power lacing function or if it will be a different shoe all together. One thing is for sure, when and if these shoes come out they will probably sell out immediately and be listed for outrageous prices on eBay. This is the future, but that doesn't mean people value crazy sneakers for all over cold hard cash.
Image: Universal Studios