22 Books On Your YA Summer Reading Guide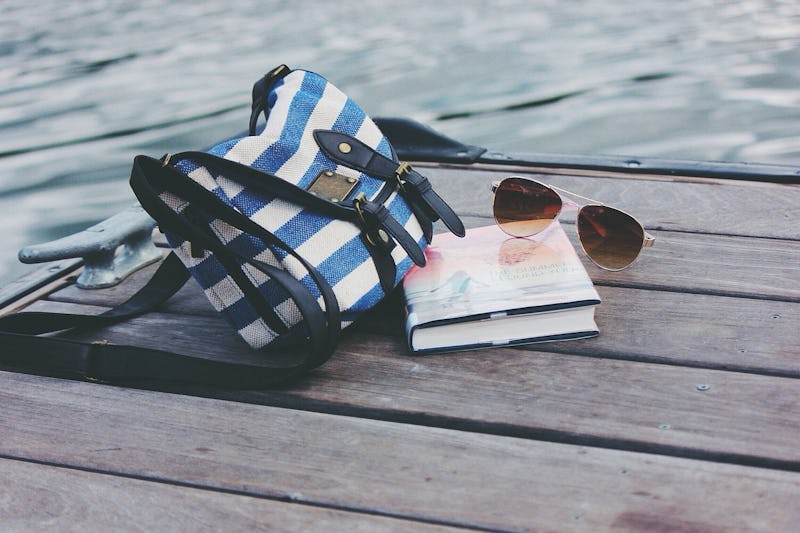 Memorial Day is on the horizon, which means that finally the summer (*cough* reading) season is upon us. Ah, the long, sunny days lying on the beach reading the latest young adult novel; the long road trips blasting the hottest new audiobook on the car radio; and getting changed into your shorts and flip flops in a snap when you realize you're going to be late to the cookout because you just had to finish one more chapter. (None of this is just me, right?) And to be reading constantly, you need a great YA summer reading guide of all the July-sun hot new young adult novels coming out summer 2016. Don't worry, I'm here for you.
Apparently so are many of your favorite YA authors. They are seriously bringing it this summer with must-read series additions, debut novels, and new standalones. Bookending (no pun intended... OK intended) this list are probably two of the biggest fantasy releases of the summer, and one happens to be the sequel to my 2015 pick of best YA book of the year, so I'll be squealing along with you as we flip through pages.
But even these massive series additions can't overshadow the brightly shining thrillers, contemporary books, and love stories on this list that will keep you captivated from Memorial Day through Labor Day. If you need a brand new summer reading list, start with these 22 YA novels.
1. A Court of Mist and Fury by Sarah J. Maas (May 3; Bloomsbury USA Children's)
Sarah J. Maas kicks off your summer right by dropping the second book in her A Court of Thorns and Roses, titled A Court of Mist and Fury, right at the get-go of May. This fairyland Beauty and the Beast is one you can get early for your vacation plans once Memorial Day comes around, but warn your friends ahead of time that the airplane ride is a no-talking zone so you can read.
John Corey Whaley has never disappointed us before, and he carries on that tradition with his funny, heartfelt, and oh-so-JCW-style Highly Illogical Behavior . Ambitious high school student Lisa decides to try to "fix" her agoraphobic classmate Sol as part of her application to an elite psychology program, but instead the two and Lisa's boyfriend, Clark, form a powerful friendship that hurtles toward a heartbreaking fight.
3. Outrun the Moon by Stacey Lee (May 24; G.P. Putnam's Sons Books for Young Readers)
Stacey Lee is an incredible voice in historical fiction, but she may have outdone even herself in her recent Outrun the Moon . Set during the San Francisco earthquake in April 1906, the story follows Mercy Wong as she connives her way out of her impoverished community to attend an elite school. Eventually, it's Mercy who has to use those same skills to help herself and her peers survive when disaster strikes.
4. Every Exquisite Thing by Matthew Quick (May 31; Little, Brown Books for Young Readers)
The Silver Linings Playbook author Matthew Quick turns to YA in Every Exquisite Thing , an exploration of privilege, rebellion, and self-discovery, told through the lens of high school student Nanette. After her teacher gives her a cult classic novel, Nanette becomes inspired and invigorated by its message, even seeking out and befriending the author. The reliable student-athlete starts to rebel against conforming to other people's standards and she questions the privilege she was born into.
5. My Lady Jane by Cynthia Hand, Brodi Ashton, and Jodi Meadows (June 7; HarperTeen)
If you're a fan of The Princess Bride, you're going to be absolutely enthralled by My Lady Jane. Penned by three BFF female writers, My Lady Jane uses the same spark and spirit, wit and LOL hilarity to tell a historical fantasy tale. The basis is a fantastical re-imagining of 16-year-old Lady Jane Grey's nine short days as queen, after King Edward VI and "Bloody" Mary I, of England and Ireland. There's arranged marriage and affairs of the court mashed up with shapeshifters and modern-day pop culture references. This isn't your mother's historical novel.
6. You Know Me Well by David Levithan and Nina LaCour (June 7; St. Martin's Griffin)
Two powerful forces in YA lit team up to tell one unique story in You Know Me Well. David Levithan and Nina LaCour each take a voice in this story about the heartbreaking nature of first love, told in alternating perspectives. Star athlete Mark is in love with his closeted best bud Ryan. Kate has been in love with Violet from afar. During San Francisco's Pride celebrations, both Mark and Kate's romantic dreams are dashed, and the two instead team up to spend a magical, open night together.
7. The Cresswell Plot by Eliza Wass (June 7; Disney-Hyperion)
Castley Creswell and her siblings Hannan, Caspar, Mortimer, Delvive, and Jerusalem have grown up in a cult-like atmosphere, deep in the woods of upstate New York, under the control of their father who believes he receives messages from God. But when Castley is partnered up with classmate George Gray for a school project, he opens up a world beyond her home and her strict father. But while she works to devise a plan to help herself and her siblings escape their father, Mr. Creswell pronounces that it's time for them all to return to heaven. It's a debut novel you definitely don't want to miss, and you'll be captivated by its dark, rich world.
On the surface, James Liddell's life is picture perfect: He's a good student and a star athlete, and he has his pretty, preppy girlfriend, Teresa, on his arm. But in secret, James spills his real life story into his letters, which he never intends to send. It's in those letters that he reveals that he's gay. However, meeting a new boy, Topher, helps him slowly, delicately come out, but he's forced out of the closet when someone steals his letters and mails them to all his family and friends. Kenneth Logan's story is part-coming-out tale, part-mystery story, and altogether wonderful.
9. This Savage Song by Victoria Schwab (June 7; Greenwillow Books)
You fell in love with Victoria under her pseudonym V.E. Schwab and her series beginning with A Darker Shade of Magic, and she's back with another magical story, albeit something totally new and unique. The first of two books, This Savage Song, is set in the future V-City, which has been torn apart by the "Phenomenon," when acts of violence manifested into physical monsters. Two teenagers, August and Kate, are leaders on opposing sides of the schism, but they must band together and form an alliance when a rebellion threatens them both.
10. Look Both Ways by Alison Cherry (June 14; Delacorte Press)
It's family tradition that Brooklyn Shepard become a star performer, and she finally gets her big break when she earns an apprenticeship at the prestigious Allerdale Playhouse. But can she ever outrun the shadow her famed actress mother casts over her? While at Allerdale, Brooklyn struggles to find her place in theater, but she does find an unexpected relationship with her roommate Zoe. As their friendship evolves into a romantic relationship, Brooklyn opens her mind to new possibilities, finding self-discovery in all aspects of her life, and readers will be completely captivated as the story shows so much hope and optimism for a potential future. Bonus: Theater kids are going to be hooked on the Allerdale setting and characters.
11. Mirror in the Sky by Aditi Khorana (June 21; Razorbill)
There has been a game-changing new scientific discovery in Aditi Khorana's Mirror in the Sky: There exists a mirror planet called Terra Nova, with people living a mirror life to those on Earth. This discovery seems to alter life on Earth, too. When Tara Krishnan realizes that there is another Tara Krishnan out there in the universe, possibly living a life bigger and brighter than her own, her whole perspective changes and she has to decide how she wants to navigate her own life down on Earth. Khorana's mix of character and plot with scientific and philosophical questions makes for beautiful storytelling.
12. Run by Kody Keplinger (June 28; Scholastic Press)
The DUFF's Kody Keplinger is back with Run, a story of two completely opposite best friends who go on the run together. Everyone knows that Bo comes from a bad family — a meth-addicted mom, an absentee dad, and Bo's own reputation for being a wild child. Which is why it's surprising that her true best friend, the friends that would lie down in traffic for each other, is Agnes Atwood, who follows the rules, is always home by curfew, and is legally blind. So when Bo shows up at Agnes' house in the middle of the night, followed by police sirens in the distance, it's a no-brainer that Agnes will follow her on the run. The powerful friendship is what sings in Keplinger's novel, even as secrets start emerging.
13. And I Darken by Kiersten White (June 28; Delacorte Press)
Kiersten White invokes the story of Vlad the Impaler, aka Count Dracula, to tell her female-powered, dark, and epic new series opener And I Darken . Imagine instead of Vlad Dracul, the icon was Lada Dragwyla, the ultimate anti-hero. The brutal warrior Lada is a deposed princess, itching for her chance to return to Wallachia and reclaim her throne. But now she's trapped, held hostage, in the Ottoman Empire, and she's willing to commit all nature of atrocities to escape and avenge her captors. The added complication? Her younger brother Radu is kindhearted, and he opposes Lada's motivations. The story spins into questions of family, violence, heritage, and country, and it will completely spin you into another time and place.
14. Mirage by Tracy Clark (July 5; HMH Books for Young Readers)
She spends her summers at her parents Mojave Desert skydiving center, so naturally Ryan Poitier Sharpe is an adrenaline junkie. She's always looking for the next thrill — until she has a scary, near-death experience while doing drugs. Now, Ryan has lost that part of herself, and readers, too, are plunged into a thrilling story, wondering if Ryan is devolving into psychosis or if something else is happening entirely.
It's the end of the world, and the fate of the planet lies in the hands of 17-year-old physicist prodigy Yuri, brought from Russia to help NASA deflect an asteroid (as we thought only Ben Affleck and Bruce Willis could). But this isn't some somber apocalypse story; Katie Kennedy's novel is funny and bright, and you'll love to watch as Yuri meets "regular" teenager Dovie and finds an actual reason beyond scientific discovery to save the world.
16. Gemini by Sonya Mukherjee (July 26; Simon & Schuster Books for Young Readers)
Teenage sisters Clara and Hailey are conjoined twins, but don't mistake that for meaning they're the same person. Clara is content with her sheltered life, far from too many prying eyes in their small town. But Hailey longs to experience the world and all the art and beauty it contains. So with high school graduation on the horizon, the twins have to come to terms with what they want out of life, and what they may have to sacrifice. It's a brilliant coming of age story, told in alternating perspectives from each of the sisters.
17. Harry Potter and the Cursed Child by J.K. Rowling, Jack Thorne, and John Tiffany (July 31; Arthur A. Levine Books)
The day after the play opens at the Palace Theatre in London, Harry Potter and the Cursed Child book-version is finally released to the world. In case you've managed to avoid Potterhead hysteria since it was announced, Cursed Child will take place in the Harry Potter universe future, following Harry's son Albus Severus and Harry himself as a member of the Ministry of Magic. Go ahead, let out all the squees.
18. Enter Title Here by Rahul Kanakia (Aug. 2; Disney-Hyperion)
Reshma Kapoor has a bit of Election 's Tracy Flick in her: She's willing to do anything to become her school's valedictorian. It's not that she's not worthy of it — she's a killer student with a spotless record and participates in essentially every extracurricular she can — but sometimes her ruthlessness is suspect. She sues her elite school for changing it's grading policy, and then writes an HuffPo op-ed about it. This piece earns the attention of a literary agent who wants to take on Reshma, who lies and says she has a YA novel in the works. The problem is Reshma doesn't have any actual "young adult" life experiences to speak of. She's never dated, doesn't have any friends, and spends her time at school. So Reshma begins a crusade to get that experience — using dubious methods.
19. The Smaller Evil by Stephanie Kuehn (Aug. 2; Dutton Books for Young Readers)
Arman makes a choice to attend a remote self-help retreat when his anxiety and self-loathing becomes too much to handle, and it seems like a positive step. But the retreat leader Beau has some... odd tactics. Is this self-help camp a cult? Things are already mysterious when Beau goes missing, and Arman has to fight through his own mental illness to try to remember piece together the puzzle to find out what really happened. This hazy mystery is bolstered by Stephanie Kuehn's raw and heartfelt depiction of mental illness.
20. Girl in Pieces by Kathleen Glasgow (Aug. 30; Delacorte Press)
Fair warning: Girl in Pieces isn't an easy read, but that's probably because it's so raw and honest in its depiction of self-harm. Charlotte "Charlie" Davis hasn't had an easy life: Her father committed suicide, her abusive mother kicked her out, her best friend nearly died after cutting herself too deep, and she survived her own suicide attempt. But Charlie is able to find comfort and control in cutting, using broken glass. Written in the style of journal entries, Kathleen Glasgow brings you into Charlie's mind for readers to learn and understand and follow the story in her words.
21. Furthermore by Tahereh Mafi (Aug. 30; Dutton Books for Young Readers)
OK, fine, Furthermore is more middle grade than YA, but with a story this enchanting, does it really matter? Like another literary Alice, Alice Alexis Queensmeadow goes on a grand, colorful, oddball adventure, this time, in search of her father who disappeared. Alice herself has always been a bit of a black sheep, blessed with almost zero magical powers and born all-white in a world bursting of color. Now, she has use only who she is and what she has to embark on her quest into Futhermore and bring her father back.
I'm typing this while I'm jumping up and down because my favorite YA book of 2015 is finally getting its sequel! A Torch Against the Night follows up Sabaa Tahir's gritty fantasy An Ember in the Ashes, and we pick up with Elias and Laia journeying to rescue Laia's brother from the Kauf Prison with the Empire's soldiers hot on their tails. And, yes, Helene is back as well, now under the control of the new ruler Marcus. Expect even more exploration of Tahir's beautifully drawn world, and of course, action and intrigue. And that's all I'm going to say because I know you're desperate to read it yourself!
Image: Unsplash/Pixabay